THIGH LIFT SURGERY
AT THE KOEBE KLINIK
Flabby thighs are one of the unpleasant side effects of significant weight loss. They occur because, once the individual has lost weight, their skin does not completely revert back to its previous form, which results in unsightly wrinkles and excess skin. However, a thigh lift is also a common procedure for women over 60. Even women who take care to watch what they eat and do plenty of exercise to stay fit can often suffer considerably from sagging thigh skin. In these cases, thigh lift surgery might well be the only logical option with a good chance of success.
Not only are flabby thighs a psychological burden, they can also lead to health problems. One particular example is when the insides of a person's thighs rub against each other. To prevent skin irritation and other complaints, a thigh lift could be beneficial in such cases.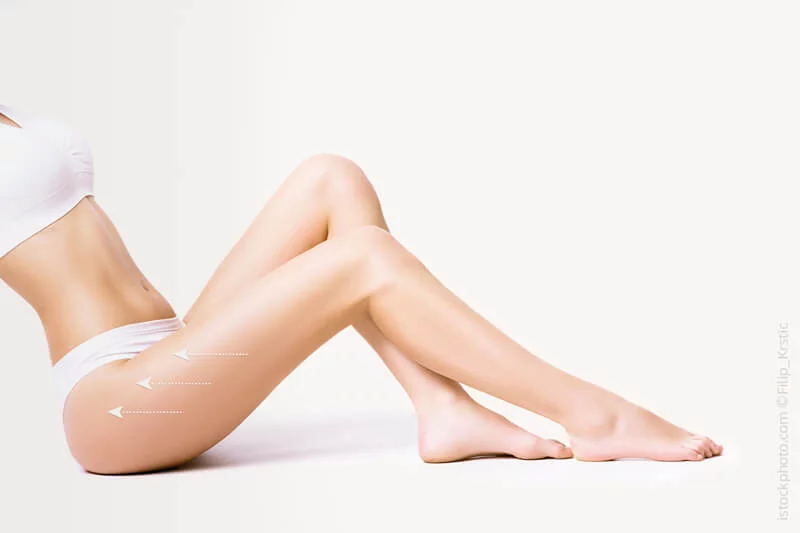 During the procedure, excess skin is surgically removed and the thigh skin is gently lifted. Even small fat pads can be removed during the surgery if they persist despite exercise and good nutrition. The results are visibly smoother and slimmer thighs that once again blend harmoniously and proportionately into the overall silhouette.
At the KOEBE KLINIK, Dr Hermann Koebe is your thigh lift specialist. As our experienced senior physician, he will personally perform your treatment and look after you throughout your recovery.
Do you suffer from flabby thighs? Would you like to regain your self-confidence and enhance your quality of life? If so, we would be happy to offer a consultation at the KOEBE KLINIK with no obligation to proceed. Dr Koebe will meet with you to discuss how best to correct your problem areas and what results you can expect the achieve.
FAQS ABOUT THIGH LIFT SURGERY
IN DÜSSELDORF
Who could benefit from a thigh lift?
A thigh lift could be a suitable procedure for all patients suffering from sagging skin on their thighs. In many cases, this loss of elasticity follows significant weight loss. The skin is not able to fully regain its tautness, while localised fat build-ups can persist despite exercise and healthy nutrition. The skin on the front and inside of the thighs also commonly loses its elasticity in the course of the natural ageing process.
In terms of a person's health, the excess skin often poses a problem. If the insides of a person's thighs rub against each other, it can quickly cause skin irritation. In such instances, a thigh lift can restore tautness to the legs and counteract skin problems; it may also be logical to reduce the size of the thighs by combining the lifting procedure with liposuction. Nowadays, patients with mild symptoms or whose thighs are only beginning to become slack can prevent the issue from worsening and achieve slight lifting effects with novel thread techniques and PDO threads, which achieve particularly long-lasting results! These may be options in your case; we would be happy to discuss this in a personal consultation.
What do I need to consider before and after a thigh lift?
Before the thigh lift procedure, Dr Koebe will give you detailed information about how you should prepare. These instructions will include, for example, temporarily discontinuing any blood-thinning or anticoagulant medication. We will hold a personal consultation with you to explain exactly what medications this concerns and examine what alternatives are open to you.
Following a surgical thigh lift, you will need to wear special compression tights for around 4 to 6 weeks. This serves to prevent swelling and support the surgical results. We recommend a rest and recovery period of at least 1 to 2 weeks before you fully resume your professional duties and social obligations.
You will be given detailed scar care instructions by Dr Koebe. You should not expose the scars to direct sunlight during the first year after surgery.
What does a surgical thigh lift involve?
Before performing a thigh lift, Dr Koebe will hold a detailed consultation with you. He will explain the process, the risks and the results you can expect in detail. Dr Koebe will then work with you to develop a treatment plan that incorporates your problem areas and your wishes in great detail.
The surgery itself takes several hours; we usually perform the procedure under general anaesthetic. We remove areas of excess skin and make incisions in inconspicuous locations on the inside of the thighs wherever possible. For patients with larger fat build-ups, we can also perform liposuction at the same time.
We then apply drains to the surgical wounds before suturing them and applying dressings. The drains ensure that exudate can flow out of the wound uninhibited, thereby preventing infections. We remove them a few days after the procedure.
Following the operation, you will stay at the clinic as an inpatient for a brief period. During this time, the KOEBE KLINIK nursing team will care for you around the clock to make your stay as comfortable as possible.
Does a thigh lift leave visible scars?
A thigh lift does leave behind scars; the length of these scars depends on your individual case. Dr Koebe makes incisions at an inconspicuous location on the inside of the thighs wherever possible. A small incision in the inguinal fold in the groin region is often sufficient to correct small amounts of excess tissue.
When will I be able to socialise and exercise after a thigh lift?
Depending on the scope of your surgery, you should allow around 1 to 2 weeks to recover before returning to your social obligations. You should avoid sports and exercise for at least 6 weeks. Dr Koebe would be happy to advise you personally on things to watch out for when you return to your favourite sports.
Might the skin on my thighs become saggy again even after an operation?
A thigh lift allows us to achieve lasting results. However, significant weight fluctuations can have a negative impact on tissue structure. The skin may also become saggy again in the course of the natural ageing progress.
We recommend eating a balanced diet and maintaining an active lifestyle to keep your weight as stable as possible. If you develop new areas of excess skin as the years go by, we can repeat the thigh lift procedure as necessary.
What are the risks associated with a thigh lift?
A thigh lift is associated with general surgery and anaesthetic risks. In some cases, complications such as infections or wound healing disorders may occur after the procedure; regular check-ups enable us to keep such issues to a minimum. Diligent and attentive aftercare at home helps to ensure the healing process is free from complications.
At the KOEBE KLINIK, we perform all treatment steps in compliance with strict hygiene regulations. All thigh lift procedures at the clinic are personally performed by our senior physician, Dr Koebe. This means you can rest assured you will always be in the best of hands.
Are financing options available for a thigh lift?
At our clinic, we offer a proven financing model. We will work together with you to draw up a suitable plan to finance your desired treatment.
BENEFITS OF
THIGH LIFTING
AT THE KOEBE KLINIK
Greatest specialist expertise: At the KOEBE KLINIK, our senior physician, Dr Hermann Koebe, will personally perform your treatment. Dr Koebe has profound expertise and years of experience in the field of thigh lifting. When planning your treatment, he will take both aesthetic and functional aspects into account to guarantee the best possible outcome for you.
Highest hygiene standards: At our clinic, we fully comply with the highest hygiene standards – an aspect more important for thigh lifts than most other procedure. We are licensed under Section 30 of the German Trade Regulation Act (Gewerbeordnung), so you can rest assured we meet the strictest hygiene requirements.
Peace, quiet and discretion: Your privacy is very important to us. With this in mind, every treatment step takes place in our trusting, discreet environment. After the procedure, you can recover in our single and twin rooms. Our nursing team will be on hand at all times to make your stay as comfortable as possible.
Central location: The KOEBE KLINIK is just a few minutes' drive from Düsseldorf city centre. We also offer plenty of parking spaces on the clinic premises. Would you prefer an appointment outside our regular business hours? We'd be happy to make arrangements.
Contact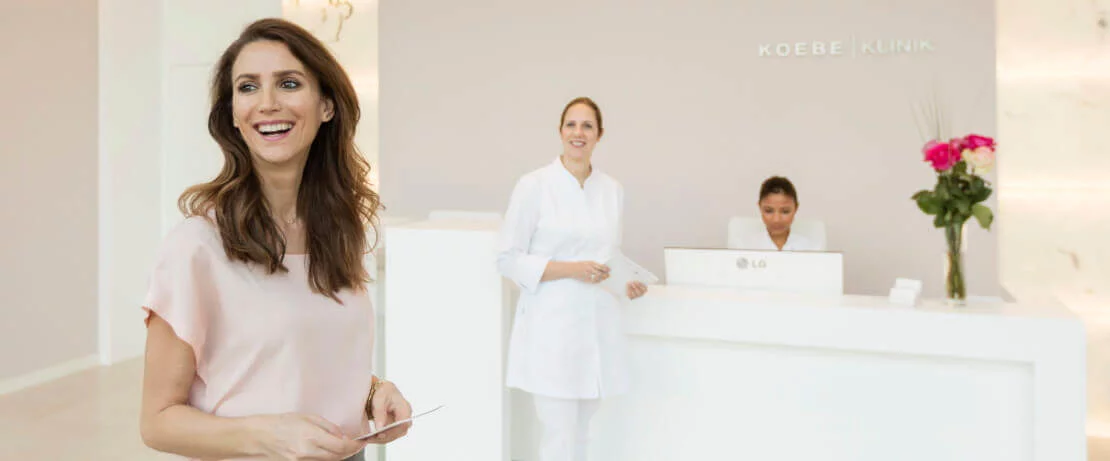 ---
Monday to Friday 9.00 am - 6.00 pm
---
We are available to you 24/7!