Overview of cosmetic corrections
at the KOEBE KLINIK
Cosmetic surgery offers a whole host of different ways to emphasise your personality and improve your wellbeing through various delicate procedures. Unfortunately, if the results do not live up to the patient's expectations, the outcome can be quite negative. In such situations, patients often feel utterly at a loss, particularly if they no longer trust the surgeon who performed the original surgery.
We are aware that any surgical procedure entails a certain degree of risk. However, many mistakes can be prevented simply by turning to an experienced, specialist doctor. Surgical mistakes, such as ill-fitting or poorly positioned breast implants, capsular contraction, unattractive indentations following liposuction, asymmetries and troubling scars can be particularly debilitating for patients. However, here at the KOEBE KLINIK, we can also correct physical complaints, such as breathing difficulties after nasal surgery or problems closing your eyes following an eyelid lift.
Dr Hermann Koebe and Dr Dr Norman Koebe are highly qualified specialists and stand ready to assist you at the KOEBE KLINIK. Situated in the town of Meerbusch just outside Düsseldorf, we are here for you – even if you have had bad experiences with other cosmetic surgeons in the past.
Our two specialists approach corrective surgery with dedication and sensitivity, taking all the time they need and drawing on their appreciation for aesthetic details. They strive to support you during this difficult time; their aim is to perform a sophisticated corrective treatment to help restore your self-confidence.
Are you unhappy with the results of a past cosmetic surgery? If so, make an appointment at the KOEBE KLINIK today. We'll arrange a non-binding appointment in which our specialist surgeons will offer you personal advice on your options to correct past surgeries.
Before the treatment
When patients contact us with a view to having corrective surgery, they often feel a deep sense of uncertainty. Ultimately, the vast majority of them will have had bad experiences in the past. This is why, here at the KOEBE KLINIK, we consciously take the time to discuss your problems and your desired results in detail.
Together with our specialists, we can determine what results corrective surgery could achieve for you, and then work with you to define a treatment plan. It is particularly important to us that we give you a realistic idea of the possible results. This means you stay on the safe side when it comes to corrective surgery and might even be pleasantly surprised by the results.
What does corrective surgery involve?
When it comes to correcting past cosmetic surgery, there is no standard procedure. As a result, our specialist surgeons do not have a usual routine or a fixed timetable. In general, however, you can expect the procedure to resemble the original operation.
In most cases, incisions are made along existing scars. This means that the corrective procedure will not create any new scars. If your dissatisfaction relates to the scar itself, we also offer the option of follow-up treatments to remedy this, including both surgical and minimally invasive scar-correction treatments.
If several corrective procedures are required in your case, we will create a holistic treatment plan combining them. The aim of corrective treatments is always to achieve aesthetically pleasing overall results that fulfil your expectations and blend harmoniously and naturally with the rest of your body.
Aftercare following corrective surgery
Just like after the original operation, you will have to follow certain aftercare instructions following corrective surgery. These instructions can vary depending on the type of procedure. Generally speaking, you should take it easy for the first few days after surgery, avoiding exercise and diligently caring for any wounds or scars.
We will provide detailed instructions on post-operative care before administering the treatment. If you have any questions or encounter any problems, the specialist surgeon treating you will be happy to help. At the KOEBE KLINIK, making sure that patients feel they are in good hands is an issue close to our heart, especially when patients have had bad experiences with other surgeons in the past.
FAQs about treatments
to correct previous cosmetic surgery in Düsseldorf
What can go wrong in cosmetic surgery?
Any operation, including cosmetic surgery, entails a certain degree of risk. The risks involved are particularly high when surgery is performed by inexperienced or insufficiently qualified doctors.
The potential complications can vary significantly depending on the procedure in question. Typical issues include poorly positioned or displaced breast implants, capsular contraction, unattractive scars, indentations following liposuction and asymmetrical results following rhinoplasty.
However, cosmetic surgery can also lead to physical complaints, such as pain, difficulty breathing following nasal surgery and problems closing your eyes after an eyelid lift.
When can I have an operation to correct previous cosmetic surgery?
You should wait until the healing phase is complete before exploring the possibility of corrective follow-up surgery. This is because the treated areas will often still be swollen and may appear asymmetrical until fully healed; this is no cause for concern.
However, if you are still dissatisfied with the results of cosmetic surgery once the treated area has fully healed, or if you have any physical complaints, corrective surgery can sometimes be a sensible option.
Who should I turn to if I am dissatisfied with the results of cosmetic surgery?
If you experience complications, your first point of contact should be the specialist who performed the surgery. However, if you had a bad experience with them or now doubt whether they have the necessary expertise, it can be worth getting a second opinion.
The surgeon you choose should be specialised in the relevant field and have extensive experience. Most failed cosmetic procedures can be corrected to the patient's complete satisfaction when an experienced specialist is entrusted with the corrective surgery.

Is it possible to correct unattractive scars from previous surgeries?
Here at the KOEBE KLINIK, we offer a number of different scar-correction treatments. A surgical procedure is not always required. In many cases, the appearance of scars can be improved through minimally invasive treatments like fillers, needling, laser treatments and chemical peeling. Certain medications can also be used to reduce the appearance of scars.
Not every scar can be completely remedied. As a rule, however, we will strive to reduce at least the appearance of the scar.
Can patients do anything to prevent cosmetic surgery from going wrong?
Who covers the costs for treatment to correct previous cosmetic surgery?
If you decide to have corrective surgery performed by another doctor – that is, by someone other than the doctor who performed the original surgery – you will usually have to cover the costs yourself. If you took out insurance against the risk of follow-up costs, it is usually straightforward to have your insurance provider cover the costs. The question of who is responsible for unsuccessful cosmetic surgery is usually difficult to answer. If it cannot be demonstrated that the surgeon made mistakes while administering treatment, they will not be liable for any damages.
Before any cosmetic procedure, you should identify precisely what services your surgeon covers in the event that a correction is required. A good doctor will be happy to explain this to you in detail ahead of the surgery.
Contact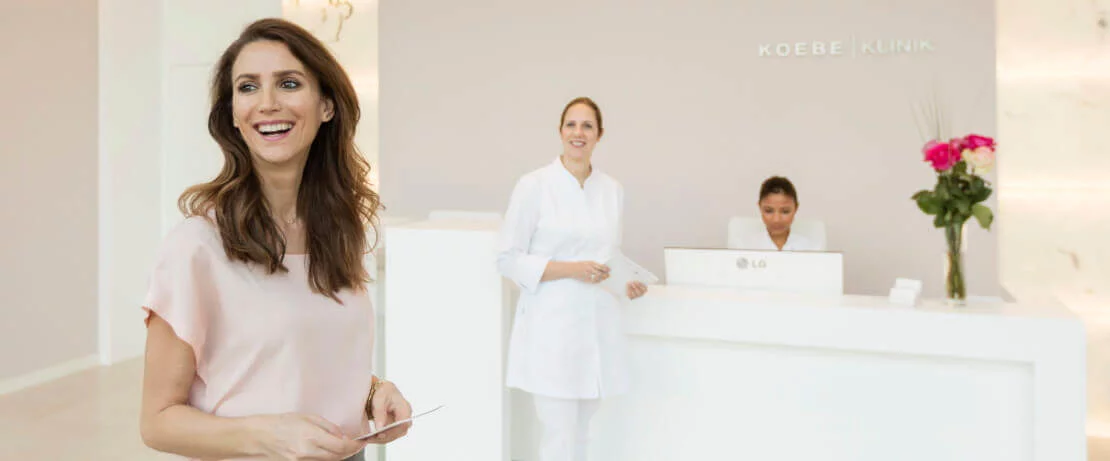 ---
Monday to Friday 9.00 am - 6.00 pm
---
We are available to you 24/7!