CHIN CORRECTION
AT THE KOEBE KLINIK
Well-proportioned, harmonious facial features create an aesthetic, attractive appearance. If, for example, a person's chin is too small, their face will not appear harmonious. Both prominent and receding chins can both affect a person's overall profile. If someone perceives the shape of their chin to be unattractive or out of proportion, it can often affect their self-confidence. In many cases, people who feel this way don't like having their photo taken, especially when it shows their side profile.
A chin correction, also known as genioplasty, can surgically correct a person's profile, affording a coherent, harmonious facial expression.
At the KOEBE KLINIK, proprietor Dr Dr Norman Koebe offers two different treatment methods. The treatment option with chin implants is the most popular technique in Germany. In this method, implants made of silicone or other materials are placed onto the chin bone or inserted within muscles in the chin. However, Dr Dr Norman Koebe usually recommends a method known as osseous genioplasty, which allows him to give a patient's chin the desired shape and volume. Unlike implants, this method achieves more natural and visibly better results. During the procedure, the chin is surgically separated from the lower jaw to allow relocation in three dimensions.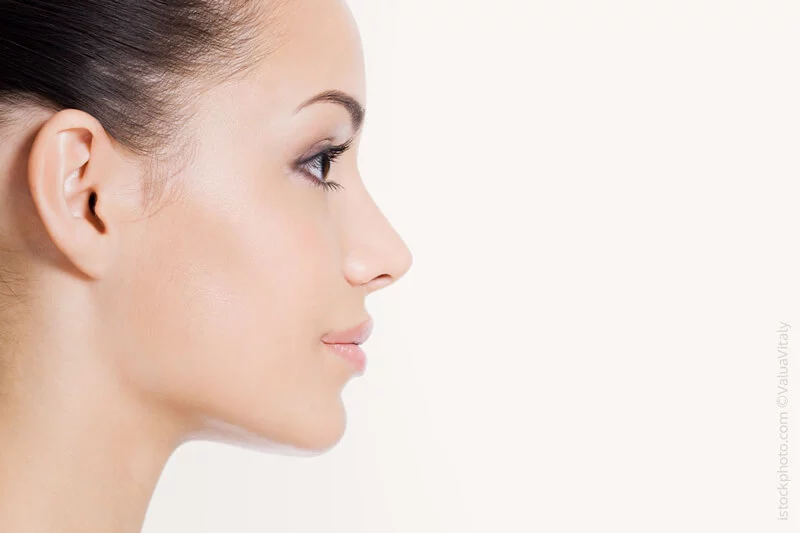 At our clinic, we will, of course, advise you in detail about the chin correction options available to you. Dr Dr Norman Koebe is a proven expert in facial surgery. As a specialist with dual certification in oral and maxillofacial surgery as well as plastic and aesthetic operations, he is a highly qualified expert ready to assist with holistic profile corrections.
During your initial consultation, you can expect Dr Dr Norman Koebe to examine your existing facial features in both aesthetic and functional terms and incorporate all aspects in a potential treatment. As one of the few physicians in Germany to hold dual certification, he can create a treatment concept to tackle even highly complex starting situations and produce entirely satisfactory and harmonious results.
Before the procedure, we will examine your entire face and your profile in minute detail. We will then discuss possible outcomes with the aid of a high-quality DVT (digital volume tomography) analysis and the define the required treatment steps together with you. Dr Koebe will prepare a highly personalised treatment concept tailored to your wishes, always taking into account both the possibilities and limitations of genioplasty. To provide an idea of the end results before the actual procedure, the changes of the chin and lower jaw can be simulated using absorbable fillers. This allows you to picture the potential outcome.
FAQs ABOUT CHIN CORRECTIONS
in Düsseldorf
What is a chin correction?
The face is a core component of a person's appearance. Most people find symmetrical facial features harmonious and attractive.
If an individual's profile is characterised by a disproportionately large or small chin, this can frequently affect their wellbeing and, potentially, even the self-confidence.
A profile correction is a surgical procedure to harmonise a person's facial features and create an overall appearance that is well proportioned and even.
At the KOEBE KLINIK, we specialise in challenging profile corrections. We discuss planned corrections with the aid of DVT (digital volume tomography) analysis and listen carefully to your wishes and expectations, always bearing in mind the realistic limitations of surgical corrections and perceiving the individual's face as a whole. Dr Koebe always operates with a conceptual approach, considering the natural ageing process to come. The patient's new chin must blend naturally into their overall image not only today, but also tomorrow and beyond.
Who could benefit from a chin correction?
A chin correction is suitable for people dissatisfied with their chin or profile. A chin correction allows us to adjust the shape of your chin and create balance between your facial features. At the KOEBE KLINIK, we offer two treatment methods. Firstly, we offer a surgical procedure in which we insert a chin implant. The alternative – and the treatment method favoured at the KOEBE KLINIK – is known as osseous genioplasty and uses the individual's own bone to shape the chin. This method is particularly effective in achieving long-lasting and natural results.
Our expert, Dr Dr Norman Koebe, is a dual-certified specialist in oral and maxillofacial surgery as well as plastic and aesthetic operations. He will advise and treat you proficiently, even in the case of severe jaw misalignment.
What do I need to consider before and after the genioplasty?
In an initial discussion with your specialist, Dr Dr Norman Koebe, you will examine the medical requirements for a genioplasty in detail. After the operation, we recommend that you eat only liquid foods exclusively for 2 days and soft food for a further 5 days.
For approximately two weeks before genioplasty, you should not take any anticoagulant or blood thinning medication. One such medication is aspirin. If, for health reasons, you rely on medications of this type, our specialist will suggest an appropriate alternative.
Following the procedure, swelling usually develops at the site of the operation. This is a completely harmless consequence of genioplasty and will subside after a few days. The swelling can be markedly reduced by cooling the site continuously after the procedure.
It is particularly importance to practice regular and meticulous oral hygiene following a chin correction in order to prevent infections. We will, of course, explain this to you in detail at the KOEBE KLINIK.
What does a chin correction involve?
The steps involved in chin correction depend largely on the issue and the desired outcome. In the case of a receding chin, the procedure is usually performed through the oral cavity and an implant is put in place to provide volume and shape.
In the case of a protruding chin, the chin is fixed and stabilised in the new position with a titanium plate until the chin bones have completely settled. This plate doesn't necessarily have to be surgically removed – so a follow-up procedure is not necessary. In correcting a protruding chin, the bone material is abraded until the desired form is achieved. This is referred to as a contouring osteotomy. In special cases, the two methods can be combined. This would mean that, in addition to correcting a protruding chin, new chin contours are also created.
Does an operation on the chin leave any visible scars?
As a specialist clinic, we have a wealth of experience in performing all procedures with minimal scarring.
In many cases, plastic profile surgery can be performed via the oral cavity. Wounds in the mouth usually heal very quickly without any issues when appropriate oral hygiene is maintained.
If the procedure involves external incisions, we place the scar so that it will be inconspicuous when healed.
Are there any risks involved in chin correction procedures?
Chin correction surgery requires a great deal of experience and a high degree of skill. Our specialist physicians, Dr Dr Norman Koebe and Dr Dr Hermann Koebe, are experienced specialists in the field of facial surgery and understand how to minimise the risks involved.
Nevertheless, certain risks are inherent in surgical procedures; your specialist will discuss these with you in detail.
Are the results of a chin correction permanent?
Osseous genioplasty at the KOEBE KLINIK will leave you with a new, natural chin that will stay with you for the rest of your life.
Are financing options available for chin correction surgery?
As with all of our treatments, straightforward financing solutions are also available for chin correction surgery. We would be happy to prepare an individual plan together with you to help you finance your desired treatment.
BENEFITS OF CHIN CORRECTION
AT THE KOEBE KLINIK
Individualised treatment plans: At our clinic, we attach great importance to treating each patient according to their individual wishes and requirements. We don't perform standardised treatments: instead, we create personalised treatment plans in which each step is carefully coordinated.
Absolute specialist expertise: Dr Dr Norman Koebe is a specialist in oral and maxillofacial surgery as well as plastic and aesthetic operations. He performs even complex procedures safely and expertly to achieve aesthetic, attractive outcomes.
Holistic concept: Our specialist, Dr Dr Norman Koebe, always offers proficient, holistic treatment. Rather than viewing the chin correction procedure in isolation, he considers it along with the impact of its changes on the aesthetic gestalt of your facial features. You can be certain of achieving the most aesthetic outcome possible.
Contact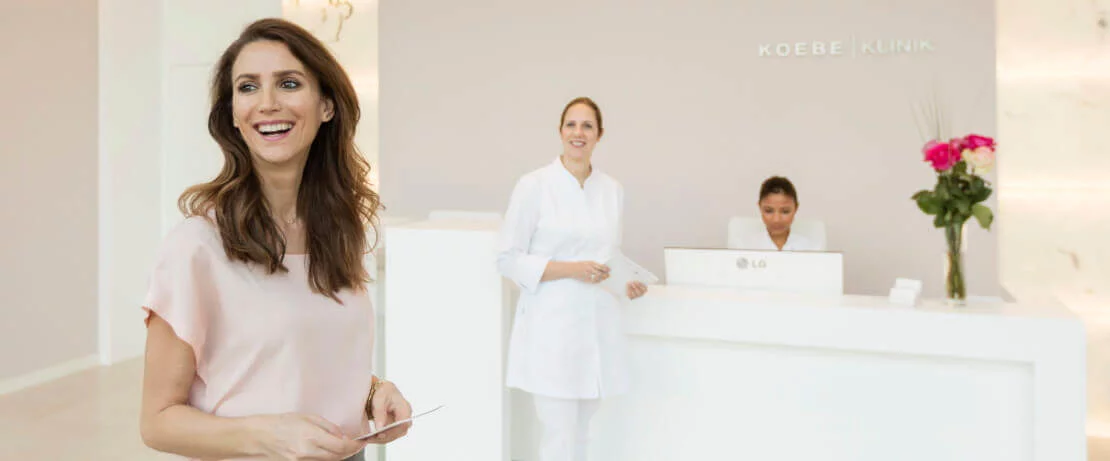 ---
Monday to Friday 9.00 am - 6.00 pm
---
We are available to you 24/7!