LIP CORRECTION PROCEDURES
AT THE KOEBE KLINIK
Full, sensual lips are part of our societal ideal of beauty and represent the epitome of femininity. Unfortunately, not every woman is blessed with full lips. If a woman's mouth is naturally quite narrow or has an uneven shape, cosmetic lip shaping can restore harmonious proportions to the lips. There are, of course, also many men who feel dissatisfied with the shape of their lips and would like their mouth to contribute to a youthful overall appearance.
We can also use lip shaping to counteract signs of ageing – smoothing out small wrinkles and lines around the mouth and carefully lifting drooping mouth corners or a sunken upper lip. It restores a pleasant, fresh and contoured appearance without losing any of its naturalness.
Adding volume to a person's lips without taking their individual shape into account can quickly lead to shapeless, overfilled or frankly grotesque results. Everyone has seen examples of lip corrections gone wrong. Full lips only appear sensual and beautiful when expertly formed into a natural shape. This is why, at the KOEBE KLINIK, we consider a number of possible shapes so that we not only add volume to the lips but also create aesthetic form in harmonious proportions. And, of course, we respond to our patients' specific wishes very precisely. We can also show you an example photo of your desired results.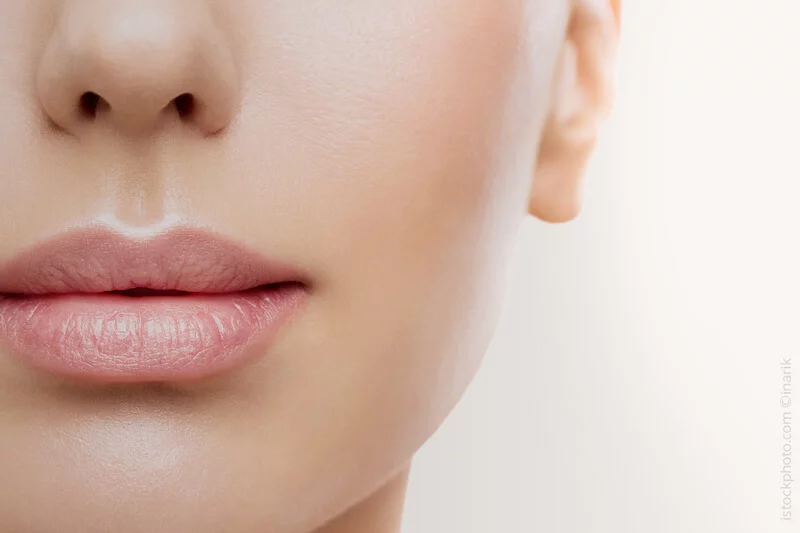 Dr Dr Norman Koebe and Dr Hermann Koebe both have many years of experience in aesthetic facial treatment. At the KOEBE KLINIK, lip augmentation procedures are exclusively performed by our two senior physicians. Drawing on their profound knowledge and the wide array of lip filler products at their disposal, they can perform even challenging procedures safely and with finesse. The KOEBE KLINIK is not bound to use compounds produced by specific manufacturers. We thus have access to a comprehensive and diverse range of specialist fillers. In our conceptual approach to lip filler treatments at the KOEBE KLINIK, we use exactly the right filler material to contour, add volume, shape, evert and hydrate each patient's lips. Incorporating these individual aspects allows us to help our patients achieve a harmonious and aesthetic overall image.
Are you interested in lip augmentation and would appreciate a no-obligation consultation? If so, arrange an appointment at the KOEBE KLINIK. One of our experienced specialists will advise you personally, with no obligation to proceed, about the best way to make your desired outcome a reality.
FAQs ABOUT LIP FILLERS
in Düsseldorf
Who could benefit from lip fillers?
Lip correction treatment is primarily suitable for patients seeing to add volume to their lips. It allows us to accentuate the contours of the lips and delicately fill in any small lines and wrinkles around the mouth. Lip modelling also enables us to correct the shape of the lips.
What treatment forms are available to plump up my lips?
In most cases, minimally invasive lip filler treatments use hyaluronic acid fillers. These compounds are usually very well tolerated and are fully broken down by the body over time, leaving no residues behind.
Alternatively, you might also consider lip augmentation using autologous fat transfer. In this method, we collect fat from another part of your body and prepare it for transfer. The physician injects the prepared fat tissue into the lips in controlled doses.
Are surgical lip correction procedures available?
If you are looking to achieve permanent lip correction, surgical lip augmentation can also be considered. Unlike lip filler treatments, the results will not require regular refresher treatments.
The implants inserted during surgical lip augmentation can be made from synthetic materials or the patient's own tissue. Surgical methods also allow us to raise lips that droop due to ageing. Using special incision techniques, we can raise and firm up a drooping upper lip. This means the lips' natural red hue can shine through again.
What do I need to consider before and after lip filler treatment?
Lip fillers and lip modelling treatments require no special preparation on your part. If you take blood-thinning or anticoagulant medication, you should stop taking them at least 14 days before the treatment. The physician treating you will be happy to help you find suitable alternatives for the duration of the treatment.
After the lip injection, you should not touch or massage your mouth to begin with. Doing so could alter the results, as the filler materials will remain malleable for the first few days.
You will be able to exercise again the following day. You should avoid visiting the sauna or solarium and exposing your lips to direct sunlight for at least 1 to 2 weeks.
What does a lip filler treatment involve?
Lip augmentation treatments with fillers are brief, uncomplicated procedures that last about 15 minutes. Before the treatment, one of our specialists will advise you on your individual case. The physician treating you will discuss the best methods open to you to achieve your desired outcome. They will then work together with you to plan the rest of the treatment.
The treatment is performed on an outpatient basis. At the KOEBE KLINIK, we use a modern and particularly effective numbing salve. The filler compounds themselves also contain a local numbing agent. This ensures that the entire treatment will be almost entirely painless for you.
We inject the fillers into the lips at several points. We use different techniques depending on the individual patient's desired results. The art of administering lip fillers draws on various techniques that, when carefully combined, can achieve your individual desired outcome. Dr Hermann Koebe and Dr Dr Norman Koebe know exactly how to combine different approaches precisely for volumising, contouring and beautifying treatments – using isolated, focused, blunt, retrograde or diversified injections. An individual concept is created for each treatment depending on the patient's wishes and the starting position. Each technique also differs for use on the upper and lower lips. This allows practitioners to shape the lips individually and achieve very natural results.
Once lip fillers have been administered, we gently cool the lips to counter any initial swelling. You will be able to leave the clinic straight away and go about your daily routine as usual.
When will I be ready to appear in public again after the treatment?
Your lips may remain slightly swollen for the first few days after lip correction treatment. We would therefore advise you to keep your schedule clear immediately after undergoing lip filler treatment. The swelling should subside after 2 to 3 days at most. Any redness or slight bruising can usually be concealed effectively with make-up.
What are the risks associated with lip fillers?
Lip augmentation using hyaluronic acid fillers is a low risk procedure as patients usually tolerate the filler compounds very well. At the KOEBE KLINIK, we use only recognised preparations from leading manufacturers to guarantee the highest level of safety. Another aspect that boosts the level of safety is the fact that an injection of hyalase can break down hyaluronic acid without any residues, returning your lips to their original state before the lip treatment.
Fillers usually last for one to two years, but in some cases can also last much longer.
On the other hand, as with all surgical procedures, surgical lip correction does involve general surgical risk. In very isolated cases, patients can develop wound healing disorders, infections or visible scarring.
In very rare cases, lip augmentation treatments using implants can result in allergic reactions. In such instances, the implants must then be removed. An alternative to this would be to augment the lips using the patient's own tissue.
BENEFITS OF
LIP CORRECTION TREATMENT
AT THE KOEBE KLINIK
Hands-on senior physicians: At the KOEBE KLINIK, all lip correction treatments are performed by our senior physicians, Dr Hermann Koebe and Dr Dr Norman Koebe. Their wide-ranging expertise allows them to perform even challenging facial treatments to their patients' full satisfaction.
Extensive experience: The Koebe brothers have performed lip augmentation treatments in Düsseldorf for more than 20 years.
Product quality: At the KOEBE KLINIK, we are not limited to compounds produced by specific manufacturers. We therefore have access to a wide selection of specialist fillers for contouring, volumising, shaping, everting and hydrating treatments. We only use premium compounds of the very highest quality. The fillers we use are also particularly durable. In many cases, low-quality and inexpensive filler compounds can cause the lips to harden. This can significantly impair the natural, kissable consistency of the lips. Cheap compounds only contain very small amounts of highly structured – and thus very firm – hyaluronic acid. They break down quickly and can only be modelled to a limited extent. Using cut-price compounds usually means patients need top-up treatments every 6 months, which results in higher costs in the long run.
Expertise in all lip filler techniques: Dr Hermann Koebe and Dr Dr Norman Koebe are masters of all approved modern lip modelling techniques. This allows them to pursue a highly individual, conceptual and perfectionist approach to volumising, contouring, beautifying lip treatments.
Individual consultation: Dr Hermann Koebe and Dr Dr Norman Koebe attach great importance to providing personal consultation. They will plan all treatment steps together with you. Our specialist physicians will be gladly to address and incorporate any specific wishes you may have.
Discretion: At the KOEBE KLINIK, protecting our patients' privacy is a matter close to our hearts. We therefore hold all consultation and treatment appointments in a discreet, trusting atmosphere.
Contact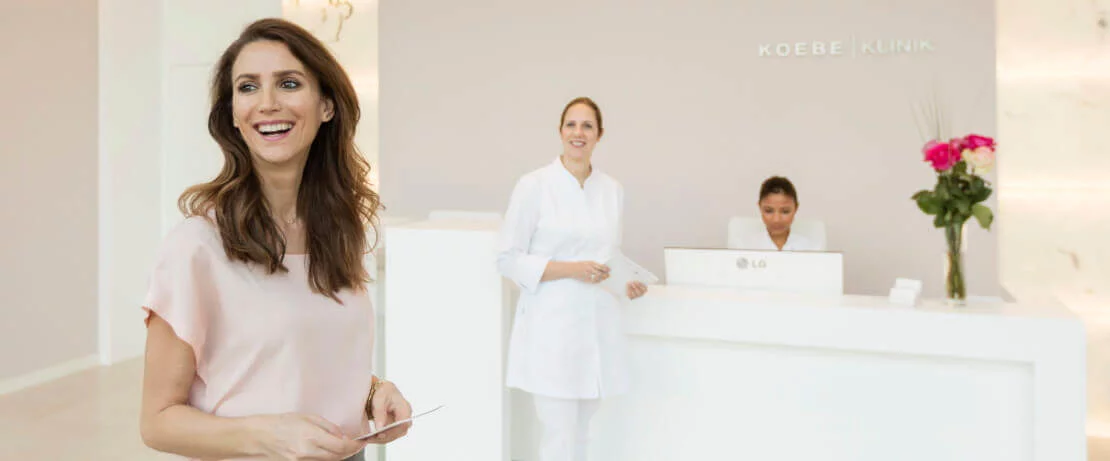 ---
Monday to Friday 9.00 am - 6.00 pm
---
We are available to you 24/7!