Double chin treatment
at the KOEBE KLINIK
The chin is one of the most prominent features of a person's face and has a significant influence on their appearance. This can make it all the more troubling when a person develops a double chin as the years go by. Even small fatty deposits often have a large impact on a person's facial features and side profile.
However, modern aesthetic medicine offers numerous ways to correct a double chin. At the KOEBE KLINIK, we primarily rely on minimally invasive procedures to remedy small fat depots and firm up the chin region. This treatment also allows us to correct the shape of the chin, such as when a patient has both a double chin and a receding chin.
You will be treated at the KOEBE KLINIK by Dr Norman Koebe, who holds two separate specialist qualifications – for oral and maxillofacial surgery and for plastic and cosmetic surgery. This unusual combination enables him to adopt a holistic approach to each facial treatment. This guarantees natural and aesthetically pleasing results for you, regardless of the chosen treatment method.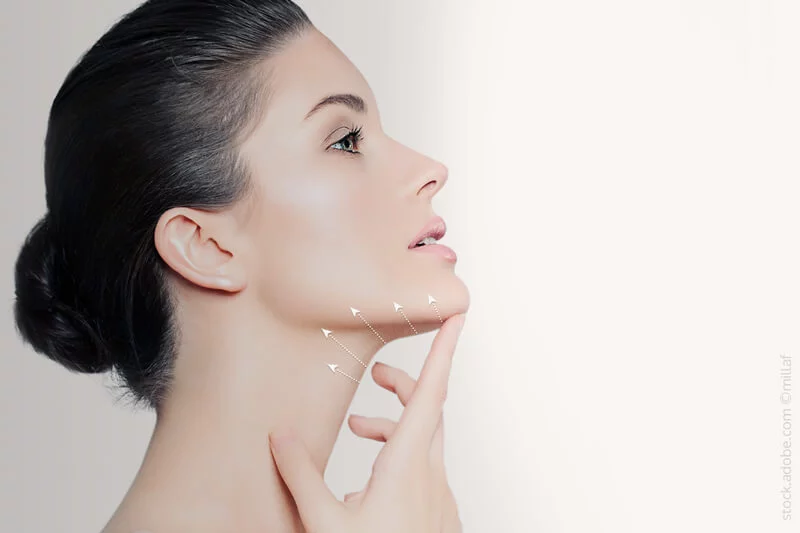 How does a double chin develop?
In principle, a double chin can develop at any age, though it often only occurs as a person grows older. The reason for this is a loss of skin elasticity. Additionally, the body's metabolism slows with advancing age, which means that fatty depots are not broken down as quickly. The consequences include unwanted fatty deposits under the chin which, quite literally, look like a second chin.
Another potential cause for a double chin is being overweight. If a person has excess fat reserves, this is often shown in their face. In addition, some people are naturally predisposed to developing a double chin. In these cases, people have a pronounced double chin despite being a normal weight and can find it difficult to remedy this, even with a healthy lifestyle. A recessed chinbone or underdeveloped chin can also lead to a double chin.
What methods are available to remove a double chin?
We can use different methods to correct a double chin. The decisive issue is the severity of the double chin and the degree to which the person's skin has slackened. Some patients wish to achieve a softer or more masculine chin shape overall. We will take personal wishes like this into consideration when planning your treatment.
Here in Düsseldorf, we prefer to treat a less pronounced double chin using minimally invasive procedures. These include administering hyaluronic acid fillers. Additionally, there is the option of reducing moderate fatty depots in the chin region using injection lipolysis or liposuction. However, if a patient's skin is already considerably slackened, we may also perform skin tightening in the neck area. We achieve the most pronounced effect through genioplasty, which corrects the overall shape of the chin and creates harmony. This involves bringing a recessed chinbone forward in cases where the chin is underdeveloped or recessed due to a congenital condition.
Double chin treatment
Before treatment for a double chin, we will hold an in-depth personal consultation with you. Dr Norman Koebe will work together with you to choose the most suitable treatment method for you. We may combine several methods to correct a double chin.
Filler treatments for a double chin
Fillers are usually sufficient to treat a less pronounced double chin. We use hyaluronic acid fillers to compensate for minor imperfections. It allows us to bring harmony to a patient's chin without the need for an operation. We administer the treatment on an outpatient basis, with refresher treatments at regular intervals.
Injection lipolysis for a double chin
Injection lipolysis – also known as fat-dissolving injections – is a gentle alternative to liposuction. We inject special compounds to reduce small fatty depots. Injection lipolysis is a gentle, near-painless procedure that, unlike liposuction, is only suitable for small fat pads.
Liposuction for a double chin
We usually recommend liposuction to treat larger fatty deposits. This involves initially loosening the fat cells under local anaesthetic before aspirating them using fine cannulas. Liposuction does not usually leave behind any visible scars.
Skin firming for a double chin
For patients with a pronounced double chin, we can firm up the skin in a short surgical procedure. Making small incisions in the skin allows us to remove excess fat tissue along with any excess skin. The surgeon can also firm up the neck muscles if necessary. This operation takes place under general anaesthetic and usually requires a short inpatient stay.
Genioplasty for a double chin
Genioplasty is a treatment option for patients with a very pronounced double chin. It firms up the transition from the neck to the face, achieving lasting results. Correcting the position of the chinbone also allows us to make the chin area appear softer or more prominent. In most cases, the mouth is used to access the chin for genioplasty, which means it leaves no visible scars. This operation takes place under general anaesthetic and usually requires a short inpatient stay.
FAQs about double chin removal
in Düsseldorf
Who can be affected by a double chin?
A double chin often develops as a person grows older, as the body takes longer to break down fat pads. In many cases, overweight people suffer from a double chin. Some people are also genetically predisposed to developing a double chin.
Is it possible to remove a double chin without surgery?
If a double chin is caused by a person being overweight, losing weight is usually enough to get rid of small fatty pads. However, if the underlying cause is a genetic predisposition, some form of treatment (e.g. liposuction) will be required. In such cases, a person's weight will not normally affect these fat pads.
Are there ways to prevent a double chin?
You can counter the development of a double chin that develops due to the natural ageing process to a degree by following an age-appropriate skin care regime suitable for your skin type and using UV protection. Early treatment with injection lipolysis can, to a certain degree, thwart the development of a more pronounced double chin. However, it is not possible to stop the natural ageing process entirely.
If you are predisposed to developing a double chin, you should also take care to keep your weight stable. Otherwise, those extra few pounds could soon take the shape of fat pads under your chin.
What do I need to consider after treatment for a double chin?
The aftercare routine differs depending on the treatment method used. In general, you should get some rest and avoid exercise. You can effectively counteract any initial swelling by carefully cooling the chin. If you are instructed to wear a chin bandage or a compression mask, it is vital that you wear it diligently. Avoid visits to the solarium and sunbathing wherever possible.
Are the results of treatment for a double chin long-lasting?
Our double chin treatments generally achieve lasting results. The only exception is injections with hyaluronic acid fillers. This treatment needs to be repeated at regular intervals to ensure the effect is lasting.
This is because the natural ageing process will continue even after the correction procedure. So, as the years go by, it is possible that further changes to the chin will occur. If that happens, we would be happy to advise you regarding a further treatment.
What are the risks involved in removing a double chin?
We favour using minimally invasive procedures to correct a double chin. This avoids the operative and anaesthetic risks associated with surgical chin correction.
If you opt for genioplasty or a skin-tightening procedure, we will inform you of the risks in advance. Potential complications include secondary haemorrhages, wound healing deficits and infections. In isolated cases, patients experience sensory disturbances after the procedure or find that implants slip out of position.
In minimally invasive treatments, potential side effects include redness, swelling and bruising. However, such symptoms should recede quickly of their own accord. Any initial numbness also normally fades away on its own.
Benefits of double chin
treatment at the
KOEBE KLINIK
Treatment from a chief physician: At the KOEBE KLINIK, treatments to correct a double chin are a matter for the boss – so Dr Norman Koebe and Dr Hermann Koebe personally perform all treatments. This means you can be certain of receiving treatment of the highest specialist standard.
High quality: At the KOEBE KLINIK, we use state-of-the-art medical equipment and materials from renowned manufacturers. Regular quality controls guarantee an outstanding level of safety for you.
Individual consultation: Each patient has different needs. With this in mind, we hold a detailed consultation with each patient before a double chin correction as a matter of course. We will then work closely with you to plan the entire treatment.
Holistic approach: The chin is just one of the areas that change as we grow older. At the KOEBE KLINIK, we set great store by our holistic anti-ageing approach, which considers the face as a whole. This guarantees natural, long-lasting results.
Complete care: Our qualified nursing team will be there for you throughout your treatment. You will always have a personal contact person you can speak with in confidence.
Contact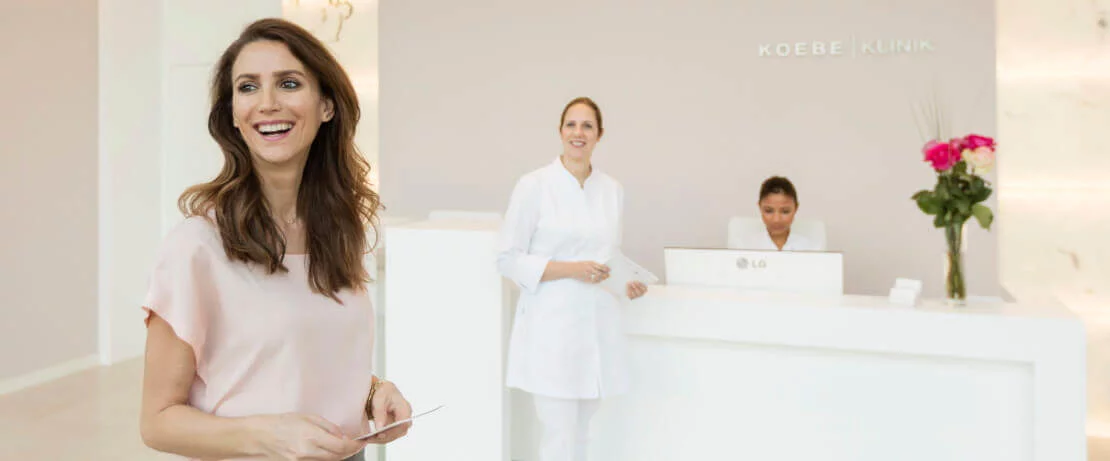 ---
Monday to Friday 9.00 am - 6.00 pm
---
We are available to you 24/7!