Hyperhidrosis treatment
at the KOEBE KLINIK
Many people struggle with heavy sweating, especially in summer. However, some people sweat so excessively that it constitutes a pathological condition known as hyperhidrosis. People with this condition have a tendency to severe outbreaks of sweating, even without reason.
In addition to problems in everyday life, hyperhidrosis can also cause intense psychological stress. Feelings of a shame and a fear of rejection can lead people with the condition to withdraw and become reclusive. In such cases, a Botox® treatment or surgical removal of the sweat glands may be indicated. Hyperhidrosis treatment is usually able to significantly reduce sweating.
The Botox® treatment method is non-invasive and involves injecting Botox® at specific locations to inhibit the transmission of stimuli to the sweat glands. This treatment is administered on an outpatient basis and requires refresher treatments every six months to maintain the results.
If the condition is causing intolerable suffering, sweat gland removal could also be an option. This brief surgical procedure can usually be performed under local anaesthetic. It involves gently removing a majority of the sweat glands using special aspiration instruments. Once removed, sweat glands do not grow back, so this procedure permanently reduces the patient's sweat production.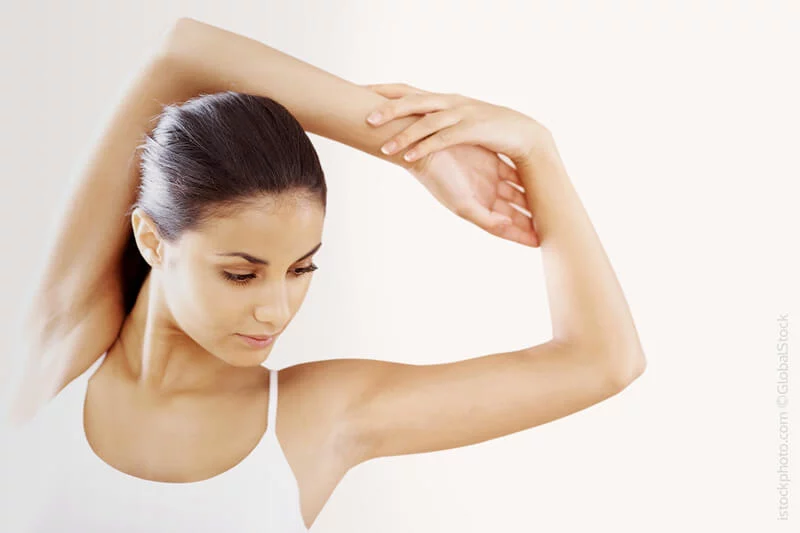 We offer both treatment options at the KOEBE KLINIK depending on your personal situation. The treatment is always performed by one of our specialist doctors. This means you can feel safe in the knowledge of receiving treatment of the highest medical standard. Dr Hermann Koebe and Dr Norman Koebe have been working in the field of plastic and cosmetic surgery for over 20 years and always follow a holistic approach, examining every aspect of your issue. This means we can offer you the most suitable treatment for your needs and circumstances.
Hyperhidrosis treatment does not involve an inpatient stay. However, if you have any questions after the treatment, we are available to assist you at the KOEBE KLINIK. We will regularly check the healing process until any wounds are fully healed.
You can also find further information about hyperhidrosis treatment on our aesthetic treatment website.
FAQs about
hyperhidrosis treatment
in Düsseldorf
Who could benefit from hyperhidrosis?
Hyperhidrosis treatment could be suitable for you if you suffer from excessive sweating and if other methods have yet to yield results. Hyperhidrosis is classified as sweat production of more than 100ml per five minutes. However, in our view, the patient's degree of suffering is the decisive issue.
At the KOEBE KLINIK, you will first receive a detailed consultation from our specialist doctors. Following an initial examination, Dr Koebe will work with you to decide whether hyperhidrosis treatment could be suitable for you. We will select an appropriate treatment method in close coordination with you.
How long do the effects of hyperhidrosis treatment last?
The effects of Botox® treatment for hyperhidrosis are not permanent and require regular refresher treatments. You can expect the effects to last for an average of 5 to 6 months. It is a popular, elegant method to prevent heavy sweating, especially during the summer months. By contrast, sweat gland removal allows us to achieve permanent results.
Which is more effective: Botox® or sweat gland removal?
In most cases, sweat gland removal is more effective than a Botox® treatment, though it is also more extensive. Ultimately, the effects of Botox® treatment depend on the dose administered. Men generally require a significantly higher dose to ensure their armpits remain dry. The effects of Botox® are not permanent, so regular refresher treatments are required. However, Botox® is a very low-risk procedure that requires very little preparation or aftercare.
How does Botox® help to treat hyperhidrosis?
Hyperhidrosis is a nervous system disorder that results in constant production of sweat. Botox® prevents the transmission of acetylcholine, the messenger substance responsible for sweat production. The result is a significant reduction in sweat production.
What do I need to consider after hyperhidrosis treatment?
You should avoid hot baths and physical exertion for at least 48 hours following hyperhidrosis treatment with Botox®. Additionally, it is important that you protect your armpit area against strong sunlight and artificial UV light.
Following surgical treatment for hyperhidrosis, we recommend getting a few days' rest. In the first week, you should wear a special compression vest. However, you can resume most everyday activities as usual after a few days.
When can I get back to everyday life after the treatment?
As a general rule, you will not require any time to recover from a Botox® treatment. Following surgical sweat gland removal, you should allow around a week to recover before you will be fully presentable.
Can excessive sweat production start again after the treatment?
The results of Botox® treatment are not permanent. As a result, the issue may recur after a few months. However, regular refresher treatments can help to maintain the results.
In the case of sweat gland removal, we remove around 60–80% of the sweat glands in the armpit region. It is very rare for sweat glands to grow back following a removal procedure, so it achieves a permanent reduction in sweat production. However, if sweat glands do grow back, we can repeat the treatment if necessary.
What are the potential risks and side effects of hyperhidrosis treatment?
Hyperhidrosis treatment with Botox® is a very gentle, low-risk procedure. We have been using botulinum toxin successfully for many years as a wrinkle treatment, where it has proven its value as a very tolerable compound. The injected Botox® will be fully broken down by the body over time.
You may experience slight swelling, redness or bruising immediately after a Botox® treatment. Gently cooling the treated area will counteract any such symptoms. However, you should not expect any long-term side effects.
Like any surgical procedure, sweat gland removal is associated with general operative risks. In rare cases, complications can occur, including wound healing deficits, infections or inflammation. In general, however, it is a safe and straightforward procedure. At the KOEBE KLINIK, you will always be treated by an experienced specialist doctor and receive comprehensive aftercare.
Benefits of
hyperhidrosis treatment
at the KOEBE KLINIK
Treatment from a chief physician: At the KOEBE KLINIK, hyperhidrosis treatment is a matter for the boss, so you will always be treated by Dr Hermann Koebe or Dr Norman Koebe.
High quality: We use high-quality products from renowned manufacturers for all our treatments. Regular quality controls and a strict hygiene concept guarantee an outstanding level of safety for you.
Complete care: At the KOEBE KLINIK, we will be here for you before, during and after the treatment. If you have any questions after the procedure or if you encounter any problems, you can reach us around the clock.
Administering a sufficient dose of the substance is crucial in Botox® treatments. Here at the KOEBE KLINIK, we refuse to compromise on this in our pursuit of effective, long-lasting results.
Contact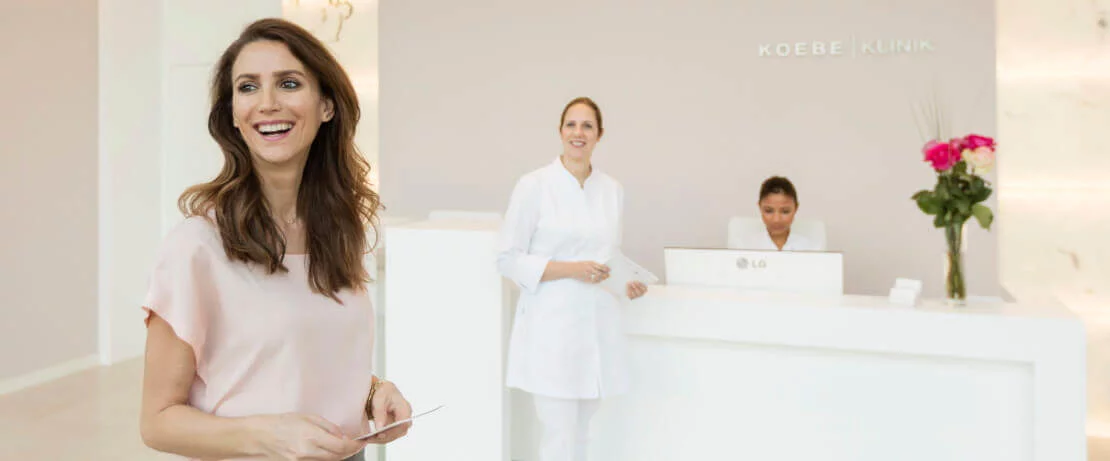 ---
Monday to Friday 9.00 am - 6.00 pm
---
We are available to you 24/7!