ARM LIFTS
AT THE KOEBE KLINIK
After significant weight loss, many people find that the stretched skin on their upper arms no longer reverts back to its previous state. The elasticity of our skin reduces over time, certainly by the time we turn 60, and especially in our upper arms. By this point, even smaller fat deposits often prove difficult to shift with dieting alone. This can result in flabby arms, sometimes pejoratively known as bingo wings, which can be particularly troubling in summer when wearing short-sleeved clothing.
However, an arm lift treatment can eliminate this excess tissue with lasting results. The procedure involves removing excess skin and, in some cases, stubborn fatty build-ups. The upper arms are gently lifted and sutured in place using techniques that result in minimal scarring.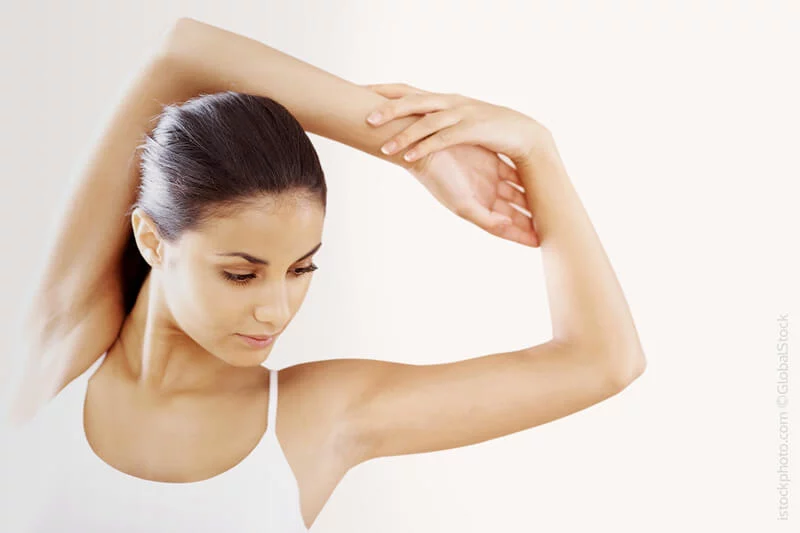 At the KOEBE KLINIK, Dr Hermann Koebe – an experienced specialist with many years of experience with upper arm corrections – stands ready to assist you. Dr Koebe personally performs every procedure and will be available to you as your personal contact during the recovery phase.
Unable to improve the appearance of your flabby upper arms? If this sounds like you, make a consultation appointment now with no obligation to proceed. Our senior physician, Dr Koebe, will meet with you to discuss whether an upper arm lift would be suitable for you.
FAQS ABOUT AN UPPER ARM LIFT
IN DÜSSELDORF
Who could benefit from an arm lift?
Arm lifts are suitable for all patients suffering from flabby upper arms. In many cases, the tissues become slack following significant weight loss. The skin can also lose its natural elasticity due to a genetic predisposition or in the course of the natural ageing process.
What do I need to consider before and after an arm lift?
An arm lift does not require any special preparation on your part. However, if you take blood-thinning or anticoagulant medication, you must stop taking them at least 14 days before surgery. This also concerns some over-the-counter medicines, such as aspirin.
If you have been prescribed specific medications, please tell Dr Koebe about this in advance. He will then discuss the alternatives open to you for the treatment period.
After an arm lift, you should rest for 1 to 2 weeks; during this time, you should avoid physical exertion. You can return to light office duties after just 2 to 3 days. You must wear a compression sleeve for the first 4 weeks to counteract swelling and support the healing process. You should avoid making sudden or jerky movements with the arms as much as possible during this period.
What does an arm lift involve?
Before an arm lift procedure, Dr Hermann Koebe will conduct an extensive consultation with you. As our specialist, he will discuss the benefits, risks and potential outcomes of the procedure with you. If you opt to undergo an arm lift, he will then draw up a personal treatment plan for you. Dr Koebe will precisely plan how much tissue to remove and where the incisions will be made. He believes it is particularly important to leave minimal scarring and make incisions in inconspicuous locations.
The surgery itself is usually performed under general anaesthetic. You will then stay in our clinic for a short period. During this time, our nursing team will care for you around the clock.
Before the arm lift procedure, Dr Koebe will mark on your skin where the incisions will be made. He removes excess skin by making an incision along on the inside of the upper arms. If the patient only has a small amount of excess skin, it can often be sufficient to make a small incision in the armpit. If you also suffer from stubborn fatty build-ups, we can also combine the procedure with liposuction.
Once he has removed the excess tissue, Dr Koebe will use special techniques to suture the wounds. It is not normally necessary to remove drainage from the wounds during this procedure. We will remove the sutures after 2 to 3 weeks.
Where will the scars be after an arm lift?
The surgical scars may vary depending on your personal situation. Dr Koebe places key emphasis on making incisions in inconspicuous locations that result in minimal scarring.
In most cases, the scars run along the inside of the upper arm. For patients with large amounts of excess tissue, Dr Koebe may need to continue the incision into the armpit or upper chest area. For minor corrections, a short incision in the armpit may be sufficient.
When will I be able to socialise and exercise after an arm lift?
We recommend that you rest for one to two weeks after an arm lift. During this time, your arms' strength and range of movement will be restricted. You must also wear a compression sleeve for four weeks. You should take particular care to do so during the summer months. You will usually be ready to socialise again after 2 to 3 days.
You should avoid exercise and sports for at least six weeks. Dr Koebe hold a personal consultation with you to discuss which exercise and sports you can resume and when.
Can the skin on the arms become slack again after an operation?
The skin on your arms may sag again as the natural ageing process progresses. Significant weight fluctuations may also affect the results of surgery. We therefore recommend that maintain a stable weight if at all possible and eat a balanced diet.
If sagging skin again develops again as the years goes by, we can repeat the arm lift procedure.
What are the risks associated with an arm lift?
An arm lift is a routine procedure that very rarely leads to complications. As with any surgical procedure, an arm lift involves a general surgical and anaesthetic risk. To ensure that the healing process is free from complications, you should make sure to follow our aftercare instructions.
At the KOEBE KLINIK, we perform upper arm lifts in accordance with rigorous hygiene standards. Your procedure will be personally performed by our specialist, Dr Hermann Koebe, which allows us to guarantee the highest level of safety.
Is financing available for an arm lift?
As with any of our treatments, we also offer straightforward financing solutions for arm lifts. We would be happy to work with you to draw up an individual plan to finance your desired treatment.
BENEFITS OF
AN ARM LIFT AT
THE KOEBE KLINIK
Senior physician treatment: Dr Hermann Koebe personally performs arm lift procedures at the KOEBE KLINIK. Dr Koebe will care for you from the initial consultation, throughout the recovery period and beyond. This gives you the certainty of always having an experienced specialist as your personal contact.
Sutures: Dr Koebe personally performs all suturing, including for sutures used to close wounds. As well as making careful incisions, layered wound closure with sutures is absolutely essential in surgery to lift the upper arms.
Highest hygiene standards: Your safety is very important to us here at the KOEBE KLINIK. This is why we work according to strict hygiene standards throughout the clinic. The KOEBE KLINIK is licensed under Section 30 of the German Trade Regulation Act (Gewerbeordnung) and meets the highest standards for technical equipment and hygiene.
Central location: The KOEBE KLINIK is situated just a few minutes from Düsseldorf city centre. Here in Meerbusch, we operate a flexible appointment schedule; meanwhile, our clinic grounds offer private parking spaces and discreet access to the clinic itself.
Contact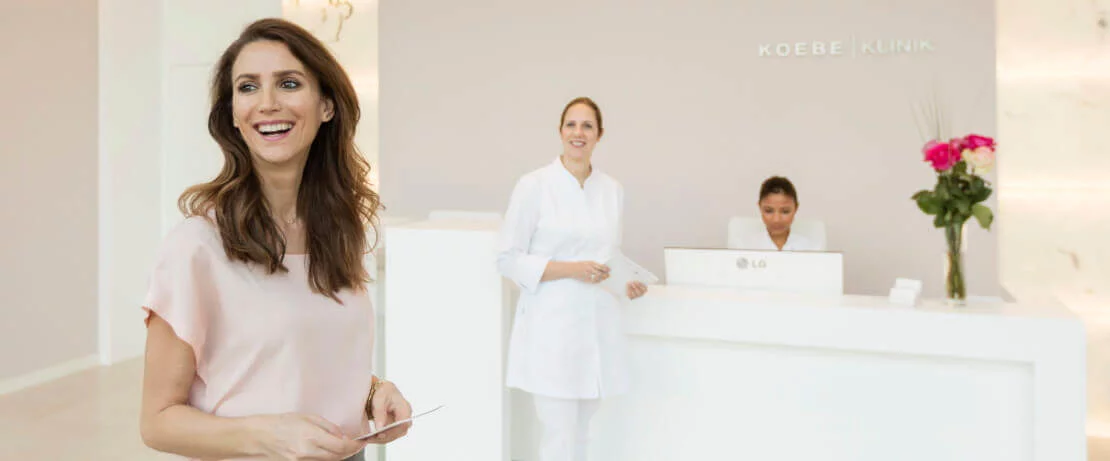 ---
Monday to Friday 9.00 am - 6.00 pm
---
We are available to you 24/7!