LIPOSUCTION AT
THE KOEBE KLINIK
Toned contours and a shapely silhouette are one of the most common wishes expressed by our patients. However, stubborn fat deposits are often difficult to shift despite exercise and well-balanced nutrition. In such cases, liposuction can help pave the way to an individual's desired figure.
Exactly where fat pads develop on our bodies differs depending on our genetic makeup. Natural weight-loss methods can thus only alter our physical proportions to a limited extent. In the abdominal, thigh and hip areas in particular, unwanted fat deposits can prove difficult to deal with.
In liposuction treatments, we can adopt a targeted approach, reducing fat tissue and gently shaping an individual's silhouette. Once removed, fat cells do not grow back – which means that, with liposuction, we can achieve long-lasting results.
Do you also suffer from stubborn fat deposits that, despite exercise and healthy nutrition, you just can't seem to shift? If so, liposuction could be a suitable treatment for you. In our opinion, liposuction is the only method at present that provides sustained and natural results that, above all, can be carefully defined and will not disappoint patients. Alternative methods rarely deliver the desired results and do not remove the melted fat tissue. They cannot predict the volumes that the body can break down or achieve sufficiently harmonious results when shaping the transition zones.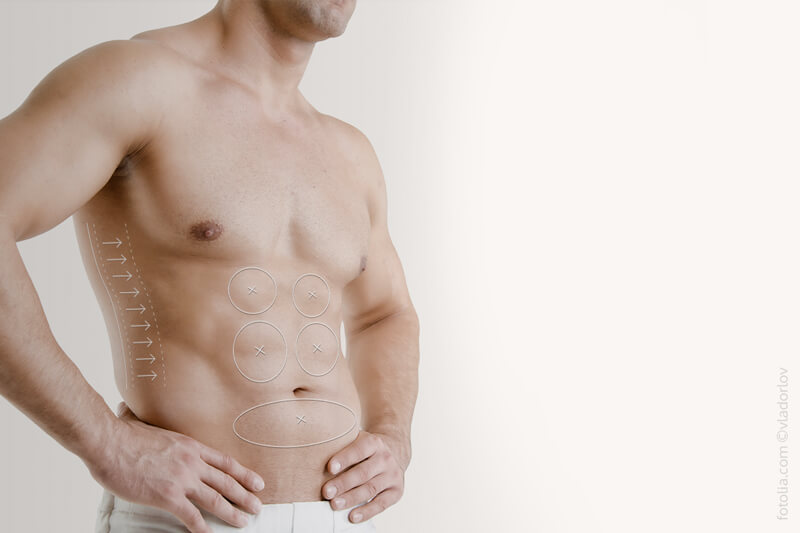 In many cases, the skin at the sites of the fat distribution disorder will be stretched. This means, in the medium-to-long term, that an effective correction will also require a lifting procedure. We therefore recommend that our clients undergo liposuction as early as possible – not only to enhance our ability to create a natural, distinguished shape but also as a preventive measure. If liposuction is performed at an early stage, it allows us to pre-empt the loss of skin elasticity caused by ageing and avoid long-term consequences.
Here at the KOEBE KLINIK, Dr Hermann Koebe is your expert contact for liposuction. Dr Koebe has many years of experience in the field and personally performs all liposuction procedures at our clinic.
Stomach Liposuction
One procedure we perform on a regular basis at the KOEBE KLINIK is stomach liposuction, also known as abdominal liposuction. Fat pads often develop in the stomach region and can prove particularly stubborn, even in the face of concerted efforts to lose weight. Meticulously planned liposuction enables us to eliminate these fat pads permanently and restore your attractive, shapely waist, leaving your body shape slimmer and more defined overall. Following significant weight loss or pregnancy, we often also recommend a discreet lifting procedure if there is no other way to get rid of the excess tissue. It is entirely worth ditching abdominal fat as early as possible in order to counter or entirely avoid the typical stretching of abdominal skin, which worsens over time.
At the KOEBE KLINIK, we create a tailored treatment plan for each patient who wishes to undergo liposuction. Firstly, we hold a consultation appointment to discuss your wishes and expectations. You will get a clear idea of what is feasible and what results you can realistically expect. We will also outline all details of liposuction treatment, including the risks involved.
We may use different surgical techniques depending on your specific circumstances. Dr Hermann Koebe always carefully considers which cosmetic treatment techniques would be best suited to achieving your desired results. Long-lasting fat reduction can deliver a major aesthetic improvement. In some cases, stubborn fat that proves resistant to exercise and a healthy diet can be tackled through precise, targeted liposuction. Your doctor will precisely mark the areas to be treated on your skin before the procedure. Liposuction usually takes place under sedation or general anaesthetic and takes 1.5 to 3.5 hours.
In a liposuction procedure, a tumescent solution is injected to loosen the fat tissue. Once it takes effect, the fat cells can be aspirated using a special tissue-conserving cannula. The fat cells are accessed through tiny incisions that usually are barely noticeable when healed.
Following stomach liposuction, you will have to wear special compression clothing for 2 to 6 weeks. You should also avoid exercise and other intense physical exertion for 2 to 4 weeks. At the KOEBE KLINIK, we conduct regular check-ups so that we can closely monitor the healing process.
In addition to classic liposuction, Dr Hermann Koebe also offers liposculpture treatments. This innovative treatment method draws on state-of-the-art medical technology to shape your body's silhouette. Dr Koebe uses a 3D computer simulation to plan your desired contours. Liposculpture includes autologous fat transfers to shape your body and help to create your dream figure.
Do you set high standards for your appearance? Would you like to access state-of-the-art liposurgical techniques to optimise your treatment results? Don't hesitate to get in touch. Dr Hermann Koebe will hold a personal consultation with you to discuss whether a liposculpture treatment could help to achieve your desired results.
You can also find out more about fat-dissolving injections on our aesthetic treatment website.
FAQS ABOUT LIPOSUCTION
IN DÜSSELDORF
BENEFITS OF LIPOSUCTION
AT THE KOEBE KLINIK
Senior physician treatment: At the KOEBE KLINIK, our chief physician, Dr Hermann Koebe, will personally perform your treatment. From the initial consultation through to your check-ups, Koebe will provide support as your personal contact. This means you can look forward to the procedure, safe in the knowledge you will be cared for by an experienced specialist.
Even, harmonious results: Only a truly experienced surgeon can perform a liposuction procedure and achieve utterly even, naturally contoured results.
No time pressure: At the KOEBE KLINIK, we perform all our operations free from time pressure. This allows our surgeons and anaesthetists to go about their work calmly, conscientiously and with the utmost precision. In the case of liposuction in particular, our scheduling allows our specialists to use particularly fine cannulas – which, in our experience, deliver far more even results.
Highest hygiene standards: Your safety is our top priority. We therefore implement strict hygiene standards throughout our clinic. The KOEBE KLINIK is licensed according to Section 30 of the German Trade Regulation Act (Gewerbeordnung) and thus meets the highest standards for hygiene and technical equipment.
Contact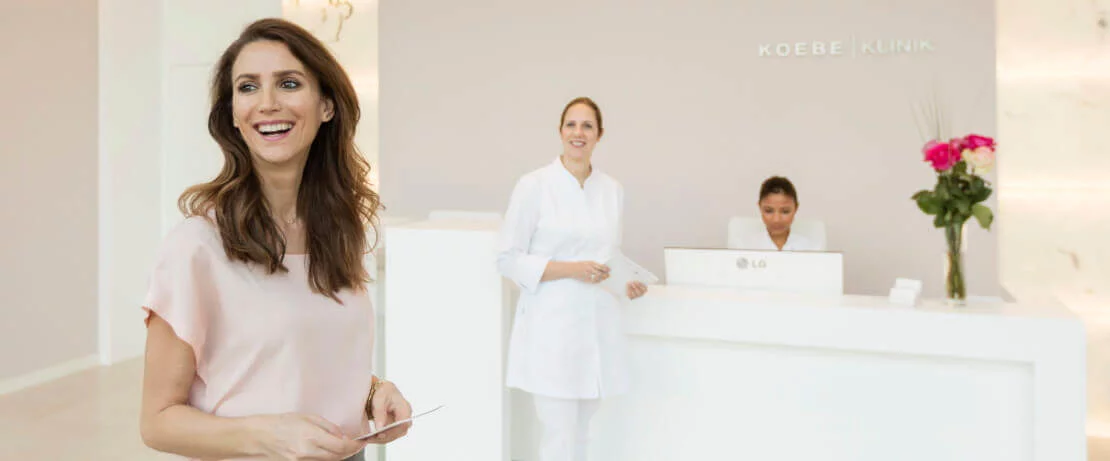 ---
Monday to Friday 9.00 am - 6.00 pm
---
We are available to you 24/7!