Breast implant replacement
at the KOEBE KLINIK
An implant replacement can become necessary for a variety of reasons. For instance, a person may no longer feel satisfied with the shape or size of their breasts and wishes to make a change. Other problems with existing implants (e.g. capsular contracture, outdated implants or implant recalls) can also necessitate a breast implant replacement.
The KOEBE KLINIK is your specialist partner for breast implant replacement in the Düsseldorf region and beyond. As a specialist clinic, we can guarantee breast surgery performed to the highest medical standards. All procedures are personally performed by Dr Hermann Koebe. Dr Koebe has specialised in exacting plastic surgery and aesthetic treatments for more than 20 years. His work focuses on breast augmentation and implant replacement procedures using modern methods that result in minimal scarring.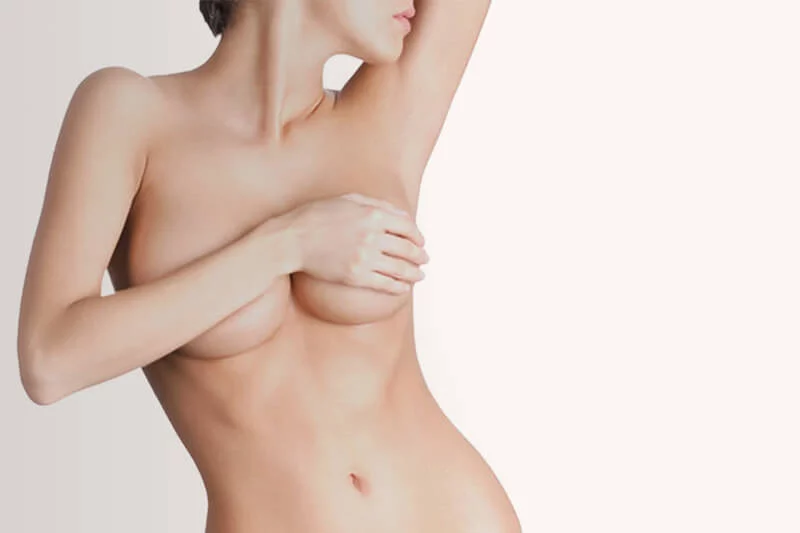 We perform breast implant replacements during a brief inpatient stay at our clinic in Düsseldorf. This allows us to ensure the highest safety standards during and after the operation. If possible, the new implants are inserted by making incisions in the same locations as in the original procedure, which avoids creating any new scars. Old scars can also be corrected in the course of this operation. Replacing breast implants is a demanding procedure that must be performed with the utmost care and attention. Every breast is unique, so it is vital that breast implant replacements are performed by a doctor with extensive experience in breast surgery, especially if revision is required to correct capsular contracture.
Dr Hermann Koebe has devoted his entire professional career to this field, including his doctoral thesis, which concentrated on the replacement of silicone breast implants.
You will have an opportunity to discuss all details of breast implant replacement before the procedure itself. Dr Koebe will outline the advantages and drawbacks of each implant type in detail. Then, working together with you, we will decide on the most suitable method to achieve your deserved results.
FAQs about
breast implant replacement
in Düsseldorf
Who could benefit from breast implant replacement?
Here in Düsseldorf, we offer breast implant replacement for all patients who no longer feel satisfied with the size and shape of their breasts. In many cases, this is driven by a desire for a more natural appearance or a shift in a person's perception of the ideal breast shape.
Replacing the existing implants may be a sensible choice if the breast tissue has slackened somewhat over the years. In such cases, we can combine the implant replacement with a breast lift if necessary. Implants may also need to be replaced or removed entirely if they are very old or have been identified as defective models supplied by certain manufacturers.
If this is the case, we will discuss with you in advance whether we can replace the breast implants or whether the implants should be removed entirely.
When do breast implants need to be replaced?
Nowadays, there is no need to replace breast implants on a regular basis. While it was recommended to replace older generations of implants on a regular basis, around every 10 years, modern high-quality implants are durable enough to last a lifetime.
As a general rule, breast implants only need to be replaced when they cause health problems or become damaged (e.g. a tear in the implant).
What is capsular contracture?
Capsular contracture is a complication that can occur following breast augmentation with implants. It is a form of intolerance reaction to a foreign body, i.e. the implant. In cases of capsular contracture, a hardened capsule of connective tissue forms around a breast implant. This can lead to distortion or hardening of the breast tissue.
If capsular contracture occurs, it may be necessary to replace breast implants or remove them entirely. However, when using the latest generation of silicone implants and performing surgery in hygienic conditions, capsular contracture is far less common than was once the case.
What are the potential consequences of failing to replace an implant promptly?
If an implant is not causing any physical complaints, there is no need to replace it. However, if breast implants are causing acute issues such as capsular contracture, they must not remain in the body as they may cause pain or distortion.
In most cases, damage to implants does not cause any direct issues as modern silicone implants are leak-proof. This means that they retain their shape even if their surface is torn. This makes replacing the implant a precautionary measure.
Implants from questionable manufacturers and very old implants should also be replaced for safety reasons.
What does an implant replacement involve?
During an initial examination, we will talk about why you want to have your breast implants replaced and whether there is a medical issue. We will then work with you to select a suitable treatment method and choose new breast implants.
The breast implant replacement procedure takes place under general anaesthetic. Dr Koebe will remove the old implant by making incisions in the same locations as in the original surgery. If possible, he will insert the implants the same way. The new implant will be placed in a new position in the breast. And, if a patient's breasts have slackened considerably over time, the implant replacement procedure can be combined with a breast lift.
What do I need to bear in mind following breast implant replacement?
The recommendations after having breast implants replaced are essentially the same as after any breast augmentation surgery. You should get plenty of rest in the days following the breast operation and avoid any movements that place particular strain or pressure on your breast muscles.
After the implant replacement, you will wear a special breast strapping or a special bra for around 2–4 weeks. You should also avoid intense exercise and visits to the sauna or solarium for the first few weeks after treatment.
Will an implant replacement create new scars?
When replacing breast implants at our clinic in Düsseldorf, we use the same incisions that were used to insert the old implants. This means that, in most cases, we can replace breast implants without creating any new scars. In fact, we can usually also improve the appearance of old scars.
What risks are associated with the procedure?
The risks of breast implant replacement are essentially the same as in any breast augmentation surgery. In addition to general operative risks, such as secondary haemorrhages, infections and wound healing deficits, there is also a risk of capsular contracture (or recurrence of an existing capsular contracture) following implant replacement. However, at the KOEBE KLINIK we exclusively use tested, high-quality implants from renowned manufacturers, so we can offer you the highest possible level of safety.
Benefits of
implant replacement
at the KOEBE KLINIK
Treatment from a chief physician: Dr Hermann Koebe personally performs all implant replacement procedures. With over 20 years' experience in plastic and cosmetic medicine, Dr Koebe is among the leading specialists for breast implant replacement in Düsseldorf.
High quality: At the KOEBE KLINIK, we never compromise on the quality of the products we use. We exclusively use tested breast implants from renowned manufacturers with a life-long material warranty.
Everything from a single source: We perform every treatment step here at the KOEBE KLINIK. This includes the initial consultation, the operation itself, an inpatient stay if required and all check-up examinations.
Contact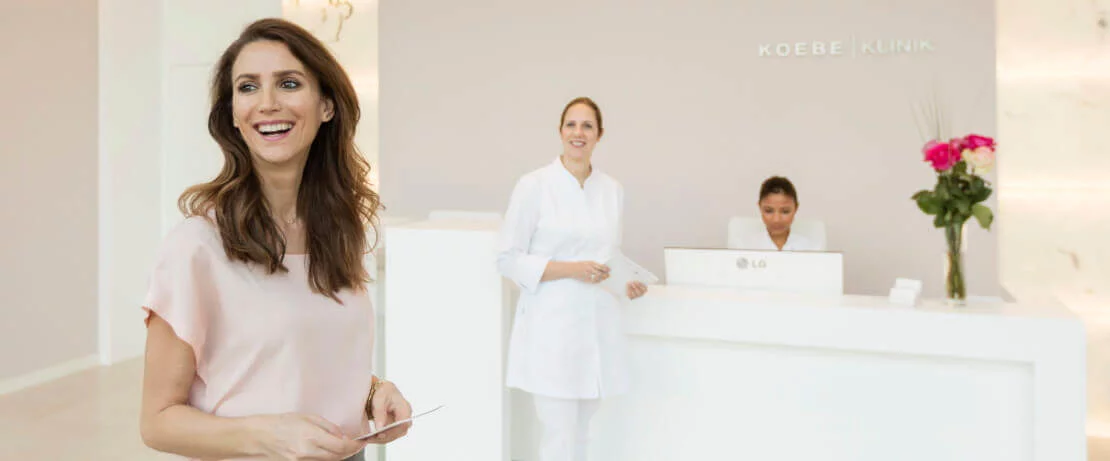 ---
Monday to Friday 9.00 am - 6.00 pm
---
We are available to you 24/7!