EYELID LIFTS
in der KOEBE KLINIK
UPPER EYELID LIFT
A clear, open gaze radiates self-confidence, intelligence and attentiveness. Beautiful eyes are an important element of an attractive face and have a major influence on how others perceive us. Drooping eyelids often have a negative impact on a person's appearance and alters how other people perceive them. This can often cause people with drooping eyelids to become unhappy with their appearance. In some cases, drooping eyelids also impair a person's field of vision, limiting their gaze and making everyday tasks – such as driving a car – more difficult. They can also cause a person's eyes to become fatigued more quickly, such as when working at a computer or when reading.
Drooping eyelids can have many different causes. In some cases, they can be caused by congenital malposition of the lid or excess skin and/or tissue. Eyelids can also begin to droop as a result of ageing. Sagging, drooping or swollen upper or lower eyelids are also frequently caused by ageing. Eyelid skin is very thin, which is why it often loses its elasticity at a young age.
Here at the KOEBE KLINIK, we treat drooping or sagging lids with an eyelid lift.
An eyelid lift procedure tautens the skin and removes excess tissue. It may also involve removing or repositioning any excess muscle and fat tissue. We can perform eyelid lifts on either the upper or lower eyelids or, if necessary, on a combination of the two.
The procedure is always performed by one of our two specialists, Dr Hermann Koebe and Dr Dr Norman Koebe. Dr Dr Norman Koebe trained extensively to specialise in plastic and aesthetic operations as well as in oral and maxillofacial surgery. Dr Hermann Koebe is a specialist in plastic and aesthetic surgery. Both possess expertise and years of experience that enable for them to perform this delicate procedure with the greatest degree of precision. These aspects are crucial for achieving excellent results.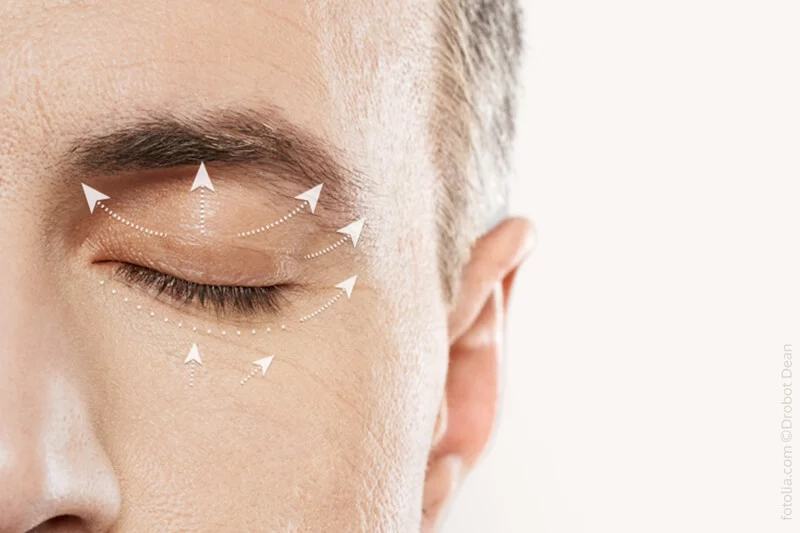 Here at the KOEBE KLINIK, we usually perform eyelid lifts on an outpatient basis under local anaesthetic. The procedure normally lasts about one hour. Afterwards, you can leave the clinic and return home.
If you are bothered by prominent or protruding bags under your eyes, we can also treat this in the course of an eyelid lift. To do this, we tauten the skin and also remove or relocate excess fat tissue where necessary.
Of course, we also offer tear trough fillers to treat dark circles under the eyes. We use excess fat tissue from elsewhere in your body to fill in dark rings and depressions under the eyes. Since this approach uses autologous tissue, we do not anticipate any rejection reactions and patients generally tolerate the procedure very well. The fat tissue helps to afford your eye region a smoother, fresher and healthier appearance.
If you are interested in an eyelid lift, our senior physicians Dr Dr Norman Koebe and Dr Hermann Koebe will, of course, care for you personally. They are renowned as true specialists in facial operations and possess and exceptionally well-refined sense of aesthetics and holistic treatment. At our clinic, they will advise you in detail about which method would be best suited for your individual needs and the aesthetic results that could realistically be achieved.
LOWER EYELID LIFT
Our eyes allow us to perceive the world around us and interact with our surroundings. This is why it can often be distressing when various influences significant affect the area around our eyes. Two symptoms in particular can lead people to consider a lower eyelid lift: prominent or protruding bags under the eyes and a very visible tear trough can often cause distress. As many people regard these as aesthetic flaws, which can lead the person concerned to become increasingly distressed, we offer specialist lower eyelid lifting at the KOEBE KLINIK. Our delicate, uncomplicated techniques allow us to significantly improve our patients' wellbeing and restore a fresh, youthful radiance.
The term "bags under the eyes" refers to additional fat tissue and water retention below the eyes. They can be caused by age-related or genetic factors, stress, a lack of sleep or an unhealthy lifestyle. At the KOEBE KLINIK, can remedy bags under the eyes in a surgical procedure by making an incision along their outer edge. A suitable, highly popular method is to make the incision in the eyelid crease, which essentially hides the scar when healed. Once our specialist has made a small incision, they remove some fat tissue and also redistribute of the tissue to smooth the transition from the cheek to the eyelid and create a harmonious appearance. This means that the patient's own tissues are used to fill out their tear trough, with lasting results. The fatty tissue is spread out and placed under the tear trough to fill it out. This brief procedure takes about 15 to 20 minutes per eyelid and can be performed without any issues under local anaesthesia.
As part of a lower eyelid lift, our specialist physicians can ensure that a prominent tear trough is reduced in appearance. This also involves redistributing the patient's fat tissue. As the skin in the eye area is very thin, at the KOEBE KLINIK we use a gentle, delicate procedure. We make a minimal incision to remove the fat tissue from and redistribute it evenly to produce a smooth result. PRP therapy (also known as a vampire lift) or a skin-bleaching peel can also achieve satisfactory results. Facial skin can also begin to sag as we grow older or due to other environmental impacts, making the tear trough even more prominent. The excess skin that develops can also often be removed as part of the treatment. Of course, at the KOEBE KLINIK we can also perform a combination treatment in which we treat both tear troughs and bags under the eyes while smoothing out other wrinkles in the eye area.
FAQs ABOUT EYE LIFTS
in Düsseldorf
BENEFITS OF AN
EYE LIFT
AT THE KOEBE KLINIK
Greatest specialist expertise: At the KOEBE KLINIK, our senior physician Dr Dr Norman Koebe will treat and care for you from your initial consultation through to your final check-up. He is a dual-certified specialist with qualifications in plastic and aesthetic operations as well as oral and maxillofacial surgery. Very few physicians in Germany possess such advanced qualifications.
Dr Hermann Koebe is a specialist in plastic and aesthetic surgery and a true expert in aesthetic facial treatments. He has enjoyed major success in aesthetic and plastic surgery for more than 20 years and always strives on to ensure his patients are fully satisfied.
Highest hygiene standards: Our clinic is a licensed specialist clinic in accordance with Section 30 of the German Trade Regulation Act (Gewerbeordnung) and is subject to the strictest hygienic requirements.
Exacting treatment standards: At our clinic, the patient is our primary focus. In order to achieve outstanding results in exceptional functional terms, we only use products when we are convinced of their quality. Dr Dr Norman Koebe and Dr Hermann Koebe are renowned, highly regarded specialists who will give you comprehensive advice on the results you can realistically expect to achieve. They maintain the highest standards in their work at the KOEBE KLINIK. Our goal is to ensure you are fully satisfied with the results of your treatment.
Contact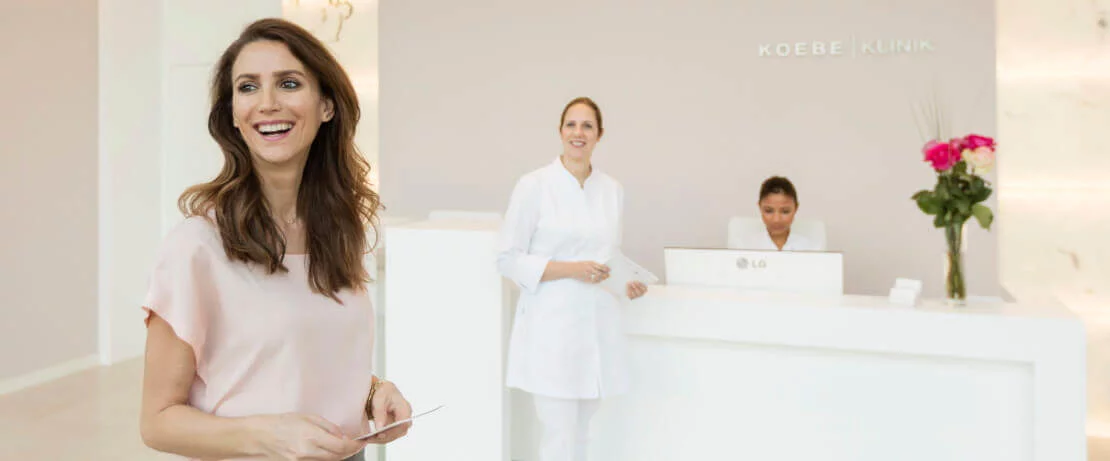 ---
Monday to Friday 9.00 am - 6.00 pm
---
We are available to you 24/7!