THREAD LIFTING
AT THE KOEBE KLINIK
The term "positive ageing" describes the tranquil, relaxed feeling of growing older while still looking as at ease as ever. The thread lifting treatments offered by Dr Hermann Koebe and Dr Dr Norman Koebe make it possible to lift parts of the face without surgery and achieve a radiant, fresh and naturally rejuvenated outcome – with minimal effort.
No other non-surgical method is capable of tautening the entire cheek area, eyebrows or the neck as naturally and effectively as thread lifting has now made possible. Here at KOEBE KLINIK, the innovative method we have develop allows us to achieve even more precise results.
The treatment affords slackened tissue a new sense of structure and real elasticity. Modern thread lifting enables us to achieve results that would not be possible, for example, with hyaluronic acid or similar compounds. Thread lifting finally fills a "gap" in therapies offered by conservative aesthetic medicine, which is what makes this innovative process so valuable and near irreplaceable.
We have offered thread lifting as a speciality treatment for more than 10 years – with great success. As an experienced specialist clinic, we have modified and optimised conventional thread lifting methods, which allows us to achieve results that were previously not possible in a more gentle way.
Thread lifting is particularly suitable for patients over 35. We use thread lifting as a gentle method to treat typical signs of aging and achieve natural, enduring results. We apply absorbable sutures under the surface of the skin; these are then broken down by the body over a period of about 9 to 12 months.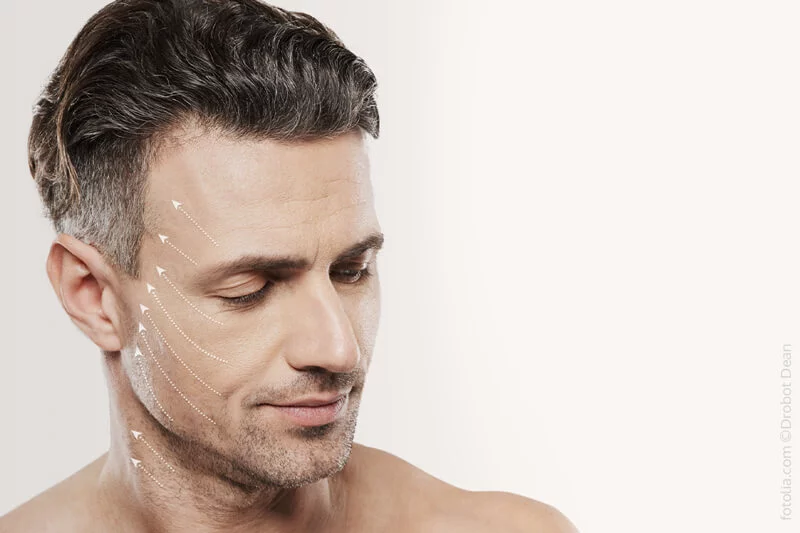 Immediately after the treatment, the threads provide a genuine, immediately visible tautening effect by supporting and lifting the facial structures. As they are slowly absorbed, your body directs collagen, valuable elastic fibres and new connective tissue to the area where the threads are applied. Even after the threads have been absorbed, this tissue remains in place and takes on a supporting and reinforcing function. This combination creates younger, fresher facial features – even once the threads are long gone. The result is highly natural because modern thread application methods prevent volume overloads. In essence, tissue is repositioned and returns to where it contoured the face during the patient's youth.
Each thread lifting procedure in our clinic is preceded by a detailed consultation with one of our senior physicians, Dr Hermann Koebe and Dr Dr Norman Koebe. During this discussion, a precise plan is drawn up for the thread lifting treatment the expected results are outlined. The patient also discusses the points at which the threads will be used selectively to treat the desired region. At the KOEBE KLINIK, the main goal of a thread lifting procedure is to tauten sagging cheeks and slackened skin. For some patients, tautening skin in the neck area, a minor eyebrow lift and even rhinoplasty can also be arranged. In addition to thread lifting – which uses threads with small, barely visible barbed hooks – meso threads and pure dermal fillers are other options.
The thread lifting treatment itself is administered under local anaesthetic. Special thin threads are placed under the skin using a hollow cannula. The quantity, type and quality of the threads have a decisive influence on the final outcome. Our specialists' experience is crucial to the success of the treatment, as is the technique used, which is defined in advance.
Dr Dr Norman Koebe and Dr Hermann Koebe are highly qualified specialists in the field of facial treatments. You can therefore expect the highest quality at all times in our clinic. With their many years of experience and their knowledge of plastic and aesthetic facial surgery, the specialists achieve excellent results with thread lifting.
FAQS ABOUT THREAD LIFTING
IN DÜSSELDORF
Who could benefit from thread lifting?
If you're yearning for a fresh, naturally rejuvenated facial appearance but are shying away from surgical procedures, thread lifting at the KOEBE KLINIK is the perfect solution. A thread lift can deliver exceptional results when specific areas of the face begin to sag; it can also treat other areas of the body such as the décolleté. The treatment counters the skin becoming slack and drooping by stimulating the creation of new subcutaneous structures. It can also slow and even stop the dreaded formation of excess skin.
As with most aesthetic treatments, prevention is better than retroactive correction.
Over the years, Dr Dr Norman Koebe and Dr Hermann Koebe have refined this method. They are both experienced practitioners and are renowned among their colleagues as thread lifting experts.
What advantages does the thread lifting method have over a classic facelift or hyaluronic acid fillers?
Thread lifting is a particularly gentle, minimally invasive method to treat wrinkles. It does not require surgery and delivers natural-looking, long-lasting results. Patients are presentable and ready to appear in public soon after the treatment.
The results are visible immediately after the treatment, which leaves no scars. Since the threads used in the treatment have been used in surgical procedures for decades, they have tested extensively and are very safe. The material dissolves gradually and leaves no residues behind.
At our clinic, we perform thread lifting on an outpatient basis; by contrast, a facelift often requires an inpatient stay of one to three days.
Thread lifting offers several advantages compared to the traditional facelift procedure. For one, it is more cost-effective and several thread-lifting treatments can prevent skin from sagging gradually over the years. Thread lifting can also be used as a preventive measure to counter the aging process.
The treatment offers several advantages compared to hyaluronic acid fillers. Firstly, threads create structure without overloading the face with added volume or gel. One hyaluronic acid filler injection or treatment session, though a common choice nowadays, by no means represents the best treatment. Hyaluronic acid can and should be used in moderate doses in order to achieve positive, long-term results. A combination treatment comprising both threads and hyaluronic acid also reduces the amount of gel used; we strongly recommended this approach. The method used by Dr Koebe, who favours the use of different materials (hyaluronic acid, threads, etc.), ultimately achieves far more natural-looking results and is much more effective over the long term. The growing popularity of thread lifting according following the Korean method (i.e. using barbed threads, Coq threads, spiral threads, etc.) shows that thread lifting is – and will continue to be – one of the most important alternatives to both operative and non-operative procedures.
Ultimately, what matters to us that your facial appearance is natural and improved, even after prolonged use of our aesthetic compounds – and thus enjoy positive ageing.
What does thread lifting involve?
At our clinic, we perform thread lifting on an outpatient basis. Before the procedure, we will discuss your personal wishes and goals in a detailed consultation and plan where exactly to place the threads.
The threads are then placed under the skin using a hollow cannula under local anaesthetic. We use a technique that minimises the risk of bruising – a vital aspect of our work.
The type of threads and the practitioner's experience are crucial for the success of the procedure. Dr Hermann Koebe and Dr Dr Norman Koebe are recognised experts in the field of thread lifting and achieve very good results.
The threads used at the KOEBE KLINIK are primarily made up of polydioxanone, a tear-resistant and long-lasting absorbable surgical suture material.
Extensive testing has confirmed that these threads are well tolerated and that the risk of allergic reactions or infections is minimal.
Over a period of nine to twelve months, these threads gradually dissolve without leaving behind any residues; at the same time, your body deposits collagen and tissue to these areas, which then take on a supporting function.
What aspects should I consider before and after thread lifting?
You should refrain from taking any medication that could impair blood coagulation for at least two weeks before the procedure. In addition to prescription drugs, this includes aspirin and various other painkillers.
If you need to take anticoagulant or blood-thinning medication, our specialist will discuss the preparations you should make and special medication with you.
After the treatment, you should only apply facial care products and cosmetics very gently, moving from front to back. Do not rub any products into the skin. You should also avoid any skin peeling treatments at first to avoid impairing the healing process. As a special feature, we will provide you with a mask you should wear overnight. Gentle compression helps to protect the treatment results and also allows you to sleep on your side. In addition, you can support the healing process by keeping your face moist and sleeping with your head slightly elevated.
You should refrain from all sports activities for around 7 days and avoid exposing your skin to direct sunlight.
Can the threads cause intolerance reactions?
Polydioxanone (also referred to as PDO) has been an approved substance for decades and is successfully used as a particularly safe surgical suture material in clinics around the world. It dissolves without leaving behind any residues after 9 to 12 months. As a rule, the risk of intolerance to these threads is extremely low.
When will I be able to socialise and exercise again after thread lifting?
Generally, our patients can again appear in public immediately after a thread-lifting procedure. For extensive and more complex treatments or if the patient tends to experience swelling, it may be sensible to allow a few days for recovery.
You can participate in sports again after 7 to 14 days. However, you should wait some time after thread lifting before visiting the dentist.
When will the results of thread lifting be visible and how long will they last?
We can assess the final results after about two weeks. During this time, the threads stabilise in your subcutaneous tissue.
After around one to two months, the body begins to produce collagen and the effects of the thread lifting treatment increase. The skin-tautening effect usually lasts about one to three years. If the effects subside or the patient wishes to intensify the effects, the treatment can be repeated as required at any time. It is sometimes sufficient to administer only a few threads in a brief touch-up treatment.
BENEFITS OF THREAD LIFTING
AT THE KOEBE KLINIK
Absolute specialisation: Dr Dr Norman Koebe and Dr Hermann Koebe are highly respected thread lifting experts. They have experience in implementing this method with complete precision to achieve natural and appealing results.
High-quality products: At the KOEBE KLINIK, we only use products that meet our high quality standards. The quality of the threads we use in thread lifting is of particular importance, as they are a decisive factor in the treatment's success and lasting impact. As a specialist clinic, we know the market and always select the right product for you.
Anti-ageing concept: At our clinic, we perceive anti-ageing and preventive treatment as concepts in their own right – which is why we offer thread lifting in combination with hyaluronic acid fillers. Incorporating this concept in our approach ensures particularly long-lasting, natural-looking results.
Individual consultation: At our clinic, you will be receive honest advice based on genuine expertise. You can feel certain that your practitioner will assess which treatment offers you the best prospects of success and the results the treatment can realistically achieve.
High-quality materials: The threads we use are medical materials of the highest quality. Our experience has proven they provide long-term support and function, in a way, like a bra under the skin. We only use products that have undergone extensive testing in respect of their efficacy and safety.
Preventive approach: Thread lifting offers the perfect opportunity for preventive anti-ageing care starting in your early or mid-thirties. Individual areas can already be given extra support before skin begins to sag. Providing stability and structure ahead of time can prevent signs of ageing from appearing.
Contact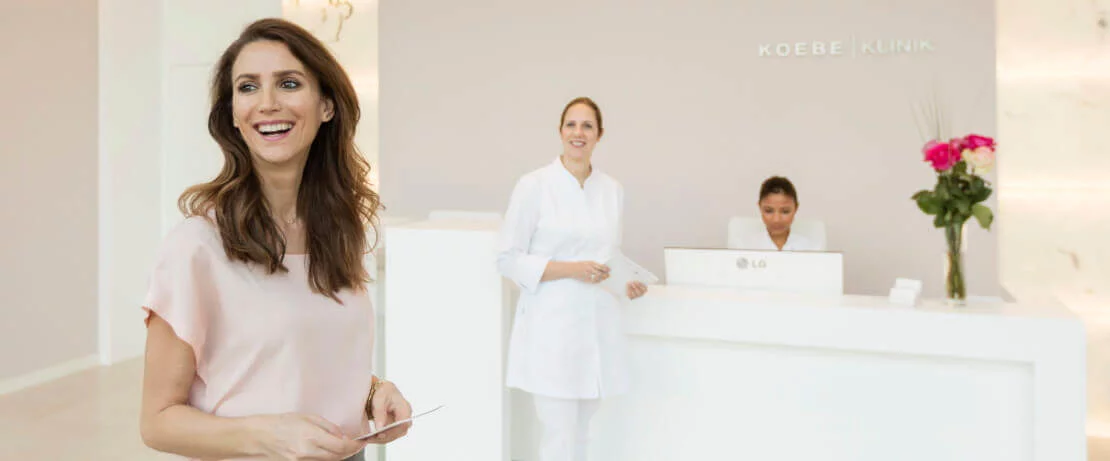 ---
Monday to Friday 9.00 am - 6.00 pm
---
We are available to you 24/7!