BRAZILIAN BUTT LIFT IN
THE KOEBE KLINIK
The buttocks are among the most important aspects of a sensual, female silhouette. Unfortunately, not every woman is blessed with a shapely, feminine derrière – which can be very troubling for the women concerned. A flat or sagging behind can impact on a woman's self-confidence. If a woman is unhappy with their behind, it can make them feel insecure and impair that crucial feeling of alluring femininity.
As a woman grows older, her derrière loses its pert, firm shape, sagging downwards and to the side. The upper portion of the buttocks appear flatter as a result – they look to be drooping, hanging; the once-rounded volume in the upper portion of the derrière accumulates to form what are sometimes referred to as riding breeches.
A couple of decades ago, a pert, athletic behind was considered the ideal of beauty; over the years, however, opinion has shifted to the point that an attractive, alluring rear is now very much coveted. A shapely, curvaceous derrière is undoubtedly a part of this. New fat transfer techniques (such as the Brazilian butt lift) have made it easier than ever to fulfil women's wish of an attractive overall image.
Fat redistribution allows us to turn back the clock to a degree. Tissues that have slumped down can be shifted upward again and shaped into an attractive, round and pert derrière. Patients who opt for liposuction at our clinic should consider whether the valuable fat tissue removed from their problem areas could be used to model other parts of their both – combining the two treatments in one procedure often brings benefits.
A Brazilian butt lift is a gentle treatment option to add volume to the buttocks. The procedure also uses the patient's own fat tissue to contour the derrière region and the transitions to their thighs and hips. This means we are able not only to augment the buttocks but also to sculpt the entire silhouette to achieve aesthetic results from all angles.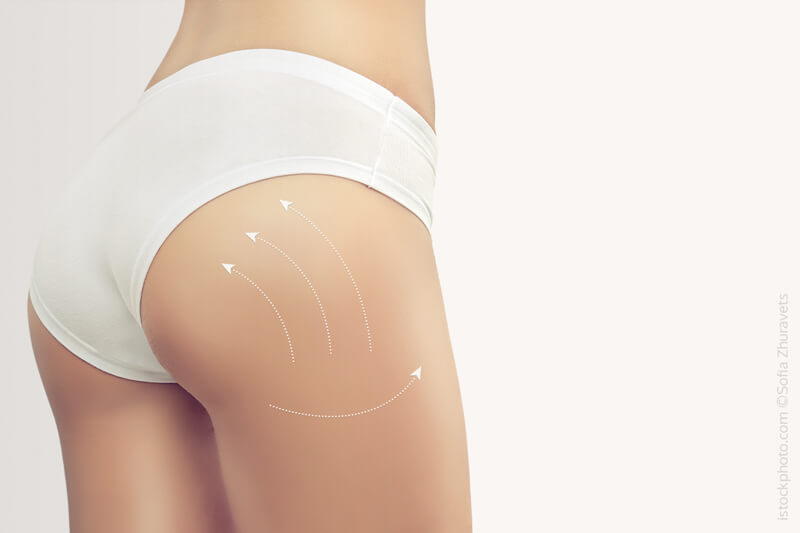 At the KOEBE KLINIK, Dr Hermann Koebe is your specialist for butt augmentation surgery. Our experienced senior physician will personally perform the procedure and support you during the entire planning and recovery phase. You can therefore feel sure you will be in the best of hands at all times.
The first step in buttock augmentation is to collect fatty tissue from other body sites. Dr Koebe starts by performing specialist liposuction using very fine cannulas. If you have troubling fat pads you would like to remove that exercise and good nutrition have been unable shift, these body parts are perfect locations for liposuction.
The harvested fat tissue is then prepared and used to contour the buttocks region. Dr Koebe places great importance on taking a holistic view of the body silhouette. Combining liposuction, buttock augmentation and potentially a butt lift allows the surgeon to proceed purposefully to create feminine curves.
Are you interested in a Brazilian butt lift and would appreciate information with no obligation to proceed? If so, arrange a personal consultation with Dr Hermann Koebe. Dr Koebe will work with you and discuss the best way to realise your desired result.
FAQS ABOUT BRAZILIAN BUTT LIFTS
IN DÜSSELDORF
What exactly is a Brazilian butt lift?
A Brazilian butt lift is a surgical procedure to augment a person's behind with their own fat. The entire derrière and hip region is delicately modelled to harmonise the overall silhouette. In terms of the final shape and feel, the results are exceptionally natural.
Before working to augment the buttocks, the surgeon first removes fat tissue from another part of the patient's body. This tissue is then prepared and used to contour the derrière region. Redistribution fat tissues from areas that have become slack or sagging gives the appearance of the derrière having been lifted.
Who could benefit from a buttock augmentation?
A buttock augmentation is suitable for anyone who feels unsatisfied about the shape of their behind. The treatment not only adds volume to the derrière but also gently shapes the entire buttock and hip region. This makes it possible to harmonise the patient's individual features and thus create a harmonious silhouette. It is not uncommon for men to suffer from a flat, shapeless behind that continuous exercise is unable to fully remedy.
A Brazilian butt lift can also serve to treat a sagging behind. Dr Koebe contours the derrière region so that the buttocks then appear pert and firm again. In contrast to implants, this treatment achieves very natural results when shaping the transitional areas to the waist and thighs. The derrière itself will also feel much more "real" than would be the case with implants.
In some instances, if a patient is particularly slim, a treatment using autologous fat may not be feasible. In this case, a buttock augmentation using implants could be a sensible alternative.
What does the Brazilian butt lift procedure involve?
Before the treatment, our specialist Dr Hermann Koebe will hold an in-depth consultation with you. During this conversation, Dr Koebe will personally explore your wishes and discuss the course of further treatment with you.
We perform the buttock augmentation procedure under local anaesthetic on an outpatient basis wherever possible so that you can leave our clinic again the same day. Under certain circumstances, a one-night inpatient stay also be advisable.
In the first treatment step, Dr Koebe performs liposuction at pre-defined sites. The fat tissue he removes is prepared and used for to delicately contour the derrière region. After the procedure, he applies a special strapping and provide the patient with compression garments. These special tights, specifically selected and tailored to your needs, will be given to you by the KOEBE KLINIK.
What do I need to consider before and after the treatment?
You should stop taking anticoagulant and blood-thinning medication no later than two weeks before the operation. This also concerns some over-the-counter medications, such as aspirin.
If you need to take anticoagulant or blood-thinning medication, please advise our specialist of this during the preliminary consultation. He will then advise you of the alternatives to consider for the duration of the treatment.
Following the buttock augmentation procedure, you should refrain from physical exertion for 14 days. You can still carry out light everyday activities during this time.
It is especially important that you do not place significant pressure on the treated sites during the healing phase. The special tights provided to you by the KOEBE KLINIK will be adapted to your needs and highly suitable for the period after the Brazilian butt lift.
Does the buttock augmentation leave any visible scars?
A buttock augmentation procedure using autologous fat does not result in prominent scarring. Dr Koebe uses very fine cannulas to make the injections, leaving the insertion sites barely visible to the naked eye once healed.
When will I be ready to socialise and exercise again after buttock augmentation?
You should allow for around a week before you are ready to socialise again.
We recommend not exercising after at least four weeks. Dr Koebe will discuss with you which kinds of activities you can resume during the personal discussion.
When will the results be visible and how long will they last?
A few weeks after the procedure, the swelling should have receded and the initial results should be visible. The final results of the operation can be assessed after several months.
The Brazilian butt lift allows us to achieve long-lasting results. However, the natural ageing process and lifestyle changes can cause the contours of your body to change again. Of course, we can in principle repeat the procedure if necessary.
Are there risks associated with a Brazilian butt lift?
Just like any surgical procedure, a buttock augmentation involves general surgical risks. To guarantee you the highest level of safety, the treatments at the KOEBE KLINIK are exclusively performed by our senior physician, Dr Hermann Koebe. The procedure is carried out in accordance with strict hygiene standards.
Following the buttock augmentation procedure, you may experience mild pain similar to a strong muscle ache around the treatment sites, as well as some redness and swelling. We would be happy to prescribe you an appropriate painkiller for mild wound pain. Any initial bruising and swelling should fade away on its own over time.
Are financing options available for a Brazilian butt lift?
Many patients are unable to make their wish of aesthetic treatment a reality for financial reasons. Our flexible financing option means you can undergo a Brazilian butt lift without financial worries and pay off the costs in simple, convenient instalments.
BENEFITS OF A
BRAZILIAN BUTT LIFT
AT THE KOEBE KLINIK
Specialist expertise: Dr Hermann Koebe has many years of experience with demanding aesthetic procedures. He successfully achieves optimal aesthetic results with great finesse and conceptual treatment methods. Buttock augmentation treatment demands an ambitious surgeon capable of visualising the results in three dimensions; Dr Koebe implements this vision precisely using autologous fat transfers.
Senior physician treatment: At the KOEBE KLINIK, buttock augmentation procedures are exclusively performed by Dr Hermann Koebe. You can thus feel sure you will always be in the best of hands. Dr Koebe will also personally provide the initial consultation and all check-up appointments.
Highest hygiene standards: The KOEBE KLINIK is licensed in accordance with Section 30 of the German Trade Regulation Act (Gewerbeordnung). Strict hygiene standards apply throughout the entire clinic, allowing us to guarantee you treatment at the highest level.
Contact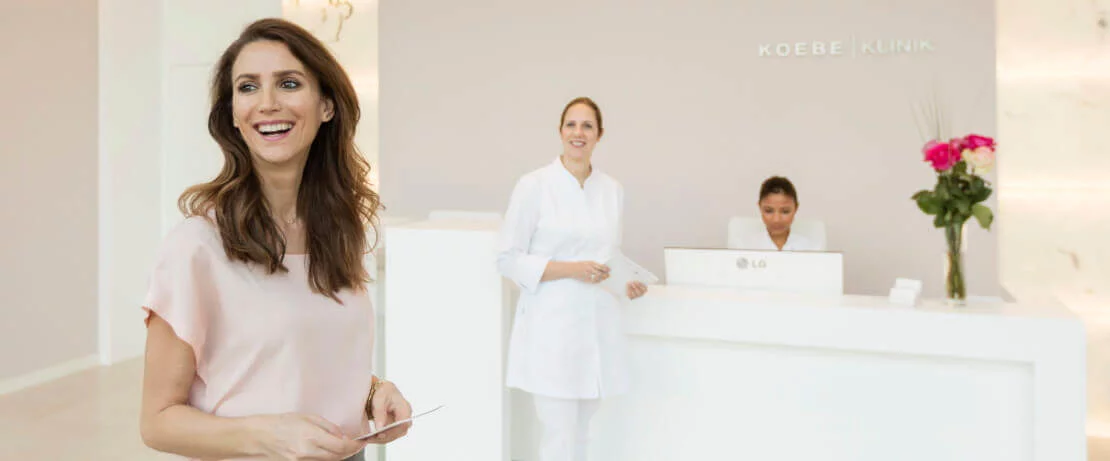 ---
Monday to Friday 9.00 am - 6.00 pm
---
We are available to you 24/7!