PRP hair loss therapy
at the KOEBE KLINIK
Hair is one of the most prominent aesthetic features of the human body, drawing attention and shaping our overall appearance. When we describe another person, their hair is often one of the first features we mention. This makes it all the more troubling for the many people forced to contend with progressive hair loss or very thin hair. Once hair loss reaches a certain point, it becomes very difficult to conceal bald or thin spots.
There are many potential causes of hair loss. Many people who begin to lose their hair at a young age are genetically predisposed to this. Stress, medication, diseases and hormonal factors can accelerate hair loss. An important part of treating hair loss is identifying and treating the causes as early as possible. After treatment, lost hair often grows back over time.
If you notice the first signs of hair loss, or if your hair loss becomes more advanced, we can provide lasting relief through an autologous blood treatment. In PRP therapy and PRP hair root treatments, we use the patient's enriched blood plasma to supply the hair roots with natural growth factors and other vital ingredients. This stimulates blood flow and regeneration in the hair roots and follicles, leading to renewed hair growth. In recent years, the PRP method has become established as a medically effective, regenerative treatment for hair growth disorders. The acronym PRP stands for platelet-rich plasma.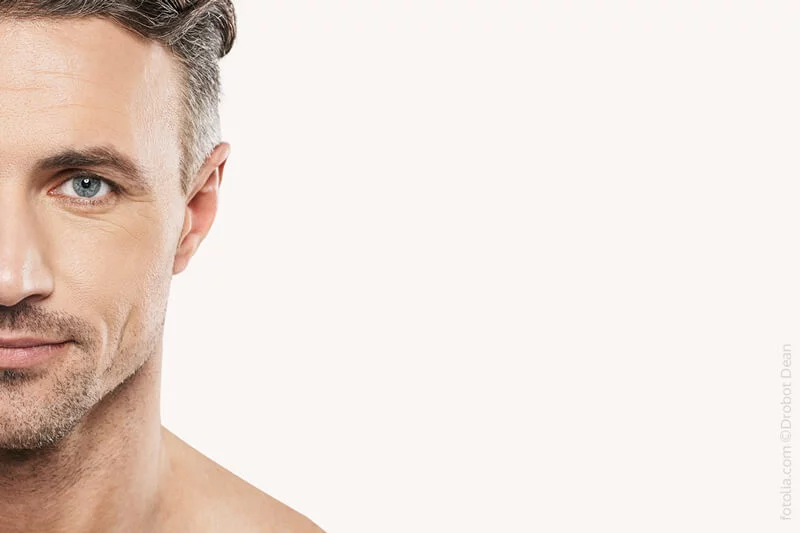 The KOEBE KLINIK is your contact partner for PRP hair root treatments in Düsseldorf. At our specialist clinic, you will be treated by Dr Norman Koebe and Dr Hermann Koebe – two proven specialists in the field of cosmetic medicine.
Thanks to their years of experience, our chief physicians can offer a realistic assessment of which treatment method in our range of alopecia (hair loss) therapies has the best chance of yielding results for you. Dr Hermann Koebe and Dr Norman Koebe draw on their expert knowledge to help every patient achieve their desired results.
Arrange a personal appointment at the KOEBE KLINIK for non-binding advice on PRP treatment for hair loss. Our specialist doctors would also be happy to advise you about the possibility to combine PRP therapy with a hair transplant.
PRP hair loss therapy
At the KOEBE KLINIK, PRP hair root therapy allows us to offer a gentle, low-risk treatment for hair loss and promote regenerative hair growth – based on purely natural substances. The platelet-rich plasma stimulates targeted regeneration of the hair roots. In many cases, this technique allows us to treat hair loss or even stop it entirely. Even if your hair thins out and becomes sparse with age, we can consolidate hair growth by introducing autologous growth factors directly into the hair roots.
We perform hair root treatments on an outpatient basis here in Düsseldorf, which means you do not need to plan in any recovery time and can return to your usual routine straight away. One of our chief physicians will personally perform your treatment. This ensures you benefit from a high degree of safety and precision before, during and after the treatment.
Before administering the hair loss therapy, the doctor treating you will hold a detailed initial consultation. They will meet with you to discuss what you expect from the PRP treatment and what results you can realistically expect. The doctor will also advise you on the optimal number of treatment sessions. In general, it is enough to hold 2 or 3 sessions at an interval of several weeks to stimulate hair growth with lasting results.
The treatment day
No specific preparation is required on your part for PRP hair loss therapy. However, if you take blood-thinning medication, you will have to stop taking it prior to PRP therapy. When you arrive at the KOEBE KLINIK for the treatment, we will start by taking some blood from you. We will then prepare the blood plasma before injecting it into your scalp. The entire treatment only takes around 30–45 minutes. We advise patients to drink as much fluid as possible before the treatment as good hydration is an important factor in optimal blood plasma collection.
Blood collection and PRP treatment
A PRP treatment counters hair loss using processed blood plasma, which contains high amounts of natural growth factors and vital nutrients. The first step involves taking a small amount of blood from you. We rely on a top-quality blood collection and preparation system that ensures we gain high concentrations of vital substances. A special technique allows us to extract valuable plasma with high platelet density from your blood sample. We then use a special needle to inject the plasma directly into the areas of your scalp affected by hair loss. The ultra-fine three-microneedle stamp device we use enables us to introduce the growth factors in high concentrations deep into the hair roots in a near-painless procedure. This is another reason our PRP treatment delivers particularly impressive results compared to other practitioners.
PRP treatment is not usually painful, so most patients do not require an anaesthetic. However, if you would like a mild local anaesthetic, we will be more than happy to provide this. Our goal is to make the treatment as comfortable as possible for you.
After PRP hair root treatment
You will be able to leave our clinic as soon as the hair root treatment is complete. There is no need to worry about specific restrictions, and you can wash your hair as normal the following day. However, you may need to protect your scalp from direct sunlight for the first few days. This autologous blood treatment is usually repeated several times to reinforce the regenerative, growth-fostering effect.
You should then notice a significant improvement and invigoration of your hair structure within just a few months. We recommend arranging refresher treatments at regular intervals, at least once per year, to maintain the results for the long term. Your doctor will work with you to draw up an individual treatment plan. And, of course, we at the KOEBE KLINIK remain available to answer any questions you have following the treatment.
FAQs about PRP hair loss therapy
in Düsseldorf
Who could benefit from PRP hair loss therapy?
In principle, PRP hair root therapy is suitable for any patients hoping to improve their hair structure and combat hair loss. This type of treatment is suitable for both men and women. The body's natural growth factors supply the hair roots with vital nutrients, thereby promoting regeneration of the hair.
Certain pre-existing conditions may preclude a PRP treatment in certain circumstances. These include infectious diseases, such as HIV and hepatitis, bleeding disorders, autoimmune diseases and various skin and liver diseases. Additionally, we do not perform this treatment to pregnant patients as a matter of principle. However, our doctors would be happy to advise you on all the options open to you.
What are the benefits of PRP treatment for hair loss compared to other methods?
PRP hair root therapy is a gentle treatment method that we perform on an outpatient basis and allows us to stimulate cell regeneration with lasting results. It improves hair health and hair growth without the need for a surgical hair transplant. However, PRP therapy can also be performed to support the results of a hair transplant. It can even lead to extensive hair regrowth, thickening areas where the hair had thinned.
In contrast to medicinal treatments such as minoxidil and finasteride, in PRP hair root therapy we only use substances naturally produced in the patient's body. This means we avoid the often significant side effects these medications entail. It also avoids the sometimes severe drawbacks of substances that affect the hormonal and circulatory systems as well as the risk of allergic reactions. You do not need to allow any recovery time as the results will be presentable immediately, allowing you to go about your commitments as normal.
How many sessions does PRP treatment involve?
Depending on your circumstances, we usually recommend 2 or 3 sessions, several weeks apart. Before the treatment itself, you will receive a personal consultation at the KOEBE KLINIK to discuss how many sessions would be sensible in your case.
When will the treatment results be visible and how long will they last?
The effects of hair root treatment begin to develop after the first treatment. You should then notice a significant improvement of your hair structure within a few months. Regular refresher treatments help to maintain the treatment results over the long term.
Does a PRP treatment involve risk?
PRP hair root treatment is a very low-risk procedure as we work exclusively with substances that occur naturally in the body. This means there is no need to worry about allergic reactions or any impact on your hormonal balance – which are potential side effects of medicinal treatments.
Minor side effects such as redness, swelling and occasionally some small bruises may occur after a PRP treatment. However, any such issues will be very temporary and should recede of their own accord within a few days.
Is PRP hair root treatment painful?
We use ultra-fine microneedles to perform the PRP treatment for hair loss, which means the procedure is practically painless for you. Making the treatment as effective and pleasant as possible for you is our top priority. This is why we rely on a specialist three-microneedle stamp device that enables us to introduce the maximum amount of growth factors into the correct subcutaneous tissue level, close to the hair root.
If you wish, we can also apply our highly effective numbing salve or a more powerful local anaesthetic before the treatment.
Benefits of
PRP treatment
at the KOEBE KLINIK
PRP collection: At the KOEBE KLINIK, we rely on an innovative, high-quality system to collect and prepare PRP to achieve highest possible concentration of growth factors and maximum efficacy. The quality of the systems can vary considerably.
Application: We use ultra-fine three-microneedle stamp devices of the highest quality to inject the PRP, which ensures precise application and distribution of the substances at the targeted hair roots.
Treatment from a chief physician: PRP hair loss therapy is always performed by one of our chief physicians at the KOEBE KLINIK. This means you can be certain of receiving treatment of the highest medical standard.
Individual consultation: Before starting the treatment, your doctor will take the time to find out more about your wishes and desired results. You will be given honest, expert advice and learn about the results you can realistically expect from the treatment.
Utmost discretion: Your privacy is our top priority at the KOEBE KLINIK. All appointments take place in an atmosphere of discretion. The entrance to our clinic is shielded from public view.
Central location: The KOEBE KLINIK is situated just a few minutes' drive from Düsseldorf. We can also arrange an appointment outside our normal opening hours if you wish. Simply get in touch and share your wishes with us.
Contact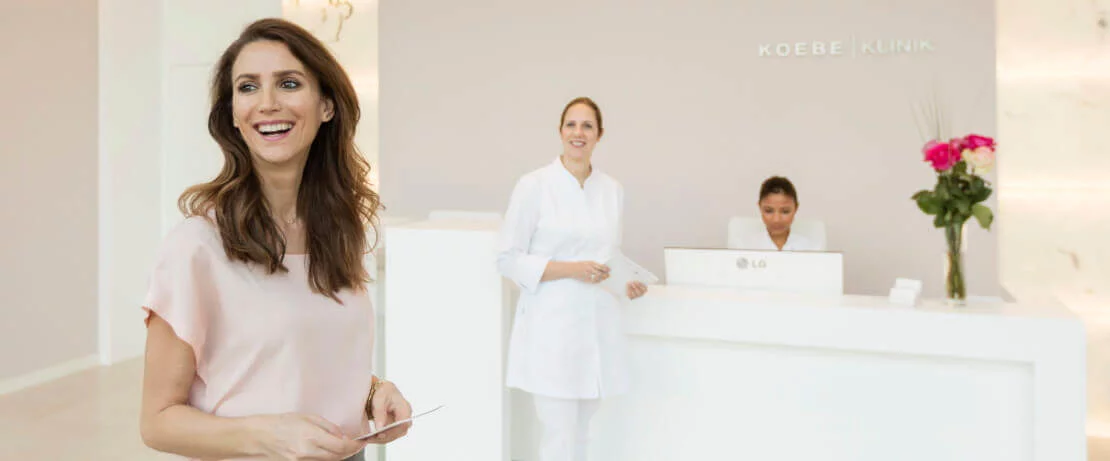 ---
Monday to Friday 9.00 am - 6.00 pm
---
We are available to you 24/7!