Jawline contouring
at the KOEBE KLINIK
The jawline borders the lower part of the face and is therefore a decisive factor in creating harmonious proportions. If your jawline is less defined, there will not be a clear border between the face and neck. This can leave your facial contours looking somewhat unbalanced overall. The cheeks often begin to sink as part of the natural ageing process, which can cause the jawline contour to become indistinct and lead to jowls forming.
By performing jawline contouring in Düsseldorf, we offer you a straightforward yet effective corrective method. The targeted injection of hyaluronan fillers allows us to improve the definition of the jawline contour and create a defined distinction between the face and neck. It also allows us to conceal asymmetries and troubling jowls. The result is an aesthetic, well-proportioned jawline that frames your face wonderfully.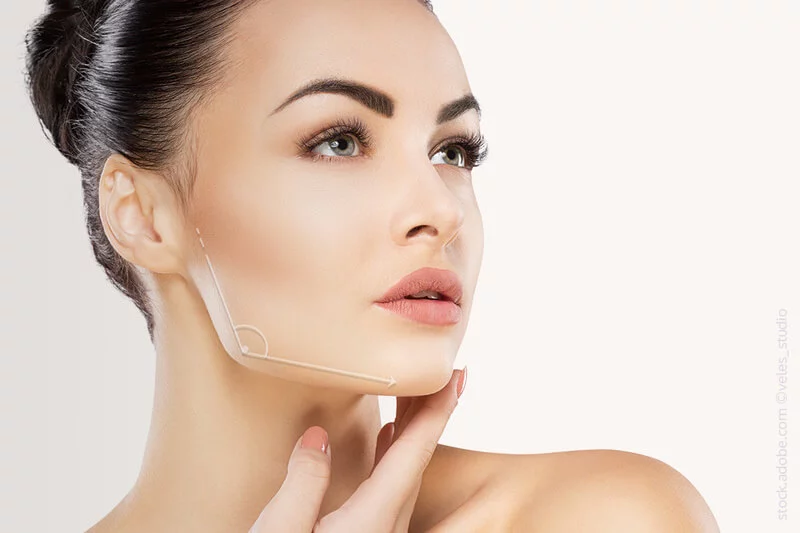 Our two specialist doctors, Dr Hermann Koebe and Dr Norman Koebe, have performed minimally invasive facial treatments with hyaluronan for many years. Their expertise, experience and knowledge of facial anatomy enables them to perform delicate corrections, always with the utmost precision. Ensuring that your facial contours still appear natural is their top priority. The aim of jawline contouring is to gently refresh and accentuate your facial characteristics without any of the negative stigmatising effects of filler injections.
FAQs about
jawline contouring
What does jawline contouring involve?
At the KOEBE KLINIK, we always start with a personal consultation. One of our specialist doctors will provide detailed information about the potential outcomes of jawline contouring. Once they have found out more about your situation, they will work with you to develop a personal treatment concept.
We perform jawline contouring on an outpatient basis at the KOEBE KLINIK. We can apply a topical anaesthetic to the relevant areas before administering the treatment. The doctor will then administer the hyaluronan fillers under the skin in a way that models your jawline in line with your wishes. After briefly cooling the treated area, you will be able to return to your everyday routine. The initial results will be visible straight away.
How long does jawline contouring take?
At our clinic in Düsseldorf, it only takes a few minutes to administer jawline contouring injections. You will not need any time to recover. For more extensive corrections, it may be necessary to hold several treatment sessions at four-week intervals.
What substances are used in jawline contouring?
We use hyaluronan fillers with different textures in our jawline correction treatments, selecting the appropriate products based on the desired treatment results. Hyaluronic acid occurs naturally in the human body and is capable of retaining large quantities of water in the skin and in tissue. This characteristic makes it an outstanding filler material that is ideally suited to adding volume and is also very well tolerated.
Is jawline contouring painful?
Injections into the jawline contour are largely painless. In most cases, no anaesthesia is required. However, we would be happy to apply a numbing salve upon request to make the injections even more pleasant for you.
What should I bear in mind following jawline contouring?
After injections into your jawline, you should avoid sports, exercise and any other physical exertion for 1–2 days. You should also refrain from visiting the sauna, solarium or swimming pools for a while. Effective sun protection is also important.
You should also avoid applying any kind of pressure or massaging the treated areas as the hyaluronan fillers will still be malleable to begin with. We recommend gently cooling the treated areas to counteract any swelling or bruising.
When will I be able to see the results of jawline correction treatment?
You will be able to see the added volume straight away. The final results can be assessed around one or two weeks after your jawline contouring treatment in Düsseldorf. By that time, any initial swelling will have receded and the hyaluronan fillers will have bonded with the surrounding tissue.
How many treatment sessions are required?
The initial course of treatment for jawline contouring may entail several sessions, as this allows the doctor to add volume to your jawline very gradually. Exactly how many sessions would be beneficial in your case is an issue the doctor treating you will discuss in an initial consultation.
Regular refresher sessions are vital to maintain the results of jawline contouring. In most cases, one brief refresher treatment per year is sufficient. Exactly how long the results last can vary somewhat depending on the treatment scope and your individual metabolism.
What are the potential risks of jawline contouring?
Jawline contouring with hyaluronan is a very safe procedure. At the KOEBE KLINIK, we exclusively use tested, original brand products. Patients generally tolerate the hyaluronan fillers we use very well, as hyaluronic acid occurs naturally in human connective tissue.
Slight swelling, redness and small, isolated bruises may appear immediately after the jawline correction procedure. However, any such symptoms should recede within a few days.
When can I get back to everyday life after jawline correction treatment?
You can get back to your everyday routine straight away after jawline contouring in Düsseldorf. Any temporary issues such as slight redness or bruising can be effectively concealed.
How much does jawline correction treatment cost?
We offer jawline contouring in Düsseldorf at prices starting from €450. However, as we tailor each treatment plan to the individual patient's needs, this figure is only a guide. We would be happy to welcome you to the KOEBE KLINIK for a non-binding consultation. Then, if you wish, we can put together a quotation for you, taking your specific situation into account.
Benefits of
jawline contouring
at the KOEBE KLINIK
Specialist expertise: Our two specialist doctors, Dr Hermann Koebe and Dr Norman Koebe, have years of experience in aesthetic facial treatments. Their knowledge of facial anatomy enables them to perform even challenging corrections to the lower third of the face, working at the highest specialist standard.
High product quality: At the KOEBE KLINIK, we use tested products from leading, premium manufacturers in all our correction procedures. A diverse range of hyaluronan fillers with differing textures enables us to tailor the treatment precisely to your needs.
Absolute discretion: The KOEBE KLINIK is situated in a tranquil, discreet location, just a few minutes' drive from Düsseldorf city centre. A sheltered entrance provides convenient access to our treatment area. We hold all consultations and provide all treatments in an atmosphere of confidentiality.
Contact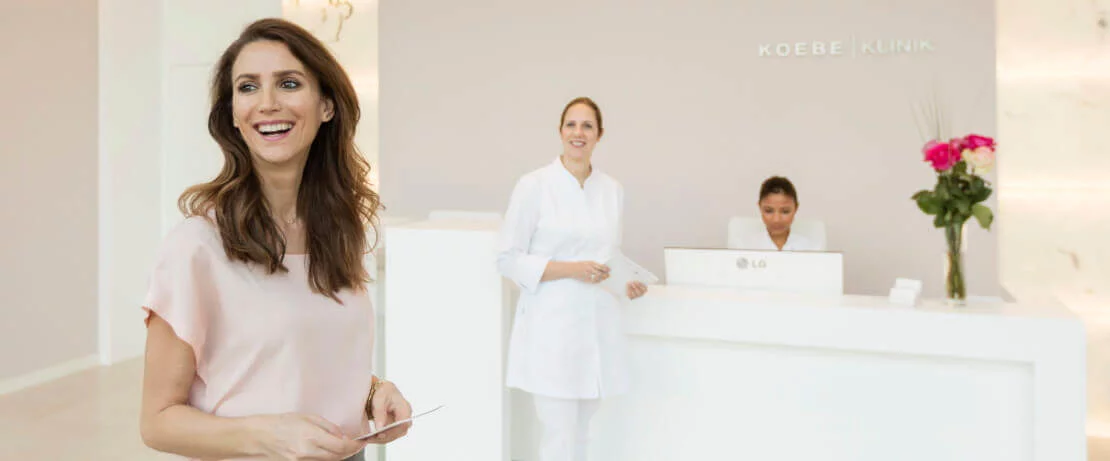 ---
Monday to Friday 9.00 am - 6.00 pm
---
We are available to you 24/7!