BREAST LIFTS AT
THE KOEBE KLINIK
A shapely bust is considered a symbol of womanhood and feminine radiance. Over the years, however, the shape of a woman's breasts can change – often to the chagrin of the women concerned. Over the years, breast tissue is inevitably exposed to a wide range of influences that change the shape and appearance of the breasts.
Whether breast tissue is altered by pregnancy, breastfeeding, weight loss or ageing, these influences all leave their mark, increasingly causing a woman's bosom to lose substance and support.
Our expertise and years of experience in the field of plastic and aesthetic surgery has made us a renowned and recognised clinic for patients who value comprehensive consultation and state-of-the-art treatment methods. Dr Hermann Koebe, a specialist in plastic and aesthetic surgery, is a highly regarded expert in the field of breast surgery. His outstanding surgical skills and years of experience make him the perfect contact person for your breast lift.
At the KOEBE KLINIK, we believe that a trusting, honest relationship with our patients is particularly important. Dr Hermann Koebe personally performs all breast lift treatment – from the initial consultation through to check-ups to examine the results. He always aims to create a well-shaped breast that is in harmony with the patient's overall body and amplifies her natural radiance.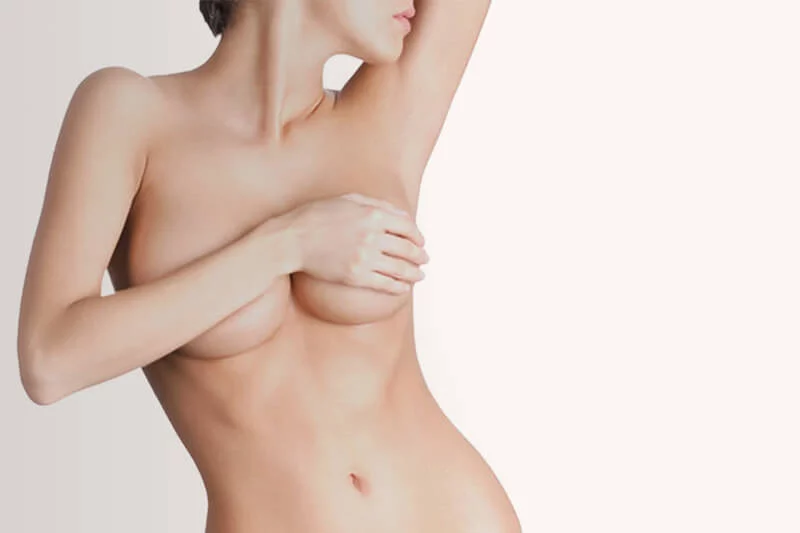 Here at the KOEBE KLINIK, we draw on different breast lifting methods. These range from the vertical technique – which, resulting in minor scarring, is now the most common choice – to the somewhat rare inverted-T incision. We also offer a breast lifting method with minimal scarring, the periareolar breast lift, in which only one incision is made around the patient's nipple. We will give you comprehensive specialist advice and work with you to prepare an individual treatment plan specifically tailored to your wishes and expectations.
Achieving aesthetically pleasing results while ensuring the wellbeing and safety of our patients is our top priority. We base our work on the principles of aesthetics, expertise and responsibility.
Upon request, we can also combine a breast lift with implants to augment the breasts. Our experienced specialist, Dr Hermann Koebe, will be glad to advise you on the potential of combining both procedures. Combining the two treatments in this way could be beneficial for patients seeking to add volume to the upper portion of their breasts.
FAQS ABOUT BREAST LIFTS
IN DÜSSELDORF
Who could benefit from a breast lift?
A breast lift is also sometimes referred to as mastopexy. It is a suitable treatment for women whose breast tissue has lost support and substance over time. Causes of such changes can include pregnancy, breastfeeding, weight loss or age-related physical changes.
A large, heavy bust can also place greater stress on and stretch the skin of the breasts and weakening their connective tissue.
It results in slack, sagging breasts with excess skin that will no longer regress on its own.
A breast lift is an option for women who feel that their sagging breasts are impacting on their femininity and having a negative effect on their wellbeing and sense of self-worth.
Performing a breast lift enables us to boost a woman's wellbeing and sense of self-worth, helping them to see their bodies as aesthetic and attractive once again.
What do I need to consider before a breast lift?
We will hold a detailed preliminary consultation to explain to you exactly what you should consider before the procedure.
As a general rule, you should refrain from taking any anticoagulant or blood-thinning medication for at least two weeks before the procedure.
During the preliminary consultation, is it essential that you provide exact details of any medication you take.
If you rely on anticoagulant or blood-thinning medication for medical reasons, our specialist will provide detailed information on the alternatives open to you.
You must, therefore, also refrain from taking over-the-counter medication such as aspirin, ASA and many pain and flu medicines for at least two weeks before the operation as they may also have a blood-thinning effect.
What do I need to consider after a breast lift?
If at all possible, you should sleep on your back or turned slightly onto your side for the first four to six weeks to avoid placing pressure on your breasts.
You will be able to shower again two days after the operation. You should avoid sitz baths and visits to the swimming pool until we have removed the sutures. To avoid disrupting the wound healing process, refrain from visiting the sauna and taking hot baths, avoid direct exposure to sunlight and do not use infrared cabins. These measures will ensure that scars are small and inconspicuous.
What does the breast lift procedure involve?
The breast lift procedure depends to a large extent on the surgical method selected. At our clinic in Düsseldorf, we offer several different procedures; our specialist will work with you to select the most suitable method for you.
Our methods include: the ring-shaped lift, also known as a "donut lift", which results in minimal scarring; the highly effective Lejour technique – an adaptation of the vertical technique – and the inverted-T incision, which is now seldom used.
When will the final results of a breast lift be visible?
In most cases, our specialist physician can assess the final results of a breast lift after three to six months. Any tissue hardness and scarring usually improves in the one to two years following the procedure and, once fully healed, should be inconspicuous.
Could my breasts sag again after a breast lift operation?
A breast lift is a surgical method to remove excess tissue that achieves lasting results. Over the years, however, it is possible that breast tissue may become slack and a sag again – such as due to weight fluctuations, further pregnancies, breastfeeding and the natural ageing process.
If this does occur, we can repeat the breast lift at a later date.
Does breast lifting surgery leave any visible scars?
Even with our modern methods, it is not possible to avoid scarring entirely. With this in mind, our physicians operate in such a way that scarring develops inconspicuously and is hidden as much as possible.
At the KOEBE KLINIK, the surgeon – our senior physician – sutures all wounds himself.
What are the risks associated with a breast lift?
A breast lift is a surgical procedure and so, naturally, inherently entails certain risks.
Our experienced breast surgery specialist, Dr Hermann Koebe, can look back on many years of experience in plastic and aesthetic surgery. This means that the risks for you are kept as low as possible in our operations. At the KOEBE KLINIK, we generally regard a breast lift as a low risk procedure.
Risks in the surgery include wound healing disorders, bleeding and infections. In rare cases, patients may experience temporary – or, in very rare cases, permanent – sensory disturbances.
We will, of course, inform you of the risks involved in the course of a detailed consultation.
Is financing available for a breast lift procedure?
We offer a fair and flexible financing model at our clinic to allow you to fulfil your wish of a breast lift. We would be happy to discuss the options open to you and create an individual cost schedule for you.
BENEFITS OF A BREAST LIFT
AT THE KOEBE KLINIK
Greatest specialist expertise: Dr Hermann Koebe can look back on many years of experience, particularly in breast surgery. His eye for aesthetics and focus on holistic treatment methods allows him to achieve the best possible results.
Senior physician treatment: At the KOEBE KLINIK, all operations are personally performed by our highly qualified senior physicians. From the initial consultation to the operation and through to suturing the wounds, our specialist physicians perform all treatments themselves.
Holistic treatment: At our clinic, we place the utmost importance on holistic, expert treatment. All treatment steps take place in our clinic – so, from the initial consultation through to your check-up appointments, you will be in the very best of hands.
Peace, quiet and discretion: Your wellbeing is our top priority. At our clinic, we offer comfortable single and twin rooms to ensure your recovery is as pleasant and stress-free as possible.
Highest hygiene standards: We fully comply with hygiene standards at our clinic. We are licensed according to Section 30 of the German Trade Regulation Act (Gewerbeordnung) – so you can rest assured that we meet the strictest hygiene requirements.
State-of-the-art operating equipment: At our clinic, we carry out every procedure in our in-house operating theatre. Our modern equipment is specifically designed for aesthetic procedures. Every treatment step, from consultation to check-ups, takes place at the KOEBE KLINIK.
Time management: Here at the KOEBE KLINIK, our operations are not subject to any time pressure. Our operations include enough time and scope to perform delicate, detailed work in peace. Our exceptional time management at the KOEBE KLINIK ensures that neither the surgeon nor the anaesthetist feel in any way pressured by the schedule.
Contact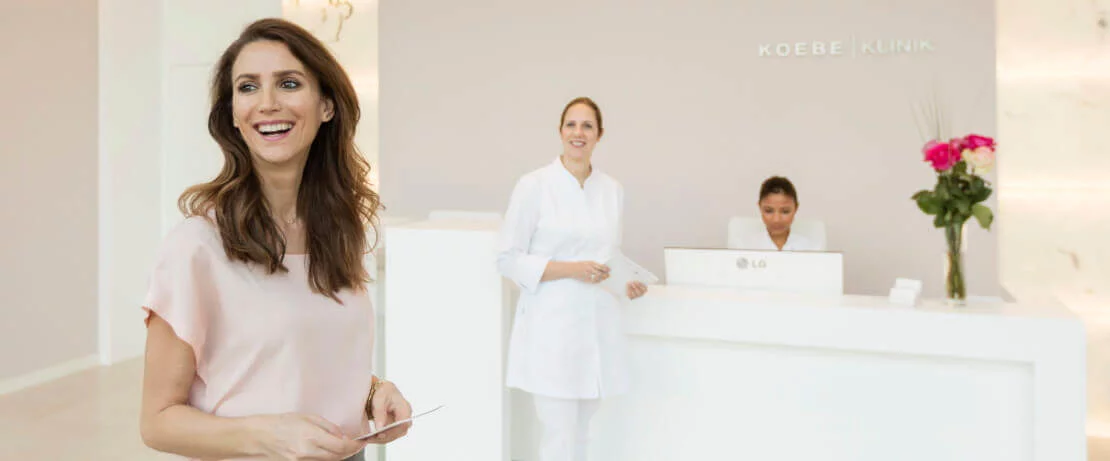 ---
Monday to Friday 9.00 am - 6.00 pm
---
We are available to you 24/7!