ANTI-WRINKLE TREATMENTS
WITH HYALURONIC ACID
AT THE KOEBE KLINIK
As the years go by, our faces lose their youthful tautness, elasticity and, above all, their fullness and volume. Many of our patients want a gentle treatment to rejuvenate their face and reduce the appearance of wrinkles. In many cases, they're not looking for a pronounced lifting effect that could be achieved in a surgical facelift or with thread lifting – instead, they only want a gentle lifting effect to boost parts of their face that have fallen slightly and to smooth out prominent wrinkles. Wrinkle treatments with hyaluronic acid are among both the most effective and the gentlest forms of treatment. The loss of volume in the cheek area, prominent lines around the mouth and a strongly pronounced nasolabial fold are issues that trouble many of our patients. They feel that these factors cause them to appear older and sterner. A targeted, highly differentiated and moderate injection with hyaluronic is frequently the perfect response. The treatment is so gentle and its results so natural that, for many of our patients, it has become part of a high-quality beauty routine – just like an appointment with the beautician or buying a highly effective serum.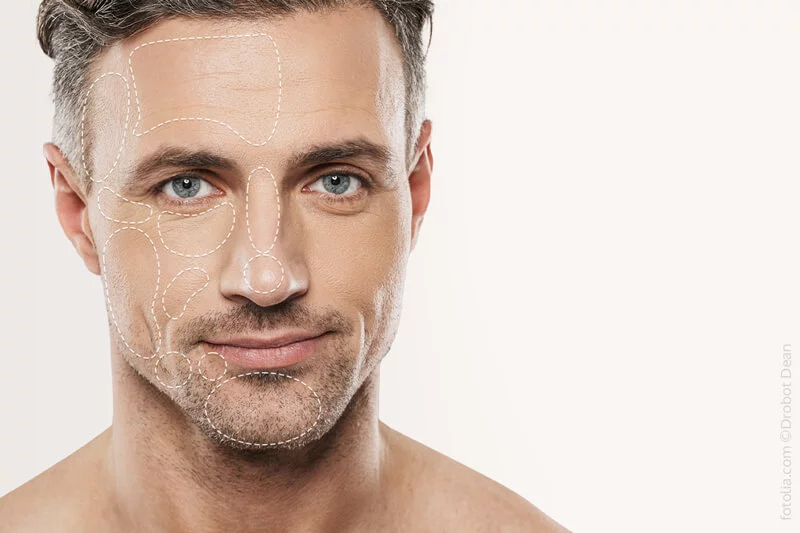 As a specialist private clinic, the KOEBE KLINIK is the premier provider of hyaluronic acid treatments in Düsseldorf. At our clinic, situated just a few minutes from Düsseldorf city centre, we have successfully offered wrinkle treatments with hyaluronic acid since its launch in aesthetic medicine. Our specialist physicians, Dr Dr Norman Koebe and Dr Hermann Koebe, are among the experts in the field of minimally invasive wrinkle treatments. The personally plan and perform every treatment.
HYALURONIC ACID
Hyaluronic acid is a filler we primarily use to add volume to the face and fill in wrinkles. The substance is produced naturally in the human body and has water-binding properties. As hyaluronic acid is a natural component of human skin, it is also very well tolerated. Hyaluronic acid can hold up to 6000 times its own weight in water – which means it is well suited to bolstering the skin and restoring a fresh, youthful appearance. Nasolabial folds, lines at the corner of the mouth and lip lines can be treated very effectively with hyaluronic acid fillers. Some new compounds can also be used in the neck area.
Treatments with hyaluronic acid are generally described as near painless. If you wish, we can also apply a highly effective numbing cream to your skin before the injection. We then introduce the hyaluronic acid under your skin using a fine needle or a special modern cannula. This method is minimally invasive; patients are presentable and can appear in public again the same day.
As hyaluronic acid occurs naturally in the human body, it is slowly broken down over a period of 12 to 24 months. Exactly how long the results last depends on the individual patient and the compound used. Our experience shows that the effects may persist even years after the treatment. It is rare for the skin to return entirely to its original state from before the treatment.
Here at our clinic in Düsseldorf, we exclusively use hyaluronic acid compounds produced by leading premium manufacturers. Our specialist physicians carefully select the filler from our broad range that is most suitable for achieving your desired results. The perform procedures delicately and with finesse, taking a holistic approach so that natural-looking results are always ensured.
FAQS ABOUT ANTI-WRINKLE TREATMENTS WITH HYALURONIC ACID
IN DÜSSELDORF
What wrinkles can hyaluronic acid be used to treat?
Wrinkle injections with hyaluronic acid particularly treat the face but can also address wrinkles in the décolleté. As a substance that occurs naturally in the human body, hyaluronic acid has almost no side effects. It fills in and smooths out wrinkles, leaving skin looking tauter and fresher.
Wrinkle treatments with hyaluronic acid are suitable above all for adding volume, plumping up sunken cheeks, treating deeper wrinkles such as a pronounced nasolabial fold, forehead wrinkles, lines around the mouth and creating fuller lips. At the KOEBE KLINIK, we also use hyaluronic acid to successfully rejuvenate skin on the neck and the back of the hand. Our special injection techniques allow us to achieve even very minor lifting effects can be achieved (8-point lift).
What do wrinkle treatments with hyaluronic acid involve?
First of all, before the treatment is administered, you will be given personal consultation from one of our experienced physicians. They will provide full details about the treatment and explain any risks in detail. The physician treating you will discuss with you what results you can realistically expect to achieve. Our specialist physicians are particularly focused on producing lasting results. Their injection concepts are based on regular touch-ups, which, even over the course of 10 to 20 years, can help to slow the progress of the natural ageing process.
For the treatment itself, you only need to allow for a session of around half an hour, including preparation and aftercare. We start by disinfecting the skin and, if the patient wishes, numbing its surface with a numbing cream. In the next step, the practitioner injects the hyaluronic acid with a very fine needle at the locations specified in advance. You'll be able to leave the clinic straight away. Apart from some simple instructions, the treatment requires no further aftercare on your part.
What do I need to consider after a treatment with hyaluronic acid?
After a wrinkle treatment with hyaluronic acid, you can go about your daily routine as usual. We recommend gently cooling the skin to counteract any initial swelling or redness. Side effects such as this can be concealed effectively with make-up until they dissipate on their own.
During the first 48 hours after the treatment, you should protect the skin against exposure to direct sunlight and avoid strenuous physical activities. You should also wait at least 2 days before visiting the sauna or solarium or taking hot baths.
When will I be able to socialise and exercise again after treatment?
You will be presentable immediately after the treatment. If the skin is still slightly swollen or reddened for the first few days, you can cover such side effects effectively with make-up. You should avoid exercise and physically strenuous work for the first two days after the treatment.
When will the treatment results be visible?
An instant effect will be visible immediately after the hyaluronic acid treatment. The full effects develop over the weeks that follow as the hyaluronic acid is incorporated in the face.
How long do the results of a wrinkle treatment with hyaluronic acid last?
The effects of a hyaluronic acid treatment can vary significantly from one person to the next. On average, the tautening effect lasts about 1.5 to 2 years. The treatment can then be repeated at any time, as desired.
Are there risks associated with hyaluronic acid treatments?
Wrinkle treatments with hyaluronic acid are generally very low-risk. Hyaluronic acid occurs naturally in the human body and is therefore usually very well tolerated.
Our senior physicians are among the leading hyaluronic acid specialists in Düsseldorf. With their many years of experience and interdisciplinary specialist expertise, they incorporate aspects of facial anatomy in treatment plans alongside purely aesthetic considerations. This means you can be sure the results will always appear natural, regardless of the compound and treatment form selected.
BENEFITS OF
HYALURONIC ACID TREATMENT
AT THE KOEBE KLINIK
Highest professional competence: At the KOEBE KLINIK, you will always be treated by one of our senior physicians. Dr Hermann Koebe and Dr Dr Norman Koebe can both look back on many years' experience of performing treatments with hyaluronic acid. They are among the leading experts in this minimally invasive wrinkle treatment in Düsseldorf.
Natural results: At the KOEBE KLINIK, we attach great importance to natural results. When planning a treatment, our specialists consider both aesthetic and anatomical aspects. You can therefore feel certain that your wrinkle treatment will not alter your facial features and will instead complement and enhance them to achieve optimal results.
Highest product quality: In the treatments we offer here in Düsseldorf, we exclusively use tested, branded hyaluronic acid products sourced directly from the manufacturer. Our specialists select the best product for you from a broad range of fillers with different textures. We procure all our hyaluronic acid compounds from market-leading, premium manufacturers.
Individual consultation: At the KOEBE KLINIK, you will have one consistent contact who will answer all of your questions in a personal discussion. After a hyaluronic acid treatment, you will also be able to reach one of our specialist physicians at any time.
Absolute discretion: Your privacy is our highest priority. We offer private parking facilities and a sheltered entrance on our clinic's premises in Meerbusch. All consultations and treatment appointments take place in a trusting, discreet atmosphere.
Contact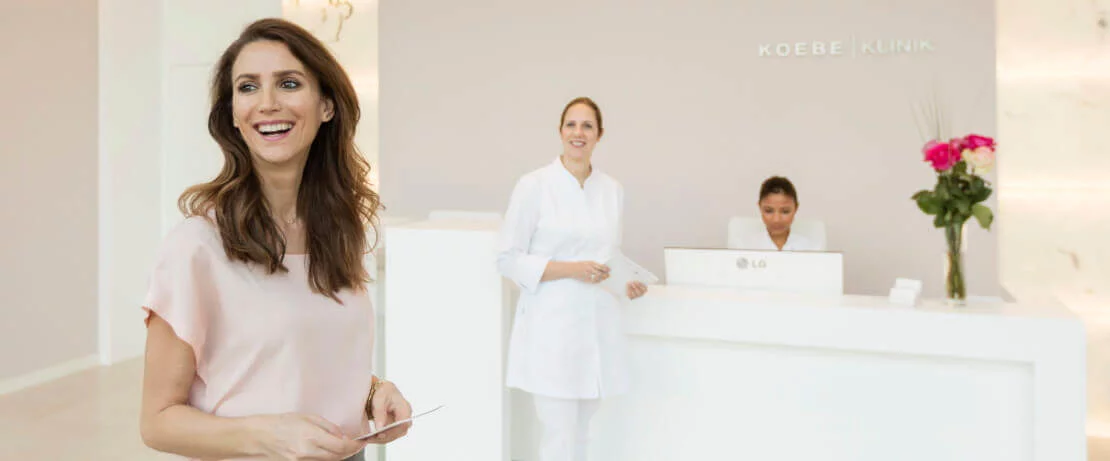 ---
Monday to Friday 9.00 am - 6.00 pm
---
We are available to you 24/7!