WRINKLE TREATMENTS WITH BOTOX®
AT THE KOEBE KLINIK
The term "positive ageing" describes the tranquil, relaxed feeling of growing older while still looking as at ease as ever. Even, fresh skin that has been well cared for is the hallmark of a positive appearance. Good skincare is essential because it can prevent signs of ageing and promote skin elasticity. Despite this, it is not possible to halt the skin's ageing process and the resulting wrinkles completely. When that happens, people often feel as though make-up is the only way to appear refreshed and rejuvenated.
Do you want to regain a sense of feeling good in your skin and radiate warmth, friendliness and freshness? At the KOEBE KLINIK, a wrinkle treatment with Botox® is a highly suitable option to obtain a more alert appearance and smooth, taut skin –with lasting results. The benefits? The treatment is minimally invasive and therefore not time-consuming, and you can go about your daily routine almost immediately.
At our specialist clinic, our focus is on providing aesthetic treatments. Minimally invasive wrinkle treatments are personally administered by our specialist physicians, Dr Dr Norman Koebe and Dr Hermann Koebe. They are both seasoned professionals with over 20 years of experience performing medical wrinkle treatments; their dedication to ongoing professional development and extensive professional expertise allows them to achieve aesthetically pleasing results. The two specialists attach great importance to providing holistic treatments – no two wrinkle treatments are the same. They create a tailored concept based on the proportions of the individual's facial features and authentic appearance to ensure the results appear natural for the patient.
There is a diverse array of Botox® treatments on the market. To achieve harmonious and utterly natural results, it is essential to perceive the complexities of the individual's face: the treatment isn't just about removing a single wrinkle.
Today, different premium manufacturers offer a wide range of compounds. All the more important, then, that your treatment is administered by specialists such as Dr Dr Norman Koebe and Dr Hermann Koebe. They were both among the first in Germany to work with Botox® following its launch in aesthetic medicine.
At the KOEBE KLINIK, we work with a wide range of compounds from various premium manufacturers. We are not bound to use any specific product range, so you can be sure we will always select the ideal product for you. With our large repertoire of Botox® compounds, we are perfectly placed and free to respond to your specific wishes and issues. At the KOEBE KLINIK, our wrinkle treatments are based on injecting different high-quality Botox® compounds. However, if you would like to make a specific request or have several areas treated at the same time, we can of course supplement Botox® wrinkle injections with other high-quality filler compounds, such as hyaluronic acid. Due to the wide range of compounds at our disposal, we can create an individual concept to achieve the best possible results, especially when it comes to long-term Botox® treatment at the KOEBE KLINIK. You can rely on a steady improvement in your appearance. We always work to ensure natural and authentic results.
BOTOX®
Botox® is a protein used to treat wrinkles due to its muscle-relaxing effect. Botulinum toxin is very well tolerated and has a very low risk of side effects, which is why it can also be used for neurological applications in small children.
We primarily use Botox® to treat facial expression lines, i.e. wrinkles caused by excessive activity of the facial muscles. Botox® relaxes these muscles and thus smooths out wrinkles.
For example, we use it to treat frown lines, forehead wrinkles (known as worry lines), wrinkles near the eye (crow's feet) and neck wrinkles. Highly experienced doctors also use Botox® to remedy wrinkles on the nose (bunny lines), upper lip wrinkles, smoker's wrinkles (sometimes called barcode lines) and to treat the muscles that extend from the chin to the neck and drooping mouth corners. Botox® can also be used as a mini-facelift in the case of low-set eyebrows.
When used over longer periods, Botox® therapy can also prevent facial features from sinking or drooping – or at least slow this process by a few years. Thanks to the stabilising effect that Botox® treatments can achieve, it can even avoid the need for surgical facelifts in some cases. The preventive effects of Botox® justify using the compounds before wrinkles develop or become deeper. Botox® is – and remains – the most effective anti-ageing tool.
Our specialists, Dr Hermann Koebe and Dr Dr Norman Koebe, are highly experienced in working with Botox®. They have used the substance on their patients ever since it was introduced as an aesthetic treatment. This means that, at the KOEBE KLINIK, you don't need to worry about losing your expressive abilities even ending up with a mask-like result.
Before administering a Botox® treatment, we can numb the surface of your skin with a numbing cream. Here at the KOEBE KLINIK, we use a particularly effective product to do so. We then inject the botulinum toxin under the skin using fine, carefully selected special needles at the planned locations. Would you be interested in a wrinkle treatment at our clinic? If so, get in touch – we'll arrange an initial discussion to answer any questions you might have about wrinkle treatments with Botox® and present our efficient, conceptual treatment approach!
Baby Botox®
We offer the Baby Botox® treatment at our clinic as a gentle alternative for subtle corrections. We inject a heavily diluted solution of botulinum toxin A into the upper layers of skin rather than into the muscles. While the effects are subtle, this treatment is surprisingly effective. Minor lines and wrinkles appear visibly smoother, as this treatment focuses on producing natural results and achieving a balanced, preventive effect.
Baby Botox® has also proven an effective treatment for acne and oily skin, as the injected Botox® reduces the production of sebum in the skin.
A Baby Botox® treatment involves broadly the same steps as a conventional Botox® treatment. We use an ultra-fine needle to inject the botulinum toxin A solution into the uppermost layer of skin at several locations. This involves precisely tailored microdoses to achieve the desired effects. If you wish, we can apply a numbing cream before administering the injections to make the treatment even more pleasant for you.
The initial effects of the Baby Botox® treatment will be visible after just a few days. The maximum anti-wrinkle effect will develop around 14 days after the treatment. An understated firming effect will last for around three months and can be maintained through regular touch-ups.
FAQS ABOUT WRINKLE TREATMENTS WITH BOTOX®
IN DÜSSELDORF
Which wrinkles can Botox® be used to treat?
As the ageing process progresses, connective tissue loses its elasticity. The constant movement of the facial muscles leads to wrinkles forming in the face that won't disappear of their own accord.
A Botox® treatment relaxes the facial muscles and smooths out the wrinkles while retaining natural facial expressions.
Typical areas of application for Botox® wrinkle treatments are:
horizontal wrinkles on the forehead known as "worry lines"
the wrinkles between the eyebrows (glabella) known as "frown lines"
wrinkles created when the eyes squint (crow's feet)
an uneven or heavily dimpled chin
drooping mouth corners
folds and wrinkles across the neck (turkey neck)
small lines around the mouth (smoker's wrinkles, barcode lines)
Can Botox® be combined with hyaluronic acid?
Hyaluronic acid and Botox® are both highly effective active substances used to treat wrinkles, but serve to fulfil different needs.
At the KOEBE KLINIK, we follow a holistic skin rejuvenation concept that integrates all dermal layers. The 'Foundation' level involves introducing volume fillers in the deeper layers of the skin; 'Contouring' is more focused on the surface of the skin, and 'Refining' treats the upper layers of skin. This differentiated approach is the only way to achieve absolutely natural-looking results. Combining the substances can produce results, especially with very persistent and pronounced wrinkles and also as a preventive treatment as part of anti-ageing therapy. In such cases, we use pharmacological active pharmaceutical substances that combine hyaluronic acid and botulinum toxin. These active substances temporarily relax the facial muscles to reduce expressive hyperactivity while padding out and moisturising sunken facial areas.
This enables us to achieve particularly natural and aesthetic results.
Who could benefit from a wrinkle treatment with Botox®?
Wrinkle treatments with fillers are suitable for people looking for a gentle yet effective treatment with natural results.
Wrinkle treatments with Botox® are generally low-risk. However, if you are allergic to any of the ingredients, suffer from an autoimmune disorder or are pregnant, you should not undergo such treatment. You will have the opportunity to discuss these issues at length in a detailed consultation with our two senior physicians.
Wrinkle treatments with Botox® cannot be administered in the case of acute skin inflammations or infections, such as herpes. If you are prone to heavy bleeding or take blood-thinning medications, you must tell the specialist treating you. He will then discuss the treatment options open to you.
What does a Botox® wrinkle treatment involve?
Wrinkle treatments with Botox® are short and largely painless procedures that only last between 15 and 30 minutes including both preparations and aftercare. Your doctor will advise you personally in advance and work together with you to determine the scope of your treatment. They will also provide detailed information about next steps, the risks involved and the results you should expect.
On the day of treatment, we start by disinfecting the skin surface and, if the patient wishes, numbing the surface of their skin with a numbing cream. The practitioner then uses very fine needles to inject the botulinum toxin under the skin at specific locations. You will be able to leave the KOEBE KLINIK straight away and go about your daily routine almost entirely uninhibited.
What do I need to consider before and after a Botox® treatment?
Prior to a wrinkle treatment with Botox® at the KOEBE KLINIK, you should avoid medications with blood-thinning or anticoagulant properties for at least seven days. These include over-the-counter medications such as aspirin.
If you rely on anticoagulant medication for health reasons, your specialist will outline alternative treatments open to you or perform a preliminary examinations if necessary during the preliminary consultation.
After treatment, we recommend that you avoid hot baths, strenuous exercise, direct sunlight and artificial UV light for at least 48 hours.
We also advise gently cooling the skin to minimise the risk of swelling and bruising.
At the KOEBE KLINIK, the specialist treating you will outline any other factors you should consider following a wrinkle treatment during the detailed consultation appointment held before the procedure.
Can Botox® cause side effects?
In the vast majority of cases, patients tolerate Botox® very well; the treatment is not associated with serious risks. There is no risk of permanent over-correction as the botulinum toxin is completely broken down by the body within a few months.
Our specialists have many years of experience in the use of Botox® compounds. This affords you the highest level of safety both during and following treatment.
In very rare cases, slight swelling, redness or bruising can appear temporarily at the injection sites. You can counteract this by gently cooling these areas. After a few days, any such side effects should have subsided completely.
When will I be able to socialise and exercise following a Botox® wrinkle treatment?
You will appear presentable and ready to appear in public immediately after a Botox® treatment. Any slight bruising or swelling during the first few days can be concealed effectively with make-up. You should refrain from sports and strenuous physical activities for 2 days.
Will my facial expressions appear natural after Botox® treatment?
Many patients' biggest concern is that they might look unnatural or that their face might even resemble a mask after Botox® treatment. Botox® has now been used in aesthetic medicine for many years. Our chief physicians were among the first in Germany to use the substance and have been working with high-quality Botox® compounds ever since its introduction. Their many years of experience make them seasoned specialists in performing Botox® treatment in Düsseldorf.
An experienced practitioner is fundamental in achieving aesthetic, natural-looking results. Another advantage of treatments at the KOEBE KLINIK is the wide-ranging expertise of our physicians; the knowledge extends far beyond aesthetic considerations. All treatments are carried out with a holistic perspective and take into account the complex connections between different parts of the human anatomy. Our specialists can thus achieve natural results for every patient, complementing and accentuating each individual's unique facial features.
When will the results of Botox® treatment be visible and how long does will they last?
After a Botox® treatment, it takes a few days for the botulinum toxin to take full effect. Exactly how long the results last varies from person to person. On average, the treatment's smoothing effects last about 4 to 9 months and can then be refreshed as needed.
BENEFITS OF
WRINKLE TREATMENTS WITH BOTOX®
AT THE KOEBE KLINIK
Experienced practitioners: Dr Dr Norman Koebe and Dr Hermann Koebe are specialists in facial treatments. Their decades of expertise enable them to achieve appealing and natural results with finesse.
Flexible scheduling: We are here for you, even outside our normal business hours. If you would prefer an appointment outside of these hours, this can usually be arranged.
All-round support: We attach great importance to providing comprehensive, detailed advice and support for our customers. At our clinic, this also means that you will always retain the same contact person, who will be familiar with your wishes and concerns.
High standards: By exclusively using first-class medical instruments and materials from renowned manufacturers and only using compounds that have passed extensive research and testing, we offer the highest level of safety and quality.
Contact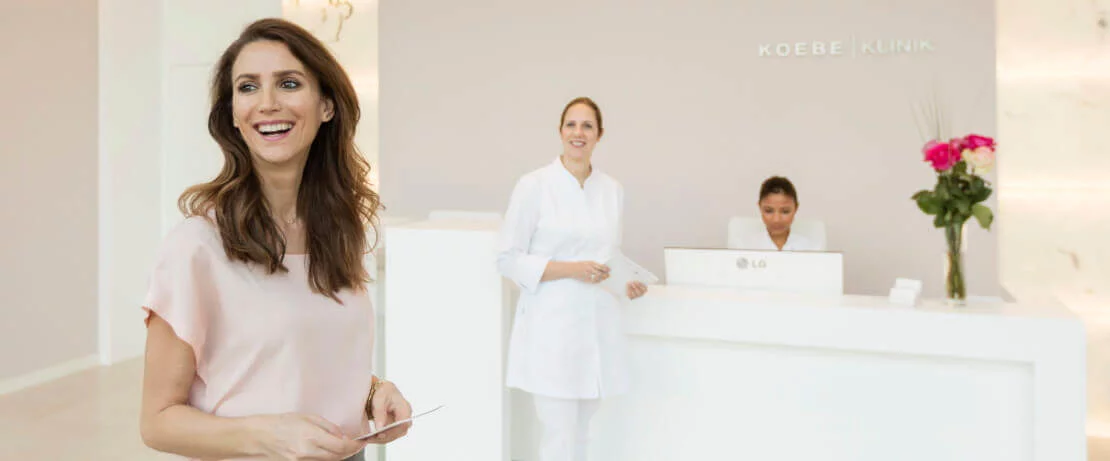 ---
Monday to Friday 9.00 am - 6.00 pm
---
We are available to you 24/7!