GYNAECOMASTIA SURGERY AT
THE KOEBE KLINIK
Our society regards a masculine, defined torso as the epitome of male beauty. At the same time, it has come to place far greater aesthetic demands on male bodies. This becomes all the more troubling when a man's chest takes on a rather feminine shape. While men's chest muscles usually respond well to exercise, if a man is genetically predisposed to developing glandular tissue or fatty deposits below their nipples, any attempt to exercise the fat away is almost hopeless. Strict diets are also rarely able to achieve sufficient reductions in breast size.
Gynaecomastia – also pejoratively referred to as "man boobs" – creates a stigma as men grow older, particularly over the age of 40. If a man has a genetic predisposition, however, it can also affect younger men during puberty, usually due to changes in their hormonal balance and metabolism.
The abnormal increase in glandular tissue causes the male breast to grow until it has a feminine appearance. In addition to "real" gynaecomastia, in which the individual presents with a markedly enlarged mammary gland, men can also suffer from what is known as pseudogynaecomastia –an enlarged breast due to localised fat accumulations. Pseudogynaecomastia typically occurs during middle age or due to obesity; however, it can also present in conjunction with "real" gynaecomastia.
Typical, pubertal gynaecomastia is a different condition and, in many cases, also regresses spontaneously. For some men, however, this is not the case, and their breasts remain permanently enlarged. An operation is also a potential option in such instances once the causes have been fully ascertained. Furthermore, other factors such as chronic diseases, specific medications, hair growth agents, anabolic steroids and so on can cause a man's chest to take on a feminine appearance. The man concerned often has to endure taunts and teasing because summer clothes and sportswear are unable to hide the condition sufficiently.
In the case of gynaecomastia, just as with all symptoms treatable with plastic surgery, it is important not to wait until the skin becomes permanently stretched due to the excess volume and the excess skin becomes unable to fully recede after treatment.
In light of the complex causes and the demanding surgical technique – which must not be underestimated – the surgery to correct gynaecomastia requires a high level of expertise and experience. Contrary to popular opinion, gynaecomastia surgery to remove fat and/or glandular tissue is a very challenging technical procedure that demands a particularly experienced surgeon and exceptionally delicate work. The plastic surgeon must be acutely familiar with the specific contours of the male torso and have mastered the specific combination techniques (both removing glandular tissue and removing fat tissue) used to treat gynaecomastia. Only then can the procedure be expected to achieve aesthetic results that do not worsen the issue with wide-reaching scars or deep indentations.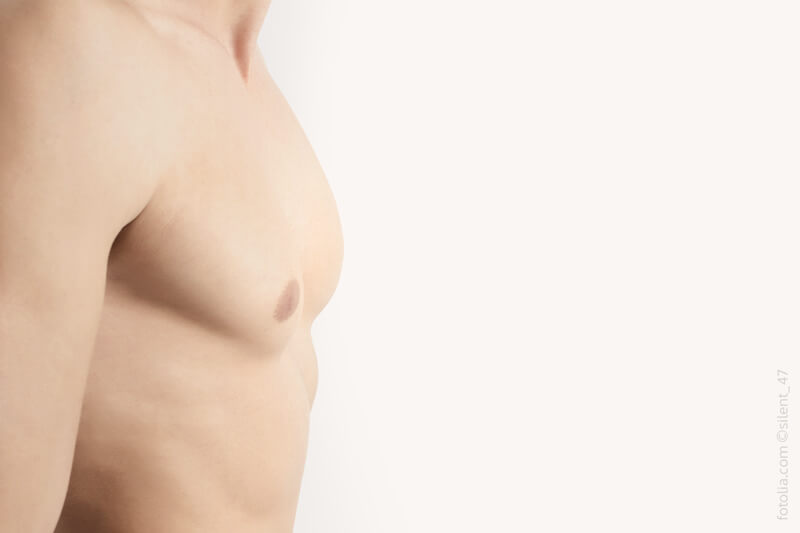 Before the treatment, we will need to hold several preliminary examinations to clarify as precisely as possible the causes of the localised fat accumulations. Only an experienced specialist can determine whether surgery is required or a more conservative treatment could deliver results.
The KOEBE KLINIK is your specialist clinic for gynaecomastia surgery in the Düsseldorf region.
At our clinic, gynaecomastia surgeries are always personally performed by our senior physician. Dr Hermann Koebe has many years of experience as well as intimate knowledge of the many crucial nuances that require particular attention when shaping the male chest.
Depending on your situation, different surgical techniques might be used in the surgery. Our specialist removes enlarged glandular tissue using tissue-conserving techniques that result in minimal scarring. He makes the smallest possible incisions in inconspicuous locations around the patient's areola. The art of this surgery lies in achieving the most even results possible. Removing all the glandular tissue would be a radical approach and would create indentations around the nipples that could prove very difficult to correct.
In the case of pseudogynaecomastia, we only remove excess fat tissue. To achieve this, we perform liposuction at an inconspicuous place, which does not involve significant incisions. It is important to ensure, for example, that the breast muscles (m. pectoralis) in the lower and lateral part of the chest are contoured harmoniously and that too much tissue is not removed from the upper section of the chest, which is often not as enlarged. In most cases, the enlargement is due to a mix of glandular and fat tissue. Depending on your individual case, it may therefore be recommended to adopt a different surgical procedure combining both approaches.
Would you be interested in further information on gynaecomastia surgery with no obligation to proceed? If so, make an appointment at the KOEBE KLINIK. In a personal consultation with Dr Koebe, he will advise you of the surgery procedure most suitable for you and the results you can expect to achieve.
FAQS ABOUT
GYNAECOMASTIA SURGERY
IN DÜSSELDORF
BENEFITS OF
GYNAECOMASTIA SURGERY
AT THE KOEBE KLINIK
Senior physician treatment: At the KOEBE KLINIK, gynaecomastia surgery is always performed by our senior physician, Dr Hermann Koebe. This affords you the certainty of being treated by an experienced, specialist plastic surgeon.
High aesthetic standards and profound knowledge of the specific contours of the male chest – a crucial requirement for satisfactory results.
Discretion: Your privacy is our highest priority. All appointments are thus held in a discreet atmosphere of trust. Our premises feature private parking spaces and a sheltered entrance to ensure maximum discretion.
Central location: The KOEBE KLINIK is situated just a few minutes from Düsseldorf. Does your job mean you need an appointment outside our regular business hours? If so, we'd be happy to make the necessary arrangements.
Contact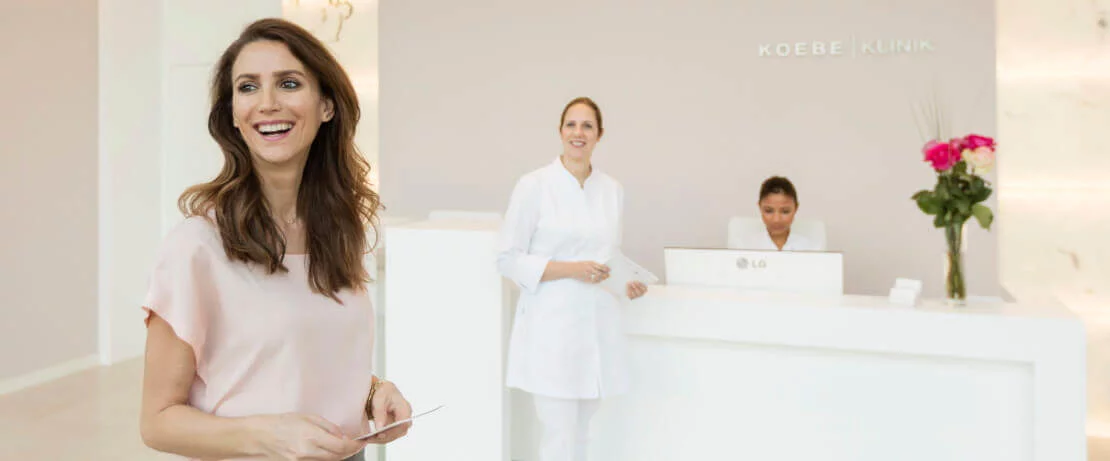 ---
Monday to Friday 9.00 am - 6.00 pm
---
We are available to you 24/7!