RHINOPLASTY AT THE
KOEBE KLINIK
Our nose is the central feature of an individual's face and goes a long way to shaping their appearance. If we feel our nose is too prominent, too large or even misshapen, it can lead us to think we look older or less attractive overall. This can cause people to lose sight of their delicate, elegant facial features and focus on even minor imperfections on their nose.
It is almost impossible to describe a nose as attractive or unattractive when seen in isolation – the aesthetic context is crucial. Individual proportions, symmetries and skin types combine with an individual's gender, ethnic heritage and even aspects of their personality to produce an overall image into which their nose should blend harmoniously. Even though beauty is subjective, there is evidence to show that certain factors are generally considered attractive, namely the attributes of symmetry and harmony.
If the nose is perceived as being too large, too small or crooked, this can also have a significant impact on the self-confidence of the person in question. At worst, they can even feel ill at ease in social situations as they feel they – and their nose – are always the focus of attention.
However, rhinoplasty is not always a purely aesthetic procedure. Our noses clean the air we breathe and are therefore essential to our anatomy. If this function is impaired, it can also have a significant impact our quality of life. Allergies, infections and anatomical changes can lead to persistent nose issues. At the KOEBE KLINIK, we frequently perform operations that combine both aesthetic and functional corrections.
Rhinoplasty is a complex procedure that requires an inherent sense of aesthetics, years of surgical experience and advanced specialist qualifications to be performed flawlessly. An eye for detail, precise and intuitive flair and complete professionalism are essential, no matter whether the procedure aims to remove of a lump or perform a complex reshaping of the tip of the nose. Dr Dr Norman Koebe is an authority in the field of complex facial surgery and an absolute specialist in rhinoplasty in particular.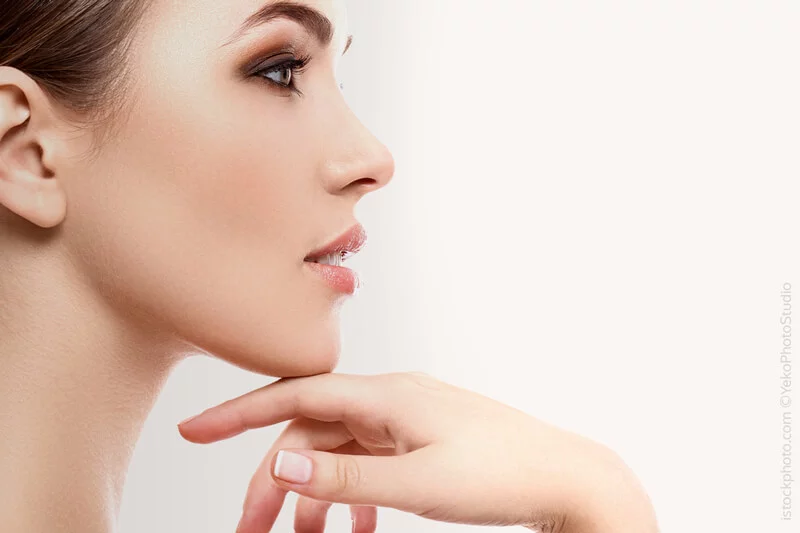 As a specialist with dual certification in oral and maxillofacial surgery as well as plastic and aesthetic operations, Dr Dr Norman Koebe is capable of performing holistic, tissue-conserving corrective nose surgery. He is one of the few physicians in Germany with such wide-ranging expertise in aesthetic and functional facial surgery. His objective is always to create coherent, harmonious facial proportions.
As a renowned expert in aesthetically challenging nose correction procedures, Dr Dr Norman Koebe has also developed a particularly delicate surgical method. The KOEBE® rhinoplasty is a holistic method and incorporates all required aesthetic and functional changes to the nose to secure a long-lasting results. We treat the tissue structures in the patient's nose with the greatest possible care. This minimises the risk of post-surgical swelling and pain while reducing the risk of complications and the need for subsequent operations to an absolute minimum.
The KOEBE KLINIK is located in Meerbusch, just a few minutes from Düsseldorf city centre. We stand ready to welcome you with our modern, friendly architecture and an ambience steeped in tradition. We create an exceptional atmosphere and offer you holistic nose correction treatment under our own roof, expertly performed by Dr Dr Norman Koebe himself. He will treat and care for you personally in the initial consultation and the operation itself, during your inpatient stay with us and at all required check-up appointments.
FAQS ABOUT RHINOPLASTY
IN DÜSSELDORF
Who could benefit from corrective nose surgery?
Rhinoplasty is, in many cases, an aesthetic procedure. If you are not satisfied with your nose, rhinoplasty could be an option for you. Yet, functional impairments can also necessitate a procedure. At the KOEBE KLINIK, we can combine functional and aesthetic corrections in one procedure.
At our clinic, Dr Dr Norman Koebe will discuss with you in person whether the procedure is an option in your case and which technique is most appropriate. It may be necessary to use our clinic's DVT (digital volume tomography) imaging device. DVTs facilitate particularly focused and precise surgical planning. The DVT functions in much the same way as tomography, but exposes patients to substantially reduced radiation. With the aid of the digital volume tomography, we can examine the tissue and bone structures and the entire internal architecture of the nose; it even allows us to pinpoint the nerve channels. This is a significant advantage as we work to align the patient's wishes with their existing anatomy.
What do rhinoplasty procedures in Düsseldorf involve?
The steps involved in surgical nose correction depend to a large extent on the selected method and the patient's wishes. Our specialist, Dr Dr Norman Koebe, will give you detailed advice on the most suitable method for you. In general, a distinction is drawn between closed and open rhinoplasty.
Closed rhinoplasty
During a closed rhinoplasty, Dr Dr Norman Koebe performs the procedure via the patient's nostrils. This type of operation results in very minimal scarring. It only involves two small incisions inside the nostrils.
The scope of correction possible in this method is limited. At our clinic, we use closed rhinoplasty to remedy small flaws and irregularities. However, this minimally invasive technique allows us to markedly improve patients' breathing and implement aesthetic changes.
Open rhinoplasty
In open rhinoplasty, in addition to the incisions in the nostrils, Dr Dr Norman Koebe also makes a small incision in the bridge of the nose. This allows him to detach the skin from the tip of the nose and shift it upward. It provides much greater access to the nasal structures, allowing the surgeon to perform corrections in a precise and targeted manner. Open rhinoplasty can achieve more extensive corrections than the closed procedure. Many procedures, such as straightening a deviated septum, often require open rhinoplasty.
What is KOEBE® rhinoplasty?
KOEBE® rhinoplasty is a holistic surgical nose correction method developed by Dr Dr Norman Koebe. At its heart is the incorporation of all necessary aesthetic and functional changes to achieve permanent results and deliver long-lasting satisfaction. We optimise function and aesthetics to create a thoroughly pleasing outcome for the patient. We also aim to shape the nose in such a way that it will always suit the person's face even as they age. Doing so requires a certain version and an understanding of the complex changes the face undergoes, including as we age. In this regard, Dr Dr Norman Koebe is a true specialist who takes every aspect into consideration.
KOEBE® rhinoplasty allows us to treat tissue structures with the greatest possible care. It minimises post-surgical swelling and pain while keeping the risk of complications and the need for follow-up operations to an absolute minimum.
This allows us to offer our patients a treatment option with a much shorter recovery time; the severity of this procedure is markedly less than alternative methods. Dr Dr Norman Koebe will specifically tailor the KOEBE® rhinoplasty to your needs and your individual case. From the first consultation through to post-operative aftercare, our specialist will care for you closely to achieve the best possible aesthetic and functional outcome.
What do I need to consider before and after rhinoplasty?
In general, you should stop taking anticoagulant or blood-thinning medication at least two weeks before your nose correction. This also includes over-the-counter medications such as aspirin.
Our specialist, Dr Dr Norman Koebe, will hold a detailed consultation with you to discuss any specific instructions.
If you have been prescribed anticoagulant or blood-thinning medication, our specialist will discuss the necessary preparations for special medications.
Will there be visible scarring following rhinoplasty?
What type of scars will develop and how visible they will be depends on the surgical method used. At our clinic, we attach great importance to achieving results with minimal scarring.
Following an open rhinoplasty, a small inconspicuous scar will develop on the bridge of the nose. In a closed rhinoplasty, we perform the procedure through the nostrils so that no visible scars usually remain.
When will I be able to return to work and do sports after a rhinoplasty?
You should avoid strenuous physical exertion for two weeks after the procedure to avoid disrupting the healing process. You should avoid sports for at least four weeks after the procedure.
Is rhinoplasty painful?
At the KOEBE KLINIK, we perform corrective nose surgery under general anaesthetic. The procedure itself is therefore painless. If you experience pain after the operation, this can usually be treated effectively with mild painkillers.
What are the risks involved in rhinoplasty?
Like all surgical procedures, rhinoplasty involves certain risks. At the KOEBE KLINIK, we will explain the surgical risks in detail in a face-to-face discussion. Dr Dr Norman Koebe is a dual-certified specialist with decades of experience – a factor that significantly reduces the risks involved. You're in safe hands here at the KOEBE KLINIK.
Dr Dr Norman Koebe and the entire KOEBE KLINIK team look forward to welcoming you! Arrange a consultation at our clinic – we'd be happy to discuss the nose correction options open to you.
Are financing options available for surgical nose correction?
We offer a fair and convenient financing model for rhinoplasty at our clinic. The flexible financing option allows you to undergo desired treatment and to pay it off in convenient instalments.
BENEFITS OF RHINOPLASTY
AT THE KOEBE KLINIK
Greatest specialist expertise: Dr Dr Norman Koebe is a renowned nose specialist and one of the few German physicians to hold dual certification (in oral and maxillofacial surgery as well as plastic and aesthetic operations). His eye for detail, wealth of medical expertise and years of experience as a surgeon make him the number one choice for rhinoplasty.
Senior physician treatment: At our clinic, our highly qualified senior physicians – who also own the clinic – administer all treatments.
All-round treatment: At our clinic, we attach great importance to providing holistic, expert treatment. Every treatment step takes place in our clinic. This means that, from the initial discussion and the operation itself through to the check-ups, you are in the best of hands.
Highest hygiene standards: At the KOEBE KLINIK, we ensure full compliance with hygiene standards. We are fully licensed in accordance with Section 30 of the German Trade Regulation Act (Gewerbeordnung) – so you can be certain that we fulfil the strictest and specific hygiene requirements.
Contact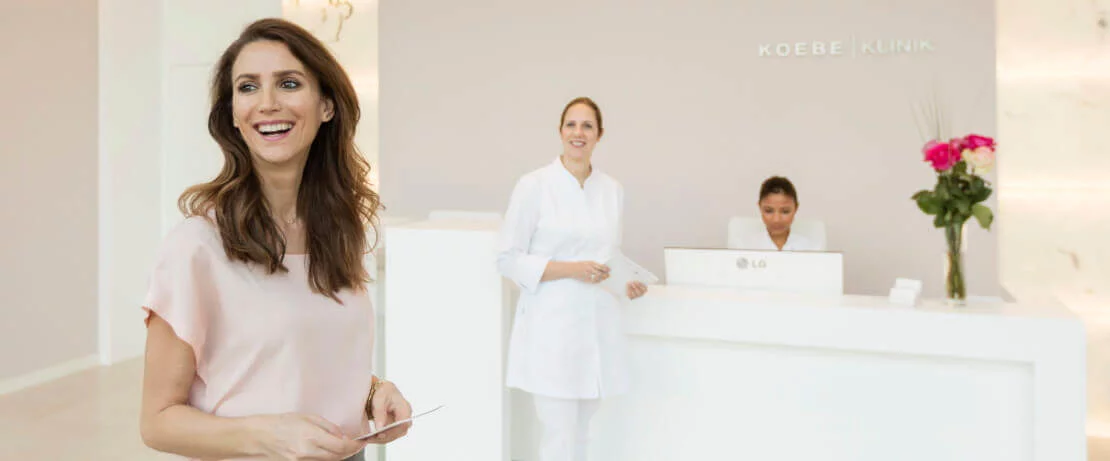 ---
Monday to Friday 9.00 am - 6.00 pm
---
We are available to you 24/7!