LIPOEDEMA TREATMENT
AT THE KOEBE KLINIK
Being diagnosed with lipoedema is hugely distressing for many women. The fat distribution disorder causes abnormal build-ups of fat, particularly in the thighs and hips. As the condition is incurable, in the past, women with the disease were simply forced to live with the symptoms. Compression garments and lymph drainage alone cannot halt its progress. If the condition is not treated by a specialist to ease the stress on the affected areas, it can result in painfully swollen legs, knot-like formations in soft tissue and increasingly stretched skin – and further issues caused by these symptoms. Of course, early intervention is always beneficial, though treatment is advisable and can achieve improvements at any time.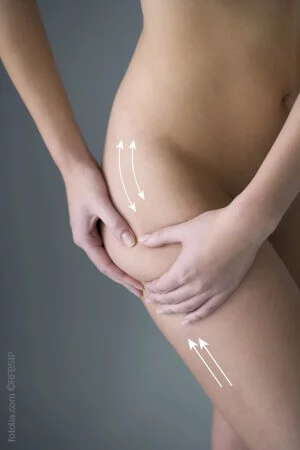 In many cases, the psychological consequences are even more serious. The unsightly build-ups of fatty tissue have a negative impact on a woman's body proportions and will not recede even with a healthy lifestyle. In this situation, from which there might appear to be no escape, the anguish and suffering can be enormous.
Surgical liposuction, however, enables us to eliminate the excess fatty tissue permanently. Today, liposuction to treat lipoedema is a routine procedure; here at the KOEBE KLINIK, we use it to achieve excellent aesthetic results to correct the symptoms of lipoedema. That assumes that, in treating this medically indicated and diagnosed condition, the procedure also adopts a clear aesthetic vision. Simply reducing the volume of excess, abnormal tissue can often deliver unsatisfactory results for the patient in aesthetic terms. In such instances, patients often remain unhappy – even though, in medical terms, the burden has been lifted. With this in mind, here at the KOEBE KLINIK, we make combining a functional procedure with aesthetic care and finesse our priority.
We usually perform the treatment on an outpatient basis under mild tumescent local anaesthesia. Firstly, Dr Hermann Koebe all loosens the excess fatty tissue with a numbing solution; he then carefully removes the fatty tissue using fine cannulas using a special technique that also protects the lymphatic pathways.
Here at the KOEBE KLINIK, liposuction is performed by our chief physician and lipoedema specialist, Dr Hermann Koebe. An accomplished liposuction practitioner, Dr Koebe also has many years of experience performing complex procedures in the field of lipoedema therapy. From the initial consultation through to aftercare, he will be available to you as your personal contact. If you are suffering from indentations or irregularities following liposuction that another practitioner has performed improperly or without due consideration of the aesthetics, Dr Koebe will of course make the necessary corrections. We would also strongly advise patients to undergo lipoedema treatment for aesthetic reasons. For patients who have been unable to achieve satisfactory results because other practitioners have only treated the functional aspects, we can perform corrective procedures with the utmost care and attention to achieve excellent results.
FAQS ABOUT LIPOEDEMA TREATMENT
IN DÜSSELDORF
BENEFITS OF
LIPOEDEMA TREATMENT
AT THE KOEBE KLINIK
Senior physician treatment: At the KOEBE KLINIK, lipoedema treatments are exclusively performed by our specialist, Dr Hermann Koebe. Dr Koebe will also personally care for you throughout your treatment and is available for you to contact at any time.
Greatest specialist expertise: Dr Hermann Koebe is very knowledgeable and has many years of experience in the field of liposuction, especially in relation to surgical lipoedema treatment.
Central location: The KOEBE KLINIK is situated just a few minutes from Düsseldorf city centre. Here in Meerbusch, our medical team awaits you in a discreet location; our clinic also offers private parking spaces in our courtyard.
Lipoedema specialists with an aesthetic focus: We remove abnormal lymphatic and adipose tissue taking both functional aspects (protecting lymphatic ducts) and the highest cosmetic standards (harmonious silhouette, even skin texture) into account.
We look forward to discussing
this with you in person.
We would be happy to offer detailed advice on lipoedema treatment at our plastic and aesthetic surgery clinic in Düsseldorf.