Neck lift treatments
at the KOEBE KLINIK
The neck is one part of the body that is particularly sensitive to the effects of age. There are many reasons for this, from the loss of skin elasticity as we grow older to constant exposure to sunlight. Plus, we rarely afford our neck the same level of care and attention as we do to our face. It is therefore very common for neck skin to become slack at a relatively early age.
If you are troubled by the first wrinkles or small fat pads developing in your neck region, we can rectify these signs of ageing through a neck lift treatment. At the KOEBE KLINIK, we use a range of methods to achieve optimal results, always tailoring our approach to the current state of your skin and tissue. If necessary, we can also consider your entire face in an integrated treatment plan. This way, you can rest assured that the final results will look entirely natural and harmonious.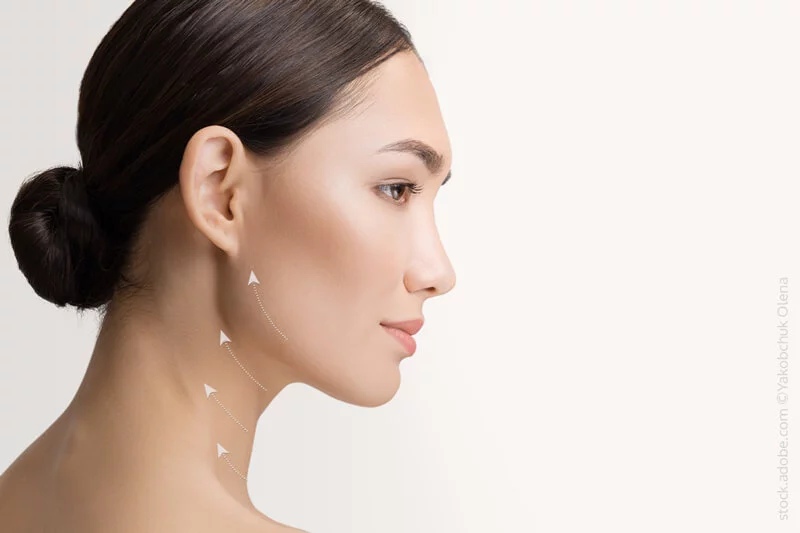 Why is the neck region prone to wrinkles and slackened skin development?
Slackened skin, wrinkles and small fat deposits in the neck region are usually entirely normal signs of ageing. As the years go by, the skin loses its elasticity and volume. As a result, it starts to slacken and become loose, creating what is often known as the 'turkey neck' effect. External factors like UV radiation can also accelerate skin ageing in the neck area.
If wrinkles in your neck have become clearly pronounced and you no longer feel comfortable in your own skin, a neck lift can provide relief. With various treatment methods at our disposal, we can rectify everything from initial neck wrinkles to advanced skin slackening. There is no ideal time for a neck lift, though a given method may be best suited to your specific needs. We would be happy to advise you in person at the KOEBE KLINIK.
What are the treatment options?
If the skin on your neck has only become slightly slack, we prefer to use a minimally invasive procedure. These methods involve little to no recovery time for patients, present minimal risk and are also less expensive.
Hyaluronic acid fillers alone may be sufficient to rectify minor neck wrinkles. We often treat moderate skin slackening by performing a thread lift. This firms the neck skin from within using absorbable sutures.
Injection lipolysis, also known as fat-dissolving injections, can be an effective solution to small fat depots. However, if a patient's skin is already significantly slackened, potentially also affecting their face, we often recommend a facelift. Although this procedure is more extensive, it can achieve a lasting, long-term improvement in your appearance and radiance.
What does a neck lift involve?
In an initial consultation, your doctor will discuss suitable treatments with you. It may also be possible to combine several techniques. They will also inform you about the risks, benefits and drawbacks of each option. What happens from that point on depends on your chosen treatment method.
Hyaluronan fillers
This wrinkle treatment is a brief outpatient procedure in which we inject hyaluronic acid fillers in controlled doses. This allows us to add volume to smooth out minor neck wrinkles or correct a slight double chin. You will be presentable and able to return to your routine immediately after the treatment.
Thread lift
A thread lift takes around an hour and can usually be performed under local anaesthetic. Absorbable sutures are inserted into the skin to tighten the neck and are broken down by the body over the next 9–12 months. This underpins and lifts the entire neck area.
Facelift
A facelift is an extensive yet effective operation to tighten neck skin. This operation, which lasts several hours, lifts the entire face including the neck region. During the procedure, the surgeon works with deeper layers of tissue to achieve entirely natural results. It takes place under general anaesthetic and involves a short inpatient stay.
Injection lipolysis
In an injection lipolysis treatment, we inject special substances into the neck area to dissolve small fat depots. Once destroyed, the fat cells are then transported away by the body. The treatment takes place on an outpatient basis and lasts around half an hour.
FAQs about neck wrinkle treatment
in Düsseldorf
How can I prevent my neck skin from becoming slack?
Skin becoming slack and loose is part of the natural skin ageing process, so it is impossible to prevent this entirely. However, premature skin ageing can be prevented by avoiding extended periods of sunbathing and using UV protection.
An extensive skin care routine helps to keep skin young and smooth for longer. We also recommend reducing your alcohol consumption and smoking as far as possible.
Who could benefit from a neck lift?
A neck lift treatment is suitable for all patients who suffer from slackened skin. By offering various treatment methods, we can take a targeted approach, addressing different needs and degrees of slackness.
Certain pre-existing conditions, such as autoimmune disorders and inflammatory skin diseases, may preclude a neck lift.
Which is the best treatment method for neck lifting?
Which treatment method is most suitable depends on the degree to which the skin has slackened. For some patients whose skin is only slightly loose, filler injections may be enough to correct the issues. We often treat moderate skin slackening with thread lifting.
If small fat depots have formed, injection lipolysis (also known as fat-dissolving injections) may be an option. It may then be possible to firm up the skin if necessary.
If the skin has slackened more significantly, a more extensive procedure may be required. In such cases, we may consider a facelift, in which we address the face and neck as a whole.
What do I need to bear in mind before and after neck lifting treatment?
Preparations and aftercare instructions depend on the selected treatment method. In principle, there is no further preparation required on your part. However, it may be necessary to stop taking certain medications for a temporary period if your treatment plan includes surgery.
After a neck lift, you should make sure to rest and protect the treated areas against sun exposure. You should also temporarily avoid visiting the sauna or solarium. Gently cooling the treated area can counteract any initial swelling.
When will the results of a neck lift be visible and how long will they last?
In principle, the treatment results will be visible straight away. However, the neck area may initially be red and swollen. These symptoms should recede after a few days; after a surgical facelift, this could take up to two weeks.
A facelift and injection lipolysis allow us to achieve lasting results. However, the ageing process will continue to affect the skin following a neck-firming treatment. As a result, the state of your skin may change again over the years.
You can expect the results of thread lifting or fillers to last around 1 to 3 years. These treatments can be refreshed as often as you wish to preserve their firming, tightening effects.
Are there side effects of a neck lift?
Patients may experience different side effects depending on the treatment method used. In general, you should expect some slight swelling, bruising and redness after the treatment.
Given the materials we use, the risk of intolerance reactions or allergic reactions is exceptionally low.
A surgical facelift is a relatively complex procedure and is therefore associated with general operative and anaesthetic risks. In rare cases, secondary haemorrhages or wound healing deficits may occur.
Benefits of neck lifting
at the KOEBE KLINIK
Specialist expertise: Dr Norman Koebe and Dr Hermann Koebe are proven specialists in plastic and cosmetic operations, with many years of professional experience. Additionally, Dr Norman Koebe holds an additional specialist qualification, as an expert in oral and maxillofacial surgery.
High quality standards: At the KOEBE KLINIK, we exclusively use state-of-the-art medical technology and materials from renowned manufacturers. Regular quality controls and continuous development guarantee that you receive treatment of the highest medical standard.
Personal consultation: We aspire to offer you the best treatment for your needs. With this in mind, we offer an extensive, personal consultation as a matter of course. Even after the neck lift, we remain available to respond to any questions or problems you may have.
Central location: The KOEBE KLINIK is situated in Meerbusch, a tranquil, discreet area just a few miles from Düsseldorf city centre. This means you can enjoy the peace and sense of well-being at our private clinic without having to make any long journeys.
Contact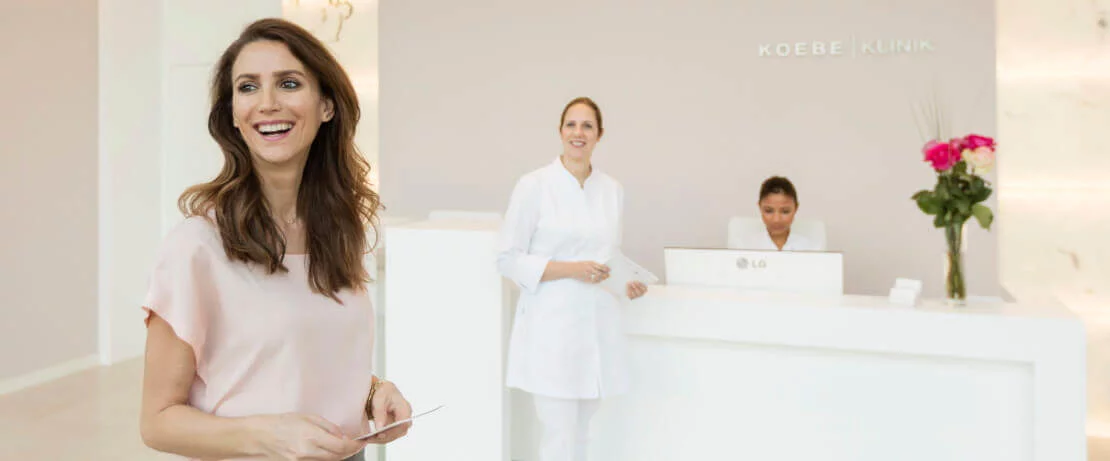 ---
Monday to Friday 9.00 am - 6.00 pm
---
We are available to you 24/7!