Russian lips treatment
at the KOEBE KLINIK
Many of our patients would like plumper lips but worry whether their face will still look natural after a lip correction. However, modern treatment methods enable us to gently add volume to your lips and create sensual, seductive lips – without the fear of causing the dreaded 'rubber dinghy' effect.
An experienced, qualified practitioner is crucial for a lip augmentation to be successful. Additionally, choosing the right injection technique ensures that your lips are shapely and blend harmoniously into your face once corrected.
At present, one particularly popular method is filler injections using the Russian lips technique. In this technique, we emphasise the central part of the lips by underpinning it with high-quality hyaluronan fillers. It gives the mouth a sensuous, gently curved, heart-like shape that still looks natural.
If you're looking for a gentle lip augmentation treatment that delivers natural results, we'd be happy to advise you on Russian lips at the KOEBE KLINIK. Here in Düsseldorf, we tailor each treatment plan to the individual patient by exploring your wishes and expectations.
Our two specialist doctors, Dr Hermann Koebe and Dr Norman Koebe, have performed exacting lip correction treatments for over 20 years. When planning your treatment, our specialists will always consider your face as a whole, so that your newly modelled lips appear attractive and harmoniously complement your other features. This means you can look forward to sensual, seductive lips without the risk of the 'rubber dinghy' effect.
FAQs about Russian lips
in Düsseldorf
What exactly are Russian lips?
The Russian lips technique is a special lip augmentation method with hyaluronan fillers. We use it to accentuate the central areas of the lips in particular. This creates gently curved, slightly heart-shaped lips that still appear natural.
Who would be suited to Russian lips treatment?
We offer Russian lips in Düsseldorf to all patients who would like an understated lip augmentation and value natural-looking results.
Russian lips treatment is also a good choice for patients looking for an initial lip augmentation treatment. It gives them an opportunity to see the effects of a filler treatment without making striking changes to the shape of their lips.
What does Russian lips treatment involve?
One of our specialist doctors will hold a consultation with you to provide extensive details of Russian lips treatment. They will explain what the potential results might look like and outline aspects you should bear in mind after a lip correction treatment. After that, they will define the schedule and scope of the filler treatment together with you.
The treatment itself starts with disinfecting the lip area and, if you wish, applying a topical anaesthetic. The specialist doctor treating you will carefully inject the hyaluronan fillers into the skin before gently massaging the lips to model the fillers into the desired shape.
You can go about your daily routine as normal after Russian lips treatment. If you are looking for a more extensive augmentation, you may need to have repeated injections at an interval of several weeks.
What is the difference between Russian lips and classic lip fillers?
In a classic lip augmentation, fillers are injected evenly into the lips, with the added volume distributed over the full width of the lips.
By contrast, in a Russian lips treatment, we accentuate the central area of the lips. We gently lift the centre of the lips, giving them a slightly curved shape, without enlarging the lips to an unnatural extent.
Can classic lip fillers be combined with a Russian lips treatment?
When it comes to lip fillers, we work with you to decide between a classic treatment or a treatment using the Russian lips technique.
If you have had classic lip fillers in the past, you can still have Russian lips treatment. However, you should wait until the last batch of fillers have fully broken down. We can then perform Russian lips treatment here in Düsseldorf.
Are lip fillers using the Russian lips method painful?
Russian lips treatment is just as painless as classic lip fillers. However, if you are very sensitive to pain, we would be happy to apply a numbing cream before administering the injections to make the treatment even more pleasant for you.
What are the risks associated with the Russian lips technique?
Generally speaking, lip augmentation treatments using hyaluronan fillers is low risk. This also applies to Russian lips. In Düsseldorf, we exclusively work with premium hyaluronan fillers, which means you benefit from treatment with a high degree of safety.
Slight pain, swelling and isolated bruising can develop temporarily following Russian lips treatment. Any such symptoms should recede completely within a few days.
How long does the Russian lips effect last?
Hyaluronan fillers last around 5–12 months on average. Exactly when the effects will begin to fade depends on the compounds used and individual factors. You should have the Russian lips treatment refreshed on a regular basis in Düsseldorf to ensure the results are lasting.
How many treatment sessions are required in the Russian lips technique?
One session is usually sufficient for an understated lip augmentation. Our specialist doctors perform more extensive corrections gradually, as this enables them to precisely control and monitor the results. This approach also avoids the risk of overcorrection.
Benefits of
Russian lips treatment
at the KOEBE KLINIK
Long-standing experience: Dr Hermann Koebe and Dr Norman Koebe have performed lip augmentation treatments for over 20 years. Their broad specialist expertise enables them to carry out exacting corrections with absolute precision.
High-quality products: At the KOEBE KLINIK, we use premium hyaluronan fillers from various renowned manufacturers. We always consider our extensive product range to select fillers ideally suited to the shape of your lips and your desired results.
Individual consultation: Before the treatment, our specialist doctors will hold a detailed consultation with you to discuss lip augmentation and Russian lips. Here in Düsseldorf, we plan every treatment step in close coordination with you, exploring and addressing your wishes.
Contact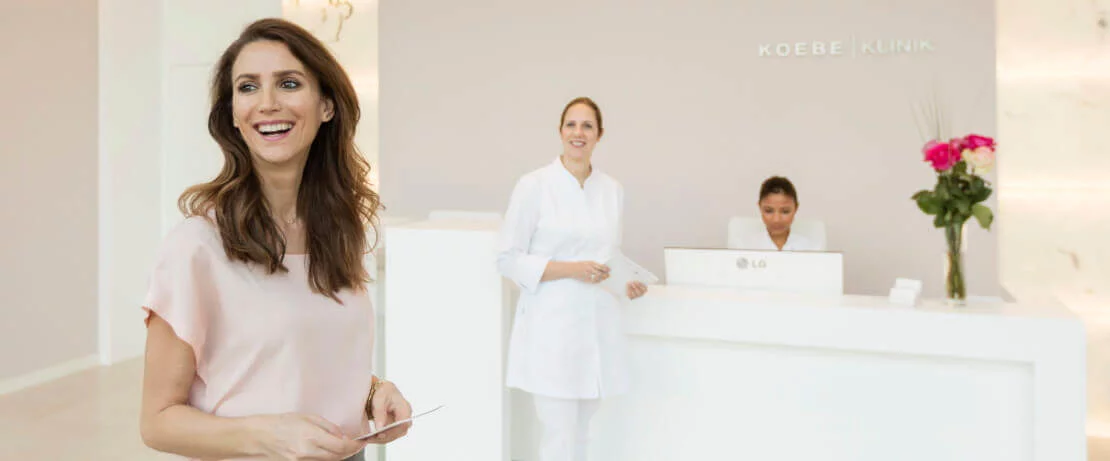 ---
Monday to Friday 9.00 am - 6.00 pm
---
We are available to you 24/7!