FACELIFTS
AT THE KOEBE KLINIK
Fresh, taut skin clear of wrinkles and a lucid, alert gaze are the epitome of a youthful appearance. Despite preventive skin care, it is not possible to halt the ageing process entirely. As we grow older, and depending on environmental influences and any predispositions, the skin on our cheeks and in the neck region can begin to droop and our eyebrows may begin to fall.
These changes in the face and neck regions can have a significant impact on the presence a person radiates. An expression of fatigue or exhaustion can often develop as the face no longer reflects the individual's friendly or even happy disposition.
This is a natural process – but that doesn't mean you simply have to accept it. At the KOEBE KLINIK, we offer an effective method to counteract these signs of ageing: a facelift. This procedure restores a lasting freshness and youthful vitality to your face. We place particular emphasis on providing a holistic treatment. It should preserve your natural facial expressions to achieve balanced, harmonious results.
In light of this, all treatment steps are performed exclusively by our senior physician and proprietor, Dr Dr Norman Koebe. He is one of the few doctors in Germany to hold dual certification as a specialist in plastic and aesthetic operations as well as oral and maxillofacial surgery. As a result, he has exceptional expertise in the field of facial surgery. Using his holistic treatment concept, he achieves particularly aesthetic and harmonious results – always taking the patient's existing facial features into account.
There are different approaches to facelift operations. In our clinic, we primarily specialise in the SMAS facelift, which places a particular emphasis the firming up the underlying tissue known as the superficial musculoaponeurotic system. Dr Dr Norman Koebe's professional repertoire also includes expertise in the deep-plane and super-extended facelift techniques.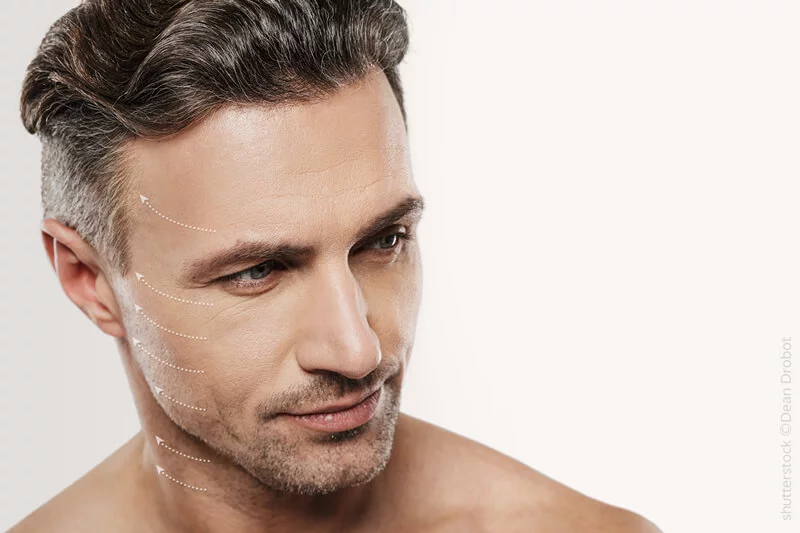 A deep-plane facelift can produce natural-looking results, especially for younger patients. This special technique is considered to be particularly gentle and involves minimal scarring, leaving hardly any traces. Often, the results appear so natural that few would suspect the person had undergone a surgical procedure. It leaves the face looking fresher and younger, without losing natural facial expressions.
In our clinic, we opt for the super-extended facelift method to treat advanced skin ageing. It enables us to achieve a harmonious result that would not be possible with smaller-scale treatments. Dr Dr Norman Koebe lifts the skin across the patient's entire face, including their neck, to tauten the skin and ensure a smooth, attractive outcome.
Dr Dr Norman Koebe will work with you to examine which surgical method is best suited to your needs. At the KOEBE KLINIK, we also provide advice on which complementary treatments would be recommended in your individual case to achieve the most harmonious results and ensure long-term satisfaction.
Another type of facelift is the mini-lift. In this procedure, we tauten the upper and middle areas of the face and also perform endoscopic brow lift and temple-eyebrow lift. We also offer the option of including neck lifting in a facelift procedure.
At our clinic, facelift treatments are handled by Dr Dr Norman Koebe – from the first consultation through to the final check-up. Our senior physician personally performs every treatment step.
FAQS ABOUT FACELIFTS IN DÜSSELDORF
Who could benefit from a facelift?
A facelift is an aesthetic procedure that aims to create a fresher, more vital appearance. Would you like to eliminate signs of ageing and make your face appear visibly younger? If so, facelift at the KOEBE KLINIK could be the right choice for you.
There are some contraindications to a facelift. If you have certain pre-existing conditions or would be unable to undergo a lengthy surgical procedure, our specialist will discuss potential alternative treatments with you.
There is no set age from which people can undergo a facelift. Different people's skin ages at different rates; this also depends on various genetic factors and external influences.
People can opt for a facelift from around the age of 40. More extensive facelift procedures are often suitable for people over 50. As the ageing process differs from one individual to the next, an honest and detailed preliminary discussion with Dr Dr Norman Koebe is essential. By conducting a thorough examination, he will be able to determine the most appropriate method to achieve the best possible results in your individual case.
Which areas can a facelift be used to treat?
A facelift can be used to tauten the skin in different parts of your face. At the KOEBE KLINIK, we offer different surgical methods to treat your specific problem areas, be they your eyebrows, your cheeks, your forehead or your neck. Of course, it is possible to combine different treatments.
What do I need to consider before and after a facelift?
Your specific aftercare instructions will depend on the operative method selected. Dr Dr Norman Koebe will discuss this with you in detail.
As a basic rule, you should not take anticoagulant or blood-thinning medications for at least two weeks before the scheduled operation. These include many over-the-counter medications such as aspirin, ASA and flu medicines.
If you have been prescribed anticoagulant or blood-thinning medication, it is essential that you inform Dr Dr Norman Koebe of this during the preliminary discussion. Only then will he be able to identify an alternative medication for you for the duration of the treatment.
After surgery, you should all forms of heat. You should not take hot baths; avoid visiting the solarium or the sauna. This significantly reduces the risk of impairing wound healing and helps to avoid extensive scarring.
What does a classic facelift involve?
The scope and steps involved in a facelift always depend on the selected method and the desired degree of correction.
During a classic facelift, Dr Dr Norman Koebe makes an incision that runs from the hairline to the ear (known as the hairline incision). The hairline incision ensures minimal scar formation due to the regeneration of the hair roots in the area operated on. He also makes an incision behind the ear, which runs down to the hairline on the neck. Dr Dr Norman Koebe then tautens both the skin and the underlying tissue – also called the superficial aponeurotic system (SMAS) – to achieve long-lasting results. He removes any excess skin and sutures the skin without placing tension to the wound closure.
When will I be able to socialise and exercise again after a facelift?
Presentability can vary significantly between patients. The key factors in this regard are individual wound healing rates and the surgical method used.
Based on Dr Dr Norman Koebe's findings in your individual case, you will usually be able to appear in public two to three weeks after the operation.
You should refrain engaging in sports for at least two weeks. In some cases, it may be necessary to avoid sport for longer. Dr Dr Norman Koebe will give you detailed advice on this.
Does a facelift leave visible scars?
Our specialist, Dr Dr Norman Koebe, uses methods that result in very minimal scarring. Nevertheless, a facelift is a surgical procedure in which scars cannot be avoided completely. Dr Koebe makes the incisions so that they are concealed once healed, making them barely noticeable.
What are the risks associated with a facelift?
As with all surgical procedures, a facelift entails general surgical risks.
Other than that, a facelift is, broadly speaking, a low-risk procedure. A key factor in this is the great expertise of our specialist physician, Dr Dr Norman Koebe. His many years of specialist experience and his wide-ranging expertise mean you will be in the best of hands with us at the KOEBE KLINIK.
Are financing solutions available for a facelift?
Patients are often reticent to choose an aesthetic treatment for financial reasons. Our fair and individual financing options mean you can fulfil your wish for a facelift and pay for it in convenient instalments without any hidden costs. Please ask us about our financing models.
BENEFITS OF A FACELIFT
AT THE KOEBE KLINIK
Greatest professional expertise: With over 17 years' experience in plastic and aesthetic operations as well as oral and maxillofacial surgery, Dr Dr Norman Koebe is one of the few specialists in Germany capable of performing comprehensive facial surgeries. In his work, he never considers function or aesthetics in isolation from the whole.
Treatment under one roof: From your initial consultation through to your check-ups, your appointments will always be held in our clinic with its high-quality equipment and in-house operating theatres specifically designed for aesthetic surgery. This means we can guarantee a relaxed atmosphere in which patients can feel at ease.
Hands-on senior physician: You will receive individual advice from us with a great deal of sensitivity and understanding. From your consultation to marking the incision guides and through to check-up appointments, Dr Dr Norman Koebe personally performs every step in facelift treatment. Our ultimate goal is to ensure you are satisfied and happy with the results.
Contact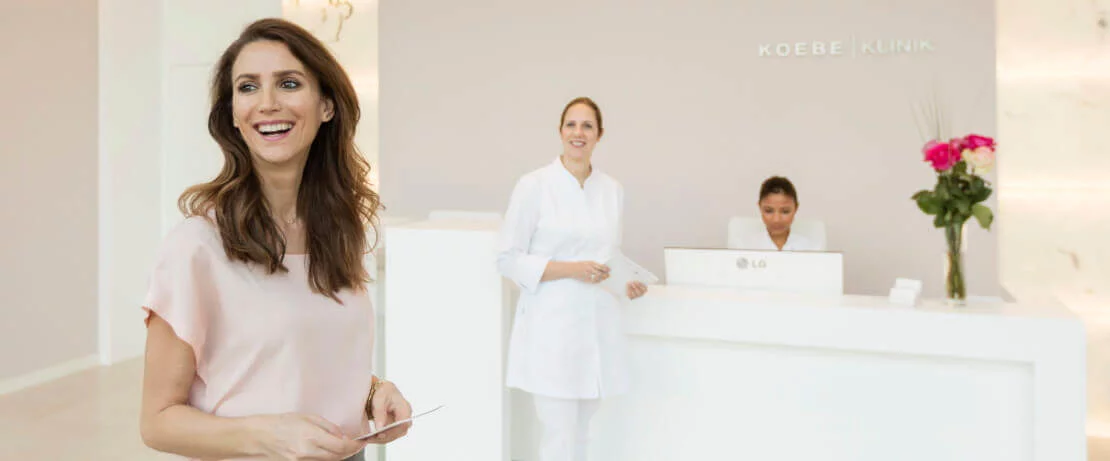 ---
Monday to Friday 9.00 am - 6.00 pm
---
We are available to you 24/7!