DENTAL IMPLANTS AT THE
KOEBE KLINIK
Not only do missing or damaged teeth affect our appearance, they can also have an impact on our health. With our innovative implant systems, however, we can offer you a lasting solution also capable of satisfying the highest aesthetic demands.
Compared to the conventional dentures, our dental implants allow us to achieve very natural results without damaging the healthy adjacent teeth. You can regain your radiant smile and enjoy healthy, fully functional teeth. High-quality, state-of-the-art dental implants are an investment for life.
At the KOEBE KLINIK, your specialist for implant treatments is Dr Dr Norman Koebe. As a specialist in oral and maxillofacial surgery, Dr Koebe possesses profound specialist knowledge and has extensive experience in dental implantology. Using his finesse, Dr Koebe always strives to help each patient find a fully satisfying result. As he is also a qualified specialist in the field of plastic and aesthetic operations, Dr Koebe can combine function and aesthetics to perfection. Very few physicians in Germany hold this dual certification.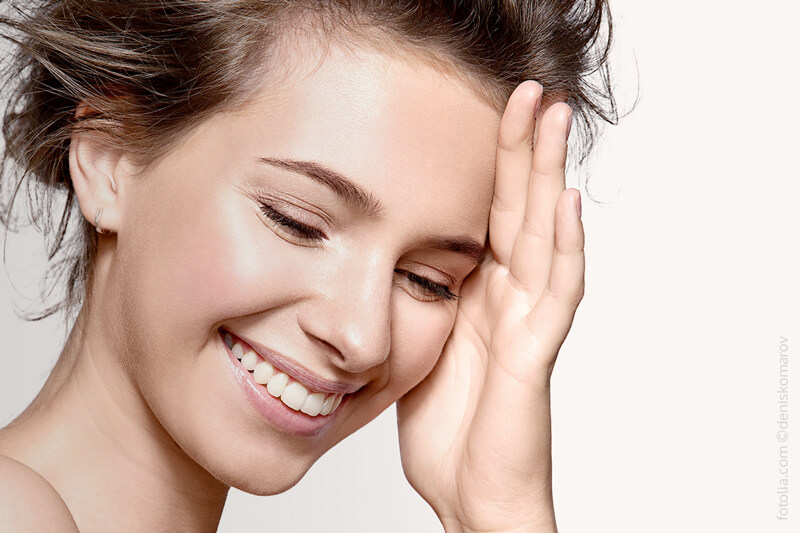 At the KOEBE KLINIK, we rely on the latest generation of hi-tech dental implants in our implant treatments. These implants are designed down to the millimetre with computer-assisted planning and 3D digital volume tomography (DVT). High-quality materials and the state-of-the-art instruments guarantee the highest level of safety and longevity.
Are you searching for a long-lasting dental implants and would like further information on the topic with no obligation to proceed? If so, please contact us – Dr Dr Norman Koebe would be happy to offer his expert services and arrange a personal consultation.
FAQS ABOUT DENTAL IMPLANTS
IN DÜSSELDORF
Who could benefit from dental implants?
Dental implants are suitable for patients who would like to replace missing teeth with enduring results. Implants allow us not only to achieve very natural results but also to completely restore the function of natural teeth. Masticatory force is again transmitted to the jaw, thereby stabilising the bone volume.
Implant treatments are usually also options for patients with reduced bone substance or teeth damaged by periodontitis. Firstly, Dr Dr Norman Koebe uses either endogenous or biosynthetic material to build up the bone. His years of experience in maxillofacial surgery allow him to perform even challenging jaw augmentation to the full satisfaction of the patient.
What do I need to consider before and after dental implants are inserted?
Before the implant treatment, it is important that your mouth is in a perfectly healthy condition. Dr Dr Norman Koebe will therefore perform a thorough preliminary examination before the actual implant procedure. He will also plan and discuss any preparatory treatment together with you.
You should discontinue any blood-thinning or anticoagulant medication at least 14 days before the procedure. This also includes some over-the-counter medication, such as aspirin and various flu medicines. If you have been instructed to take such medication, please discuss this with our specialist, Dr Koebe, during the preliminary discussion. He will advise you on which medications to consider as alternatives.
Once the implants have been inserted, you should wait until the local anaesthetic has worn off before attempting to eat or drink. We recommend avoiding nicotine and alcohol throughout the recovery phase as they could adversely affect the healing process. You should also temporarily refrain from eating very hot, cold, sour or spicy food.
You will be given further nutritional and aftercare instructions in person by Dr Koebe.
How are dental implants inserted?
The treatment starts with a comprehensive planning phase. We use state-of-the-art techniques and technologies, such as digital volume tomography (DVT), to help us determine the exact position of the implants. Dr Koebe will also discuss the risks with you in detail as well as the results you can expect from the treatment.
The implants are inserted in two stages. During the first stage of treatment, Dr Dr Norman Koebe inserts the implant into the jawbone. He makes a small incision in the gum and then creates an apposite opening in the jawbone. Then, he embeds the implant in this opening; this will later serve as the base for the ultimate dental implant. After that, Dr Koebe sutures the gum and fits the implant with a provisional placeholder. This is followed by a healing phase of about 3 to 6 months while the implant base beds in.
Once this healing phase is complete, the actual dentures are put in place in a the second procedure. Dr Dr Norman Koebe firstly makes a cast that is then used to create the actual denture. The denture is then firmly fixed to the implant. At that stage, the patient can use the denture just like natural teeth.
What do you mean by "hi-tech dental implants"?
At the KOEBE KLINIK, we apply state-of-the-art techniques and technologies to plan and design your dental implants. Using exact computer-assisted planning and three-dimensional volume tomography (DVT), we position the implants in the jawbone down to the millimetre.
We also work with state-of-the-art instruments during the implant procedure itself. Naturally, we only use high-quality products sourced from market-leading manufacturers for our implants. These implants have special surface structures, sometimes imbued with bone growth factors to activate and accelerate the integration and healing process.
Can I smoke after having a dental implant fitted?
Smoking can have a negative impact on implant integration and wound healing. We therefore recommend that you refrain from smoking for the duration of the treatment or limit your nicotine consumption to the absolute minimum. If at all possible, you should avoid smoking altogether during the healing phase.
When will I be able to return to work and sports?
Whether a dental implant will require period of rest and recovery depends on the extent of the procedure. If possible, a temporary prosthesis will be fitted to the implant during the healing phase.
Once the implant has been inserted, you should refrain from physical exertion for several days if possible. As a general rule, however, you should be able to continue with light activities, such as office work, as usual. You should avoid even light exercise for at least one week. You can return to more physically demanding sports after about 2 to 3 weeks.
During the preliminary discussion, Dr Dr Norman Koebe will discuss with you in person the recovery time you should expect in your specific case.
How durable are dental implants?
When properly looked after, dental implants can last for life. This requires practicing thorough oral hygiene. You should make sure to attend regular check-ups and report any issues immediately to an experienced dentist.
Other factors also have an effect on the durability of dental implants – for example, chronic diseases, smoking and taking certain medication can shorten their lifespan. Whether there are specific risk factors in your case and issues to watch out for once the implants are in place are issues you should discuss with Dr Koebe during the preliminary face-to-face discussion.
What are the risks associated with dental implants?
Having dental implants inserted entails the same surgical risks as any oral surgical procedure. In rare cases, patients can develop wound healing disorders, swelling or bleeding. We would be happy to prescribe you suitable painkillers if you experience any pain following the procedure.
At the KOEBE KLINIK, implant procedures are exclusively performed by Dr Dr Norman Koebe – so you can be sure you will always be in the best of hands. At the KOEBE KLINIK, we implement strict hygiene standards. This allows us to reduce the risk of complications to a minimum.
Is financing available for dental implants?
Upon request, we can offer patients a fair and tailored cost schedule. Our tried-and-tested financing models allow us to fulfil your wish for modern dental implants as soon as possible. We would be happy to discuss our financing model with you in person.
BENEFITS OF DENTAL IMPLANTS AT THE KOEBE KLINIK
Greatest specialist expertise: As a specialist in oral and maxillofacial surgery as well as plastic and aesthetic operations, Dr Dr Norman Koebe has extensive knowledge of oral surgery and aesthetic procedures. His many years of experience enable him to assist every patient, whatever their initial situation, and achieve the best possible results.
Highest hygiene standards: Your safety is our top priority. We therefore apply strict hygiene standards throughout KOEBE KLINIK. The clinic is licensed in accordance with Section 30 of the German Trade Regulation Act (Gewerbeordnung) and thus meets particularly high requirements in terms of hygiene and technical equipment.
Individual consultation: Before each treatment, our senior physician, Dr Dr Norman Koebe, will personally advise you. Dr Koebe attaches great importance to tailoring every detail of your treatment to your wishes and needs. Every aspect of the treatment will be determined together with you.
Contact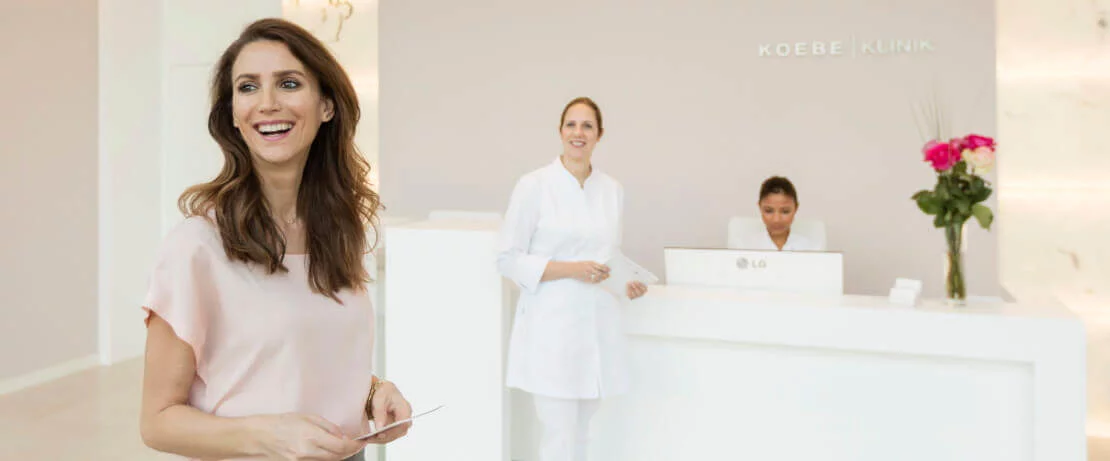 ---
Monday to Friday 9.00 am - 6.00 pm
---
We are available to you 24/7!